Twitter Reacts To Derek Brunson Blasting Lyoto Machida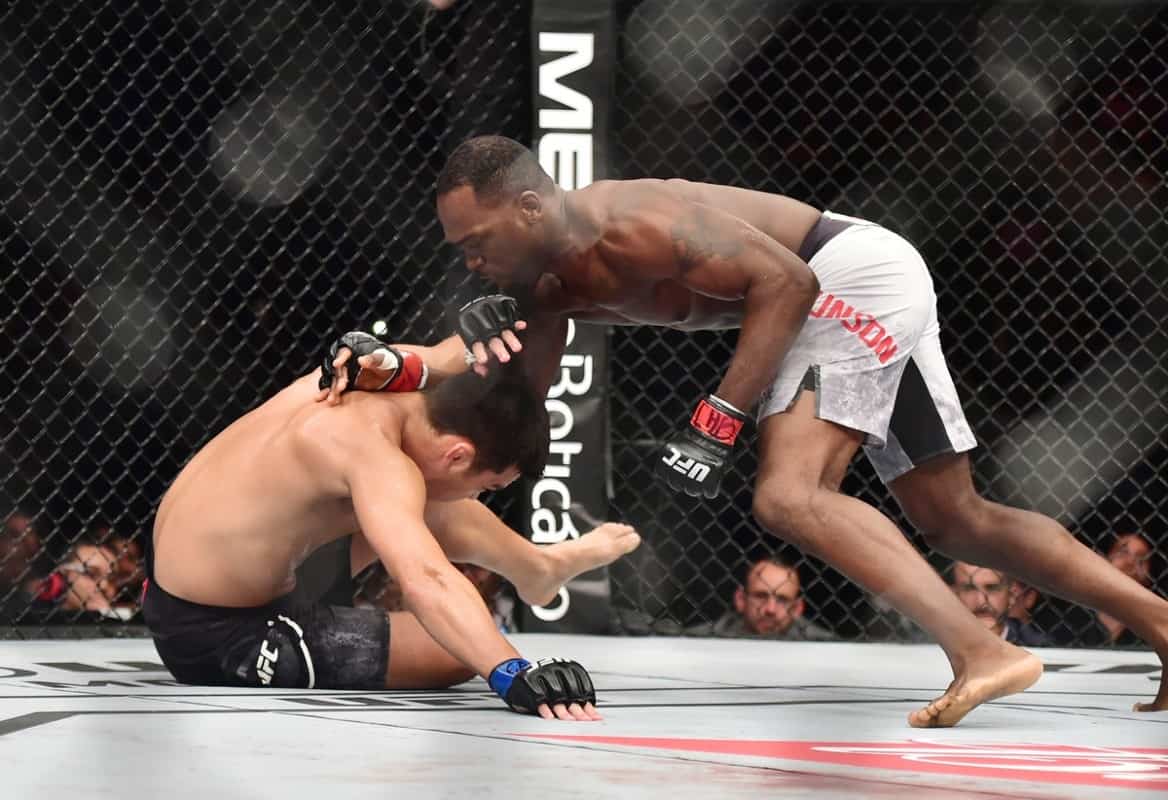 UFC Fight Night 119 emanated tonight (Saturday, October 28, 2017) from Ginásio do Ibirapuera in Sao Paulo, Brazil. The night was headlined by top-ten middleweight Derek Brunson welcoming former light heavyweight champion Lyoto Machida back to the cage after more than two years away.
It was a rude welcome.
Brunson smashed Machida with a counter left hook and follow-up punches to separate "The Dragon" from consciousness, nabbing yet another first-round finish in the process.
The co-main event saw All-American wrestler Colby Covington try to enter the top-ten at welterweight at the expense of grappling savant and two-time title challenger Demian Maia. Covington went with the smart gameplan, refusing to engage with Maia on the ground at all. He stuffed shot after shot and kept up a pace on the feet that Maia couldn't keep up with. After a competitive first that saw Maia cut Covington with repeated left hands, Covington drew blood himself as he sprawled and brawled his way to decision victory.
See how Twitter reacted to these pivotal contests below:
Apparently Lyoto has been watching Game of Thrones during his time off… #UFCSP

— Dan Tom (@DanTomMMA) October 29, 2017
#UFCSP pic.twitter.com/PZyRlqAfS9

— Seán Sheehan (@SeanSheehanBA) October 29, 2017
Urine is coming https://t.co/BL590huh0E

— Stephie Haynes (@CrooklynMMA) October 29, 2017
Sure, the dragon is back, but what shape is he in? pic.twitter.com/VeyiHdh3zK

— Phil Mackenzie (@EvilGregJackson) October 29, 2017
Will someone tell the booth that the Machida Era is not really a thing?

— TJ De Santis (@TJDeSantis) October 29, 2017
Whoa. Damn, son.

— John Morgan (@JohnMorgan_MMA) October 29, 2017
Wow. Brunson sleeps Machida in the first. Massive KO.

— Guilherme Cruz (@guicruzzz) October 29, 2017
https://twitter.com/LegKickTKO/status/924499241560571904
IT'S OVER!@DerekBrunson stops Machida in round 1!! WOW! #UFCSP pic.twitter.com/S5yBvXcUvC

— UFC (@ufc) October 29, 2017
Maybe the Rains of Castamere … not sure about main theme for an entrance…. #ufcSP

— Zachary Makovsky (@ZachFunSize) October 29, 2017
Wow. Brunson just killed the Dragon. 🙁 #UFCSaoPaulo pic.twitter.com/XQvpqECnxc

— The Mane Event™ (@EliasTheodorou) October 29, 2017
When I first saw him pick apart Heath, Lyoto became my favorite fighter at the time. But that was a decade ago. How much does he have left?

— Anton Tabuena (@antontabuena) October 29, 2017
Yep. His chin is gone. Now I'm sad.

— Anton Tabuena (@antontabuena) October 29, 2017
Holy sh*t. You could hear a 📍 drop in that place. #UFCSP

— Will Brooks (@ILLxWillBrooks) October 29, 2017
"It's a young mans sport"

— MMA History Today (@MMAHistoryToday) October 29, 2017
Wow. Great follow-up left hand on the feet from Brunson. The karate black belt inside me is crying, but the prediction comes through. #UFCSP

— Dan Tom (@DanTomMMA) October 29, 2017
two ugly "no your career as an elite fighter is over" kind of fights to close out the night

— T. P. Grant (@TP_Grant) October 29, 2017
https://twitter.com/Vorpality/status/924500227922460672
https://twitter.com/JustBleedMMA/status/924502515894194176
Congrats to cheerleader Derek Brunson on that insane KO finish! #UFCSaoPaulo pic.twitter.com/keFgeEKRWJ

— Angela Hill (@AngieOverkill) October 29, 2017
https://twitter.com/Jolassanda/status/924487333390508032
That Maia head fake , wth now fav over Covington going in pic.twitter.com/I2eKGTTzVD

— BJJ Scout (@bjjscout) October 29, 2017
https://twitter.com/ZPGIFs/status/924487697518989312
I love it when fighters facing Demian Maia say they have better jiu jitsu than Demian Maia. #UFCSaoPaulo

— Jee (@yellowpwerrngr) October 29, 2017
"No one has the well-rounded skills that I have"

No one. Ever. In the history of ever in the world.

Go Demian! #UFCSP

— Stephie Haynes (@CrooklynMMA) October 29, 2017
Time to find out if Colby Covington's #EmbarrassmentTour #RetirementTour is for real. Beating Demian Maia would be huge. #UFCSP

— Mike Bohn (@MikeBohn) October 29, 2017
This is the one time the MMA community will unite with Maia against a true evil.

— UFC YouTube Comments (@UFC_YT_Comments) October 29, 2017
https://twitter.com/FurysFightPicks/status/924488290987896832
What if Colby Covington is as good as he thinks he is… #UFCSP

— Mike Jackson, Esq. (@TheTruthJackson) October 29, 2017
Doesn't mean Covington will win, as we've see Maia untangle perceived advantages time and time again. Can't wait to see how this one unfolds https://t.co/IE0dVlNaEj

— Dan Tom (@DanTomMMA) October 29, 2017
Hard to bet against Maia

— Chris Camozzi (@ChrisCamozzi) October 29, 2017
I'm not saying Colby is a douche, but… #UFCSaoPaulo pic.twitter.com/Sl1ObnSeNe

— The Mane Event™ (@EliasTheodorou) October 29, 2017
https://twitter.com/JESnowden/status/924489059434745858
Chaos, huh?

— MiddleEasy (@MiddleEasy) October 29, 2017
— Mike Jackson, Esq. (@TheTruthJackson) October 29, 2017
K-1 Maia is the best.

— Seán Sheehan (@SeanSheehanBA) October 29, 2017
DEMIAN MAIA IS A STRIKER!!!#UFCSP pic.twitter.com/ECoBwlPOcb

— UFC (@ufc) October 29, 2017
Maia got hands y'all. #UFCSaoPaulo #UFCSP

— Thomas Cunningham (@spilledbagofice) October 29, 2017
Wow. Covington's striking is really bad.

— Anton Tabuena (@antontabuena) October 29, 2017
https://twitter.com/FurysFightPicks/status/924490888469991424
One-dimensional MMA games are officially dead.

— Seán Sheehan (@SeanSheehanBA) October 29, 2017
20-16 Maia

— caposa (@Grabaka_Hitman) October 29, 2017
Go for the finish Colby!!! #UFCSP

— Aljamain Sterling (@funkmasterMMA) October 29, 2017
How you gonna gas in your own back yard? I am disappoint. #UFCSP

— Stephie Haynes (@CrooklynMMA) October 29, 2017
Demian Maia has defeated the likes of Carlos Condit & Jorge Masvidal.

Colby Covington just gave him a beat down in the latter rounds.

— MMA History Today (@MMAHistoryToday) October 29, 2017
Colby went bob Ross on that canvas#FightNight119

— Chris Wade (@CWadeMMA) October 29, 2017
Surely Tyron Woodley is quaking in his boots right now

— smoogy (@smoogymma) October 29, 2017
https://twitter.com/ZPGIFs/status/924494123847045121
I don't think Tyron Woodley will be losing any sleep tonight.

— Brett Okamoto (@bokamotoESPN) October 29, 2017
The laughter of children? The angelic voice of Whitney Houston? No, Colby Covington's favorite sound is enthusiastic Brazilian booing.

— Fernanda Prates (@NandaPrates_) October 29, 2017
My God these are LOUD boos.

— Guilherme Cruz (@guicruzzz) October 29, 2017
So loud in here, couldn't hear a word Covington said. Amazing.

— John Morgan (@JohnMorgan_MMA) October 29, 2017
Covington: I should have knocked hi out. Brazil, you're a dump. All you filthy animals suck! #UFCSaoPaulo

— MMA Fighting (@MMAFighting) October 29, 2017
Fans are throwing bottles at Colby Covington. Madness!

— Guilherme Cruz (@guicruzzz) October 29, 2017
After that performance, I wouldn't call out T-Wood, because he would hurt Colby, bad. #UFCSaoPaulo

— The Mane Event™ (@EliasTheodorou) October 29, 2017
The worst gimmick. Ever.#UFCSP #UFCSaoPaulo pic.twitter.com/Ej9LQ3e4ro

— Drake Riggs (@DrakeRiggs_) October 29, 2017
Security better protect him all the way to the airport lol

— James Vick (@JamesVickMMA) October 29, 2017
That's real af

— Michael Chiesa (@MikeMav22) October 29, 2017
I'm starting to think maybe Colby Covington thrives off negative energy, you guys.

— Ben Fowlkes (@benfowlkesMMA) October 29, 2017
😳#UFCSP @ColbyCovMMA pic.twitter.com/PonZgbOSTH

— UFC (@ufc) October 29, 2017
Embarrassed he is in my division https://t.co/epJuPBiT01

— Tyron T-Wood Woodley (@TWooodley) October 29, 2017
Classless.

— Will Brooks (@ILLxWillBrooks) October 29, 2017