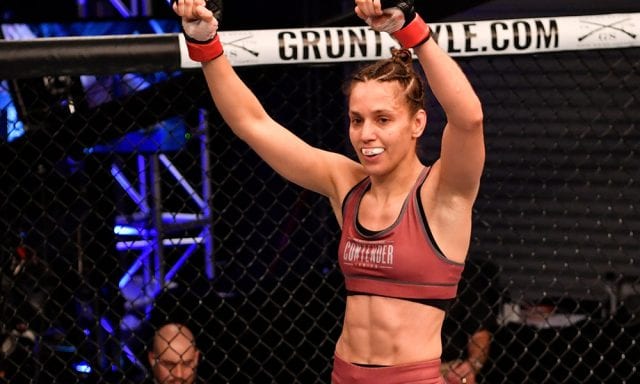 The final season of The Ultimate Fighter wraps up this evening as the TUF 28 Finale will crown the final two winners of the show's history.
It all goes down in the city it started in Las Vegas, Nevada. The Pearl at the Palms will host the evening's festivities that will include 13 fights in total.
An anticipated women's flyweight contest will open the main.  card. Antonina Shevchenko will make her official UFC debut as Ji Yeon Kim welcomes the "Bullet's" sister to the Octagon.
Shevchenko, 34, is unbeaten in her professional MMA career with six wins. She most recently defeated Jaimee Nievera on last season's Dana White Tuesday Night Contender Series to earn a UFC contract.
Kim has looked impressive in her short UFC career. She has gone 2-1 in the promotion and most recently defeated Melinda Fábián at UFC Fight Night 132 this last June.
Round One
The women trade leg kicks to start and Shevchenko follows with a jab. She lands a follow up left hand and presses forward. Kim throws a one-two that misses the mark. Both fighters look good early on. Shevchenko circling left and Kim catches her with a straight right that sends her to the canvas, briefly. Shevchenko regains composure and lands a front push kick that backs Kim up. The women clinch with two minutes left in the opening round. The women jockey for position as the referee breaks them apart with 60 seconds left in the round. Shevchenko lands a side trip and ends up with a side headlock as the round comes to an end.
Round Two
Shevchenko throws a head kick to open round two but catches air. She follows that up with a couple of left hands. Kim clinches and presses the action to the cage. The fight stalls. Shevchenko reveres position as the referee separates the fighters. Shevchenko landing some nice combos here in round two as she continually circles left. She clinches Kim and presses her against the cage. Shevchenko lands a hard knee in the clinch. Kim escapes and eats an elbow. Shevchenko lands another push kick to Kim's face. The round comes to an end with the fighters clinching.
Round Three
Kim tries to get her jab going to start round three. Shevchenko catches Kim's kick and uses it to get the fight to the ground. Shevchenko is in top control however she has stalled a bit in full guard. Very little action in this position as the fighters are mostly hand fighting. Shevchenko backs up and lands a knee to the chin of Kim. The referee warns Shevchenko. Kim lands a hard right hand upon returning to action. Shevchenko throws a spinning back fist right into clinch position. The fight ends with the fighters clinched against the cage.
Antonina Shevchenko defeats Ji Yeon Kim via unanimous decision (30-27×3)
If you enjoyed this story, please share it on social media!