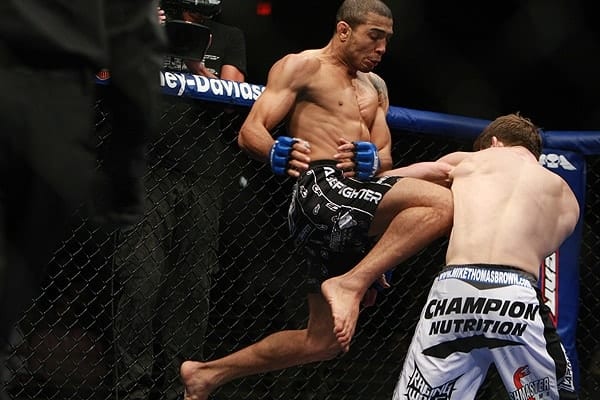 UFC 189 will pit the featherweight champion Jose Aldo against surging Irish sensation Conor McGregor in the main event, hopefully putting to rest a rivalry that spans back two years. 'Scarface', who trains out of the renowned Nova Uniao camp under UFC veteran Andre Pederneiras, has proved his worth as the most elite 145-pound fghter over the last 11 years; compiling a 25-1 record, and going unbeaten for nearly ten years. Time will tell if Conor McGregor is the one.
Aldo's reputation is born from ruthless knockouts during his span in the WEC (World Extreme Cagefighting), and his three-fight reign as the champion there before getting promoted to UFC champion and beating Mark Hominick in 2011. Aldo has the most wins and knockouts in WEC/UFC Featherweight history with 14 and 9 respectively, and has landed the most (691) significant strikes in featherweight history. Some of the most famous featherweight KO's of all time are thanks to the dangerous Muay Thai of the Brazilian boss, and we've compiled a Top Five Jose Aldo Knockouts list to pay tribute to Junior's stand up game.
Enjoy!
If you enjoyed this story, please share it on social media!