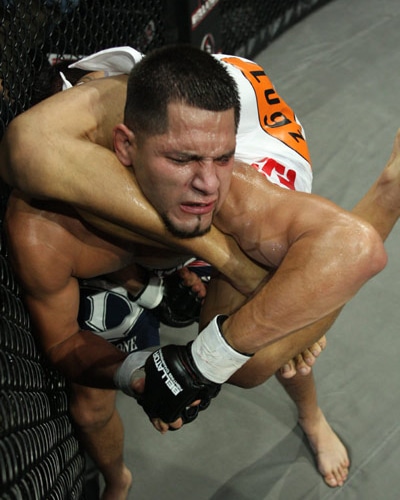 Getting trapped in a submission is a panic-inducing experience for any fighter. But what happens when you're put in a position that you've never even seen before? In honor of next week's DVD/Blu-ray release of Locked Down (which co-stars Rashad Evans, Kimbo Slice, and Cheick Kongo), we're taking a look back at MMA matches where fighters were "locked down" for real — caught in off-the-wall subs that offered no chance of escape. Enjoy the list, and come back next Thursday for a chance to win a Locked Down combo pack in our next caption contest…
#10: Alexander Otsuka's double-armbar vs. Mike Bourke
PRIDE 11, 10/31/00

Dusting himself off after a pathetically botched dropkick attempt early in the fight (see the video's 0:38 mark), Otsuka begins working his jiu-jitsu against the tank-topped American brawler. When Bourke starts to hang out with one arm posted and the other throwing down telegraphed punches, the "Diet Butcher" seizes the moment, snapping his legs over Bourke's head and torquing both of his arms simultaneously. Bourke is so screwed he has to tap with his knee.
#9: Ivan Salaverry's anaconda body lock vs. Tony Fryklund
UFC 50, 10/22/04

We usually think of the body-triangle as a technique used to soften up an opponent before or during a rear-naked choke. It takes real talent to actually finish somebody with it. After taking Tony Fryklund's back, Salaverry passes up the neck and instead wrenches his arms around Fryklund's body, driving his hips forward to exert maximum pressure on the spine and ribs. Fryklund has two options at this point: Allow himself to be cracked like a walnut, or scream for mercy. Fortunately, he makes the right choice.
#8: Nate Diaz's Stockton-style triangle choke vs. Kurt Pellegrino
UFC Fight Night 13, 4/2/08

A Stockton-style triangle choke is like a regular triangle choke, except it's performed with no hands, allowing the practitioner to give double-middle-fingers to his opponent, the audience, and indeed, the entire universe.
#7: Naoyuki Kotani's leg-scissor choke vs. Daisuke Nakamura
ZST 22, 11/23/09

When Kotani transitions his way on top of Nakamura about a minute into the fight, it seems like he's in the perfect position to fall back into a straight armbar. Instead, he goes another way with it — clamping his legs around Nakamura's neck and squeezing until Nakamura goes limp. See also: Murahama vs. Hoshino, hot chick in thong vs. watermelon.
#6: Chris Haseman's chin-in-eye vs. Elvis Sinosic
Caged Combat 1, 3/22/97

Before the Unified Rules outlawed all forms of eye-gouging, the ol' chin-to-the-eye was a painfully effective way of ending a fight from the top. Though fighters like Mark Kerr and Mikhail Illoukhine have also pulled it off in competition, Chris Haseman deserves special recognition for submitting two opponents with his chin in the same night, at an eight-man tournament in Australia. Directly before his fight with Sinosic, Haseman was able to chin-out Hiriwa Te Rangi in 55 seconds. Unfortunately he couldn't make it three in a row, as Mario Sperry submitted him via strikes in the finals.
#5: Shinya Aoki's "Aokiplata" vs. Katsuhiko Nagata
DREAM.4, 6/15/08

You know you're a badass when you land a submission so rare that it's named after you. While there are much easier ways to end a fight once you've scored mount, Shinya Aoki is an artist, and he wanted to show us something beautiful. Skip to the 4:50 mark and witness the skill and flexibility required to choke somebody out with a gogoplata from the top. And those pink/blue/orange/green grappling tights? Impeccable.
#4: Ryo Chonan's flying scissor takedown/heel hook vs. Anderson Silva
PRIDE Shockwave 2004, 12/31/04

Anderson Silva's heel-hook loss to Ryo Chonan was the last time he was stopped in a fight, and it came out of nowhere. Increasingly desperate in the closing minutes of the match, Chonan went for a Hail Mary scissor-leg takedown — a technique you usually only see in kung fu movies — and landed it so perfectly that the heel-hook was already set up when he hit the mat. If you're a die-hard MMA fan, you've probably watched this clip hundreds of times, but that doesn't make it any less astounding.
#3: Genki Sudo's giant swing/achilles lock vs. Craig Oxley
Pancrase Trans 6, 10/31/00

The Neo-Samurai's submission of Craig Oxley is a lot like the foot-lock in Chonan vs. Silva, except the setup is even more dramatic. Instead of a surprise scissor-leg takedown, Sudo picks Oxley up while in his guard, and spins him a full 720 degrees — a classic pro-wrestling-style giant swing, directly into an achilles lock. Not only was it an insane finish, it's also a hilarious reminder that Sudo used to have hair like a Japanese glam-rocker, which is a lot more hardcore than his current salaryman style.
#2: Toby Imada's flying inverted triangle choke vs. Jorge Masvidal
Bellator 5, 5/1/09

It was 2009′s indisputable Submission of the Year, and a strong candidate for greatest MMA submission of all time. Jorge Masvidal spent two rounds battering Toby Imada in the semi-finals of Bellator's first lightweight tournament, and Imada needed a miracle. And then, one appeared. While defending a takedown, Imada locks onto Masvidal's body and threads his legs around Masvidal's head and arm. By the time Masvidal realizes he's caught in a triangle choke — while standing, by the guy who's hanging upside-down off his back — he's already heading to dreamland. A breakout performance for Imada, and a nice little viral video for the fledgling Bellator promotion.
#1: Emmanuel Yarborough's body-smother vs. Tatsuaki Nakano
Shoot the Shooto XX, 4/26/98

Sumo-wrestler Emmanuel Yarborough scored the only victory of his brief MMA career using the best weapon in his arsenal — his enormous, terrifying girth. If Roy Nelson's belly is like having the moon on top of you, Manny's belly is the entire freakin' galaxy. No matter how much MMA evolves in the coming years, you probably won't see this gruesome submission ever again.