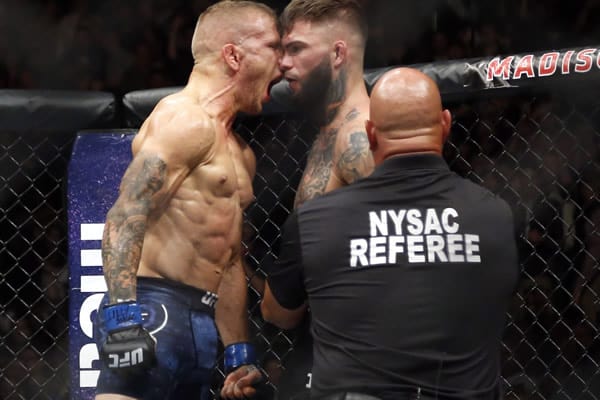 After Max Holloway was forced out of his UFC 222 headliner versus Frankie Edgar earlier today, UFC bantamweight champion TJ Dillashaw was not keen on rumors of a late-replacement rematch with Cody Garbrandt, and he revealed plenty of reasons to feel that way.
For one, Dillashaw was not offered an immediate rematch after dropping an incredibly close decision to Dominick Cruz in 2015, even though many fans believed he had won. Instead, Dillashaw had to work his way back up the division before knocking out Garbrandt to recapture the bantamweight belt.
Dillashaw has remained steadfast in his mission to dethrone Demetrious Johnson at flyweight, with no plans to rematch Garbrandt anytime soon.
"The Viper" spoke to ESPN and laid out his reasoning behind his denial of giving Garbrandt the rematch that he himself never got with Cruz:
Spoke to @TJDillashaw. UFC asked him to accept a rematch against Cody Garbrandt to headline 222. Here's what he had to say about it. pic.twitter.com/esl4dBRYXe

— Brett Okamoto (@bokamotoESPN) February 3, 2018
Naturally, Garbrandt has been pushing hard for a rematch with his foe, often taking to social media to hammer that point home and draw Dillashaw into a firefight:
My wife will be expecting anytime during that fight week, I just started to be able to use my right hand, how many excuses do you have @TJDillashaw ?? https://t.co/nxfpmXDJyU

— Cody Garbrandt (@Cody_Nolove) February 3, 2018
Although both men had their moments at UFC 217, Dillashaw ultimately overcame a brutal first round where he was nearly knocked out, before turning the tables and knocking out Garbrandt in the second.
Dillashaw also pointed to the fact that he now has a newborn child in his life, and isn't focused on Garbrandt at the moment, to which the former champion took exception:
. @Cody_Nolove Hey "smart" guy, through all your cussing and trash talk, wait till Kai is born and you get to hold him in your arms. Then see if you want to train for a fight on 4 weeks notice when your baby is a month old. #FAMILYFirst #HumbleYourself #URstillanidiot #KTFO ? pic.twitter.com/knfHkeCgI3

— TJ Dillashaw (@TJDillashaw) February 3, 2018
Exactly more reason to fight! Lol you think you you're going to get paid for the Dj fight? Stop listening to Duane's bitch ass, he is making you soft! https://t.co/zsJPbDsZxT

— Cody Garbrandt (@Cody_Nolove) February 3, 2018
Do you think Garbrandt deserves an immediate rematch against Dillashaw? Or should he have to work his way back up like Dillashaw had to do after losing the belt to Cruz?
If you enjoyed this story, please share it on social media!