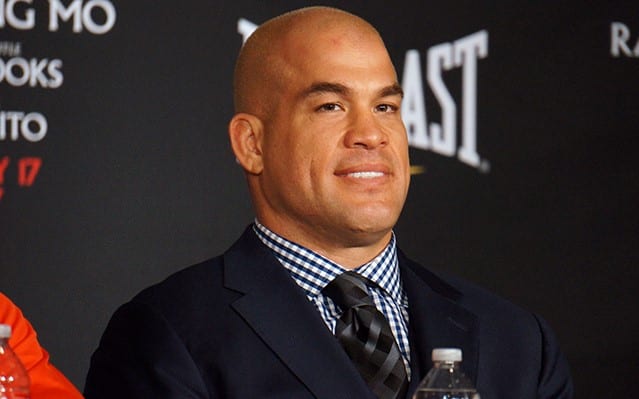 Tito Ortiz opens up on finally being able to bury the hatchet with his arch-rival Chuck Liddell after fighting for the third time.
It appeared that Ortiz finished up his successful career when submitted Chael Sonnen at Bellator 170 last year. Prior to that, he had won two of his three previous fights. However, his retirement came into question when his fellow former UFC light heavyweight champion posted a picture to Instagram. Obviously, this led to the third fight being made.
As seen on Saturday night inside The Forum in Inglewood, California on pay-per-view, Ortiz was able to score a first round knockout victory over "The Iceman." Following the fight, Ortiz hugged Liddell and called him "a real champ." A classy moment between the two stars. Once speaking with the media after the fight, he decided to reflect on their friendship that turned into a rivalry.
"Yeah, I've buried the hatchet with Chuck 100 percent," Ortiz said to MMAJunkie. "You guys got to understand: I'm a loyal person. I love my friends. I'm an aquarius to the tee. If you guys read horoscopes or so forth, read what an aquarius is."
What's Next For Tito Ortiz?
Although Ortiz wouldn't confirm if he planned to fight again, he did confirm some plans that he has in mind. Those plans are to turn his attention Golden Boy's Oscar De La Hoya to help create new fighters.
"You get that feeling of, 'Is this the last one?' I want it to be," Ortiz said. "It's a lot of pressure to impose your will on someone like that every single fight is really, really hard. There's so much pressure to do that. And I've been doing it for 21 years. Now, if I just step out of that game."

"Do it the right way of being a promoter and helping fighters, help them growing. And grow the next Tito Ortiz, grow the next Chuck Liddells, grow the next 'Rampage' Jacksons, Royce Gracies, Ken Shamrocks, Conor McGregors. And give them an opportunity to make the real money to make."
If you enjoyed this story, please share it on social media!