While winning is typically most important to a fighter, mixed martial arts (MMA) is also a business, and a business that pays well towards those who entertain.
One could be a truly elite level fighter, but simply not garner the same attention as others because fans feel as if he or she is boring so to say.
With that being said, we've seen the emergence of many fighters over the years that are willing to take risks, try new things, and show off their wide variety of skillsets, and in return, they are deemed as entertaining.
Aside from the entertainment factor, using unorthodox techniques can also prove to be confusing towards opponents.
Not all fighters or athletes have the special tools needed to open the eyes of fans around the world, but those that due are usually revered because of it.
Let's take a look at MMA's flashiest strikers:
10. Jon Jones
Just to make myself clear, Jon "Bones" Jones falling to No. 10 on my list in no way correlates to skill level, as I truly feel as if the former UFC light heavyweight champion is the greatest fighter of all-time. I also feel as if he happens to be a fantastic entertainer, despite some being very critical of "Bones".
While he currently sits near the tail end of this list, Jones is indeed flashy in his own right, but calculated and technical as well which sometimes over shines his exciting nature.
Despite being massive in size, Jones is a freak athlete, and he's shown that to be true throughout his career.
Using his extremely long reach, "Bones" has been known to throw a variety of spinning and jumping attacks including anything from kicks to knees to vicious elbows.
If you want to be treated to one of the widest striking arsenals in the game, be sure to watch a Jon Jones fight.
9. Anderson Silva
Like with Jones, Silva's lower ranking on this list does not relate to his talent as a fighter, as he too ranks amongst the best of all-time in my book.
Credit should also be given to both Silva and Jones, as we often see fighters become more careful so to say when they reach the top, but these two have been entertaining the masses for years.
Aside from being one of the best overall fighters in the history of the sport, former long-time middleweight boss Silva is also undoubtedly one of the best strikers to have ever competed.
"The Spider", a master of Muay Thai, has unleased on a plethora of dazzling attacks throughout his illustrious career including different types of kicks, and of course his lethal knees.
Examples of Silva's flashiness can be seen in his bout with Forrest Griffin as well, in which "The Spider" fought with his hands down, using exquisite head movement, and essentially taunting his opponent before scoring a knockout victory.
The Brazilian legend is also famous for scoring a devastating front kick knockout over Vitor Belfort.
Simply amazing stuff.
8. Edson Barboza
Lightweight contender Edson "Junior" Barboza is one of the scariest strikers in the sport today.
A Muay Thai tactician, Barboza has made a living off of battering and bruising opponents with brutal kicks.
While flashiness isn't often needed for the Brazilian who is powerful enough as it stands, Barboza has shown the ability to pull off some spectacular moves.
Possibly the owner of the best spinning kick knockout of all-time, "Junior" dishes out spinning back kicks, and spinning wheel kicks like it's second nature, something that has landed him amongst the flashiest strikers in the sport today.
7. John Makdessi
Despite losing three out of his last four UFC bouts, John "The Bull" Makdessi is a truly breathtaking striker.
A black belt in both Shotokan Karate and Tae Kwon Do, "The Bull" is a wizard with kicks, and has thrown some of the most unorthodox kicks we've ever seen inside of the Octagon.
Whether it be hook kicks, jumping kicks, spinning back kicks, or even the rare axe kicks and crescent kicks, the Canadian striker has provided fans with some exciting times inside the cage, and for that reason, he lands amongst the flashiest in the game today.
6. Sage Northcutt
19 year old phenom "Super" Sage Northcutt has come under extreme criticism as of late after losing his his recent UFC bout by way of submission to Bryan Barberena last month.
Despite what fans may think of him, however, Northcutt has proven to be a freak athlete and showman in the striking department.
A third degree black belt in Tae Kown Do, "Super" Sage possesses some high profile kicks in his arsenal, many of which we've seen quite often in his young career.
With a wheel kick finish on his resume, the Texas native has also displayed a plethora of other spinning attacks as well as nasty elbows and vicious sidekicks.
Although he recently experienced a minor setback, Northcutt is indeed extremely young, and should have a long, bright career ahead of him.
Here's to hoping he remains as flashy as we've seen!
5. Yair Rodriguez
A Tae Kwon Do black belt, 23 year old Yair "El Pantera" Rodriguez has needed just three UFC bouts to show the world how flashy he can be.
A tactical kicker, Rodriguez is a frequent user of the sidekick, constantly switching the levels at which he throws it as well.
His UFC 188 bout with Charles Rosa is an excellent example of his eye opening striking, as he unleashed on a devastating spinning wheel kick, a crazy jumping switch kick, a jumping front kick, and a flying knee.
Let's not forget that the Mexican scored a flying knee knockout before even entering the UFC as well.
"El Pantera" has the potential to do special things inside of the cage, and his striking style should launch him into a favorite amongst the fans.
4. Conor McGregor
Reigning UFC featherweight champion and Irish superstar the "Notorious" Conor McGregor has rose to prominence partly in fact due to his relentless and brash trash talk.
When the talk is over with, however, McGregor is simply a phenomenal striker, and a very entertaining one at that.
A brutal knockout artist, the "Notorious" one has also taken a deep understanding to kicks over the years, compiling a mixture of both kickboxing, and Tae Kwon Do like attacks.
Always firing hook kicks, spinning kicks, and jumping attacks, McGregor has established himself as a treat to watch on the feet.
That along with his hands down confidence, and in the cage talking has earned the "Notorious" one a place on this list of flashiest strikers.
3. Stephen Thompson
In terms of technicality, surging welterweight contender Stephen "Wonderboy" Thompson very well could be the best striker in all of mixed martial arts.
A fifth degree black belt in Kenpo Karate, and a black belt in American Kickboxing, Thompson is truly a master of martial arts, and he has been able to transform his traditional skillset into an effective modern day MMA skillset.
With a 57-0 kickboxing record in his back pocket, "Wonderboy" now sits at 12-1 in his MMA career, and he has been fantastic to watch thus far.
Like many of the previous fighters on this list, Thompson uses kicks to his advantage in a brilliant way, never being afraid to throw an unorthodox attack.
In fact, he just scored a spinning wheel kick knockout last July over Jake Ellenberger in a bout in which he actually landed two picture perfect spinning attacks.
Confident as ever with his hands usually down, "Wonderboy" glides around the Octagon like a ghost, moving effortlessly.
While he may not even intend to be flashy, and he certainly doesn't taunt his opponents, his decorated striking arsenal vaults him near the top of this list.
2. Michael Page
Bellator welterweight contender Michael "Venom" Page, also known as "MVP", has become one of the promotion's fastest rising stars, and for good reason.
With an extensive background in kickboxing, Page has the confidence to fight flashy and taunt opponents, while also possessing the skills to back it up.
Using a style reminiscent of legendary boxer Roy Jones Jr., "Venom" can often be seen with his hands down, loading up his punches, and seemingly dancing around the cage in effortless fashion.
With only nine professional MMA bouts under his belt, Page has already compiled an extensive highlight reel of show stopping kicks and strikes.
In fact, he even owns a tornado kick knockout, and without question ranks amongst the sport's flashiest strikers.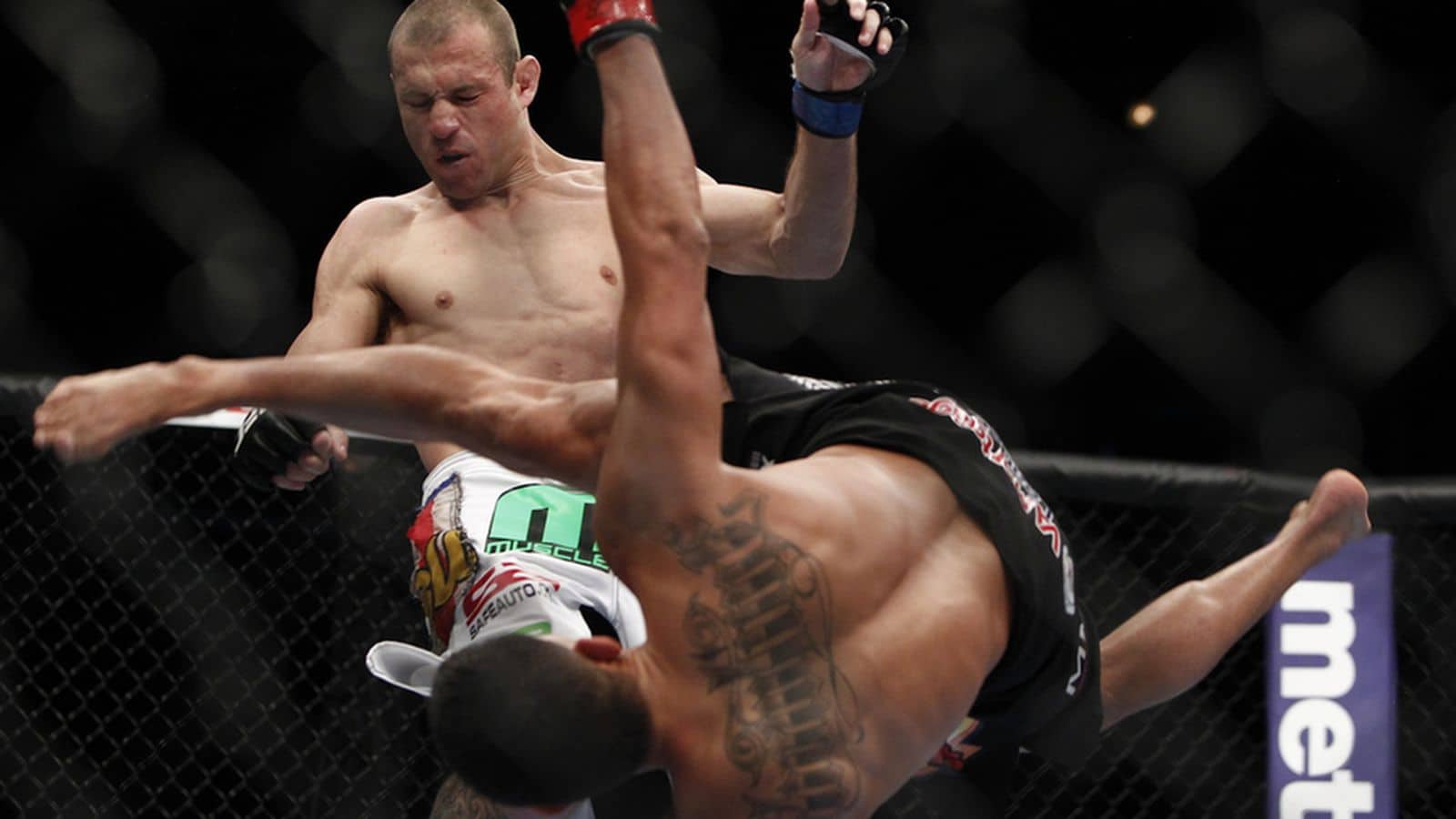 1. Anthony Pettis
Although some may disagree with me here, I feel as if former UFC lightweight champion Anthony "Showtime" Pettis is the poster boy for flashy striking in MMA.
Although he hasn't seemed it as of late given the fact that he has lost two straight due to a lack of wrestling, Pettis, in my opinion, has the ability to do things inside of the cage that others simply cannot.
With a black belt in Tae Kwon Do, Pettis is a freak athlete, and an athlete that spits out a plethora of exciting kicks and movements with ease.
Not only has he used spinning and jumping attacks to his advantage, but "Showtime" has also revolutionized MMA by using the cage as a weapon, something very few have done.
His "Showtime" off the cage kick that landed on Benson Henderson will live on forever, and for the reasons above, Pettis tops my list as the flashiest striker in MMA.
Who's your flashiest striker?