Tarec Saffiedine Out Of UFC Fight Night 60 With Groin Injury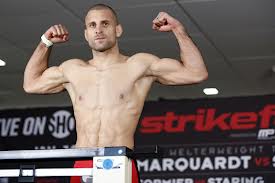 After an injury-plagued 2014 that bordered on injury-ruined, the UFC was hoping that 2015 would be a much better year in terms of fights going forward as planned.
Unfortunately, if the first day of 2015 is any indication, this year could be much more similar to last than the world's biggest MMA promotion had hoped.
Welterweight Tarec Saffiedine has been forced out of his UFC Fight Night 60 main event against No. 5-ranked Matt "The Immortal" Brown on February 14, with a groin injury according to a report from MMA Junkie today.
"The Sponge" was looking to rebound from a UFC Fight Night 54 loss to No. 2 Rory MacDonald, which was the first time he had ever been stopped inside the cage. The former Strikeforce champion had won five consecutive bouts prior to the loss, including a successful octagon debut against Hyun Gyu Lim at UFC Fight Night 34 last year.
The decorated Belgian kickboxer was supposed to face Jake Ellenberger at last April's UFC 172, but another injury postponed that bout as well.
A search for a new opponent for Brown, who is also looking to bounce back from a big loss after Robbie Lawler edged him via decision at last July's UFC on FOX 12, is underway. Possible candidates could include returning contender Carlos Condit, who is nearing full health from a torn ACL suffered last March, and even MacDonald as an outside possibility.
The unfortunate situation could end up playing out in Brown's favor if he is somehow able to obtain a higher-ranked opponent, because his only loss recently was against the new champion, and it went the distance.
"The Immortal" was the proud owner of an exciting seven-fight win streak that featured six striking stoppages before he lost to "Ruthless" in San Jose.
In any case, Saffiedine's UFC career has gotten off to an extremely rocky start to say the least. Let's hope that the first fight to be ruined by injury in 2015 isn't an indicator of things to come.