Wanderlei Silva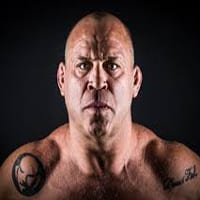 DOB: July 3rd, 1976
Birthplace: Curitiba, Brazil
Nickname: The Axe Murderer/Cachorro Louco(Mad Dog)
Gym: Chute Boxe/Wand Fight Team
Style: Muay Thai
Weight Division: Middleweight/Light Heavyweight
Championships: Pride Middleweight Champion, 2003 Pride Grand Prix Middleweight Champion
Silva's early years
Silva first started training at Chute Boxe Academy in Curitiba, Brazil when he was 13. He developed a vicious style of striking that Chute Boxe became known for.
He won numerous fighting tournaments before enlisting in the Brazilian army. There, the commanding officers saw his fighting talent and he quickly went up the ranks.
Wanderlei's superiors encouraged him to continue fighting.
Silva's early pro career
When Wanderlei first started fighting professionally in Brazil, fights were still under Vale Tudo rules. Meaning there were no gloves and relatively no rules.
This is how Silva accumulated an enormous amount of scar tissue around his eyes and face.
Silva's first pro MMA fight was in 1996 for Brazilian Vale Tudo. He would win his first two fights by KO and TKO.
He would then fight in his first ever tournament for the International Vale Tudo Championship. Fighting 3 fights in one night winning the first two and losing in the final round due to doctor stoppage.
Wandy's would fight for the promotion winning the promotion's cruiserweight title in his last appearance.
Silva's early UFC fights
In between fighting for the IVC, Silva fought twice on two of the early UFC cards. Losing the first by TKO against Vitor Belfort and a win by KO against Tony Petarra.
Then later on losing a light heavyweight title match against Tito Ortiz.
Silva's Pride run
Where Wanderlei made his name known in the world of MMA was with the Japanese promotion Pride FC. Making his promotional debut in 1999 winning by decision.
He would predominantly fight for the company the next 8 years until the company closed. In that time, the axe murderer Silva became a fan favorite for his vicious striking style.
For 5 years he would not lose a match in Pride and win nearly all of his matches in this time by KO/TKO. One of the most brutal was his middleweight title match stopping Kazushi Sakuraba with soccer kicks.
After winning the title, Silva would win the 2003 Pride Middleweight Grand Prix Tournament. Winning in the finals by TKO against Rampage Jackson. He would go 19-4 while in Pride making a name for himself as one of the best fighters in the world.
Wanderlei Silva signs with the UFC
After establishing himself as an elite fighter competing in Pride for years, Silva returned to the UFC. His first fight would be against former light heavyweight champion Chuck Liddell.
A fight that was supposed to take place in Pride, but never did. They fought back and forth with Liddell winning a decision, but they earned fight of the night honors.
In his 9 fights in his second UFC run, Silva went 4-5 having some great fights. 
After the UFC
Silva's time with the company ended after a failed drug test. As a free agent, he was supposed to fight for Rizin, but that never happened.
He then signed with Bellator after they made him a 2 fight offer. Silva would lose both Bellator fights to Chael Sonnen and a 4th fight with Rampage Jackson.