Jorge Masvidal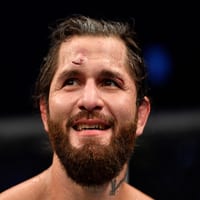 DOB: November 12th, 1984
Birthplace: Miami, Florida
Nickname: Gamebred
Gym: American Top Team
Style: Boxing
Weight Class: Lightweight, Welterweight
Championship: BAMF World Title
Masvidal's street fighting years
Jorge has been fighting since he was young. He got notoriety on the early days of Youtube fighting on Kimbo Slice's underground street fighting videos.
Masvidal would also wrestle in high school, but due to bad grades and street fighting he didn't stay eligible. 
Masvidal's early MMA career
At 19 years old, Masvidal made his pro debut on Absolute Fighting Championship 3 winning by KO.
He would fight primarily for the AFC in his first 10 fights. Going 8-2 and winning the welterweight title in his last fight with the promotion.
BodogFIGHT & Sengoku
Jorge started to get some recognition from fighting on the short lived BodogFight series. He fought 3 times for the promotion going 3-0.
Gamebred then fought Strikeforce and Crazy Horse Fights before fighting in Japanese promotion Sengoku. Going 2-1 in his time with the promotion.
Masvidal's Bellator run & Strikeforce run
Masvidal fought on the very first Bellator MMA show and two other cards for the promotion afterward. What he's probably most known for in Bellator is being put to sleep with a standing reverse triangle from Toby Imada.
He would fight on a variety of different promotions before returning to fight for Strikeforce. Masvidal would go 3-1 on his second run with the company before they were bought out by the UFC.
Masvidal's early UFC run.
With the UFC buying Strikeforce, Masvidal was one of the fighters that was brought over. He had moderate success in the beginning of his UFC.
Jorge would go 5-1 in his first 6 fights with 4 decision wins. He'd hit a snag in his career after this start going 1-3 in his next 4 fights. Losing three debatable split decisions.
Masvidal would bounce back, winning his next three fights, while bouncing between lightweight and welterweight. During this win streak, he would finish Jake Ellenberger and Donald Cerrone.
Although after this win streak, he'd lose 2 decisions in a row to Demian Maia and Stephen Thompson.
Masvidal's resurgence 
With Jorge's UFC career on the line with 2 straight losses, he had to make something happen. After taking 2 years off to heal injuries, Jorge returned to fight.
In his returning bout he would face heavy betting favorite Darren Till in Till's hometown. Masvidal would shut down Till's game and knock him out in stunning fashion.
Gamebred would win another fight after his fight with Till during the post fight pressers. Top welterweight taunted Masvidal and Jorge hit Edwards 3 times cutting him open.
This was when the meme 3 piece and a soda started and Masvidal's surge in possibility.
The Askren KO
As Masvidal's popularity continued to grow it would explode in his fight with Ben Askren. Again Masvidal would find himself in the position of the underdog against an undefeated wrestler.
He would deliver the KO of the year dropping Askren in the first 5 seconds.
Masvidal vs Diaz
At UFC 244 after constantly pushing the fight on social media, Jorge Masvidal met Nate Diaz in the main event. For the inaugural BAMF title.
Gamebred would win every round until the doctor stopped the fight due to cuts on Diaz.
Short notice title fight
With Gilbert Burns testing positive for Covid, Jorge stepped in as a replacement on short notice.  The champ Usman would control Masvidal with his wrestling to win a decision.