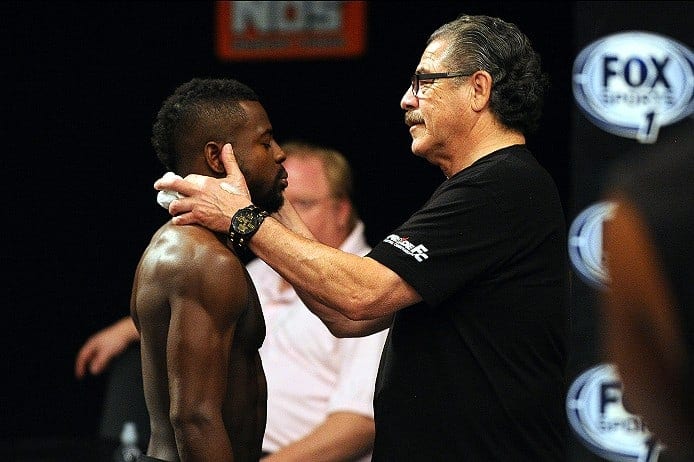 Former UFC cutman Jacob 'Stitch' Duran has experienced a period of transition in his recent employment profile, and it all stems from his comments on the Reebok deal. Duran spoke out regarding his lack of compensation from the UFC or Reebok in lieu of lost sponsorship money, and paid the price for those comments with his job. Perhaps even more insulting was the response Dana White gave to a wave of questions fired at him by frustrated fans; 'We were never friends'-that statement is quite the dash of salt in the wound.
All this after 'Stitch' had said he would return to the UFC if they were to approach him, potentially offering an olive branch of sorts. As it stands, all bridges look to be burned, and Duran appears on 'Off The Ball' to give his response to being ushered out of the friend zone so quickly:
"That's what made it really impossible for me to continue working with the UFC because the majority of the money I was making was through my sponsors. In the event that I work with the UFC, the pay-scale was definitely not even close to what I was getting in boxing. So when they took the sponsors away that changed the whole landscape of what I have to do because I have a family to support,"
"That's not much of a counter-punch," Duran responded to White's 'not my friend' comment,
"He says he never deals with cutmen. But he's the one who started this programme and as a general you always know who's in the frontlines and who's in the backlines. That's just good strategy and if you get Dana to name three cutmen outside of myself and Don House, he has no clue and didn't really appreciate the things that we did."
Maybe five or ten years ago this sort of uproar from the fans would have been non-existent, but a barrage of negative media in the past year seems to have presented the UFC with a straw & camel situation with their customer group. One interesting point I think worth highlighting is that Dana White has publicly stated that the UFC-Reebok deals will only benefit the fighters, not the UFC brass, so 'Stitch' wouldn't fall in to the beneficiary category. The company hands were essentially tied.
Either that, or the management wanted to make an example, it wouldn't be far fetched to think they'd be able to throw some compensation, just a token gesture, to one of their more loyal associates.

What are your thoughts?