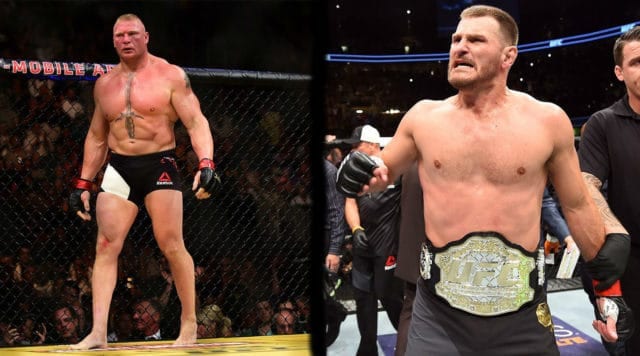 UFC heavyweight champion Stipe Miocic continues to address a potential fight with former heavyweight champion Brock Lesnar.
UFC heavyweight champion is slated to fight UFC light heavyweight champion Daniel Cormier in the main event of the upcoming UFC 226 pay-per-view event. However, that has not stopped him from talking about a potential showdown with Lesnar.
Lesnar has competed just once inside of the cage since 2011. The former UFC champion holds notable wins over fighters such as Shane Carwin Randy Couture and Frank Mir.
Hard-hitting heavyweight star Mark Hunt is the last man to have fought Lesnar in the Octagon at UFC 200 in 2016. This marked Lesnar's return to MMA after an almost five-year retirement.
As seen in the fight, Lesnar won a unanimous decision that night which was subsequently overturned when it was revealed he failed two USADA issued drug tests before the bout. This led to Hunt filing a civil suit against Lesnar and the UFC to settle his grievances.
Now, there is speculation that Lesnar might show up to UFC 226 to call out the winner of this main event fight. The only issue with this grand idea is the fact that Miocic may not want to fight Lesnar right away and has a good reason for it.
"Honestly, I heard about that too, they've talked about it before at that press conference," Miocic said about the Lesnar rumors in a recent interview with Submission Radio (transcript courtesy of MMA Mania). "Like I said, all I care about it July 7th, it's all I've got my mind on, and after that, I'll worry about it afterward. Then I'll worry about my daughter being born."

"No, probably not, [I wouldn't fight Brock] right now. I'd do it, but not right away," Miocic continued. "I plan on [taking a break after my daughter is born]. I mean, it's the plan. I gotta enjoy my daughter."

"Everyone's tough, it doesn't matter," Miocic said. "Everyone can win on any given night. It's the fight game. Honestly, like I said, I don't really care what's happening outside of it right now, my focus is on July 7th. Good for Brock, good for Curtis [Blaydes], I wish nothing but the best for them, but right now all I care about is DC, July 7th."