Stephen Thompson: Woodley Wanted To Fight Everybody But Me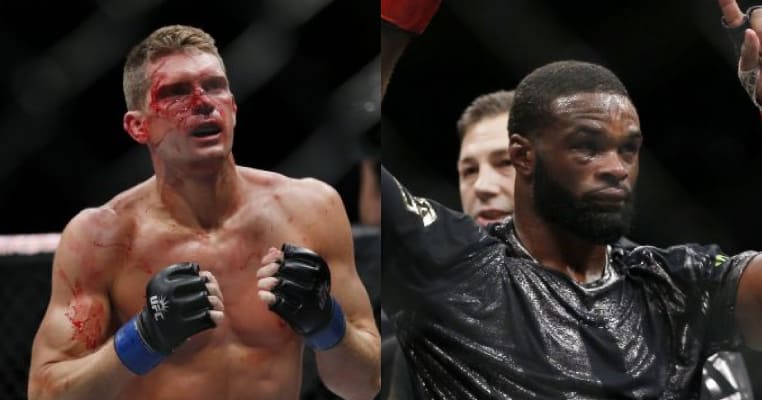 After the thrilling co-main event at UFC 205, Tyron Woodley and Stephen Thompson were instantly poised to rematch. The result of their back-and-forth burner in NYC was a majority draw, as entertaining as it was close. 'Wonderboy' had enjoyed a 'dark horse' status heading in to his first UFC title fight, with many picking the flashy striker to get the win. As it turned out, 'The Chosen One' delivered, managing to keep the pace over five rounds. Opting for his volume strikes throughout the bout, Thompson put in an equally game and gallant showing.
It wasn't long before Woodley was talking about other fights, though. Facing off with Michael Bisping, the welterweight champion revealed plans for a middleweight title fight. Discussing a 'money fight' with Nick Diaz or Conor McGregor, Woodley also teased a tilt against Demian Maia. Momentarily, at least, it seemed 'Wonderboy' might get snubbed. Similarly to the lead up to UFC 205, Woodley himself announced the rematch at UFC 209, days before the promotion made it official.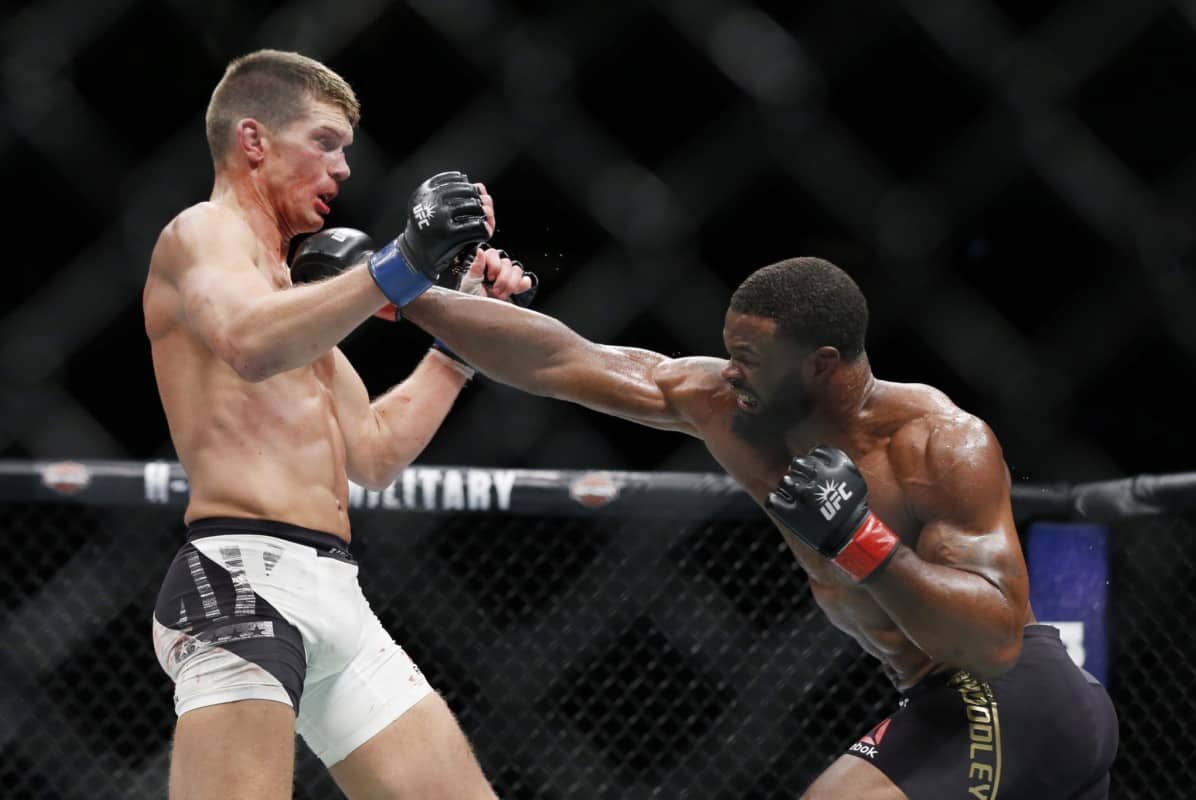 Wonderboy's Thoughts
Speaking since the confirmation of the rematch, Thompson addressed Tyron Woodley's latest statements. After being called 'entitled' and engaging in a Twitter beef, 'Wonderboy' gave his own typically measured version of trash talk. Here's what the number one contender told MMAJunkie.com:
"There's going to be no doubt in everybody's mind who the winner of that fight is going to be, and that's going to be me."

"He wants to fight everybody else but me is what it seems like," Thompson said. "We did fight to a draw last time, which, in my eyes, we might as well have not even fought at all. It almost seems like he's happy with a draw, and he's OK with it. In my eyes, as a champion, I wouldn't be happy with that."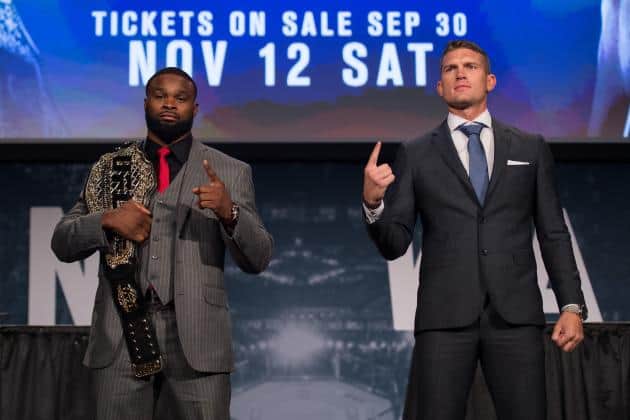 "I Fight For Honor & Glory"
"I know what it feels like to be out there with him, and going back and watching that last fight, I didn't throw everything I know I can throw," he said. "I was a little hesitant, didn't do a lot of switching sides, didn't throw the kicks that I normally throw. Tyron Woodley hasn't seen the best Stephen 'Wonderboy' Thompson. I know I can hit him, and I can hit him with some power."

"I fight for the honor and the glory, and I didn't win that fight," he said. "It was a draw, and I was a little disappointed in myself that I didn't give it 110 percent, which motivates me more to train as hard as I can for when I step out there again. I've got his number, man. Next time we step out there, I can just go out there and do my thing."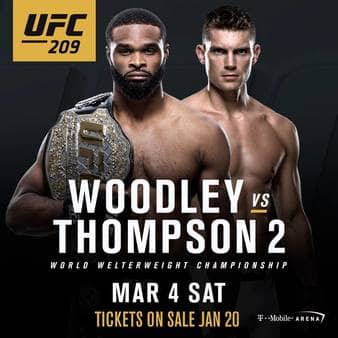 UFC 209 Fight Card
Woodley vs. Thompson 2 will headline the UFC 209 card on March 4, 2017. The T-Mobile Arena in Las Vegas, Nevada plays host. Here's how the UFC 209 fight card is stacking up so far:
MAIN CARD
Tyron Woodley (C) vs. Stephen Thompson – welterweight title fight
Mark Hunt vs. Alistair Overeem
UNDERCARD
Lando Vannata vs. David Teymur
Mirsad Bektic vs. Darren Elkins
Todd Duffee vs. Mark Godbeer
Paul Craig vs. Tyson Pedro