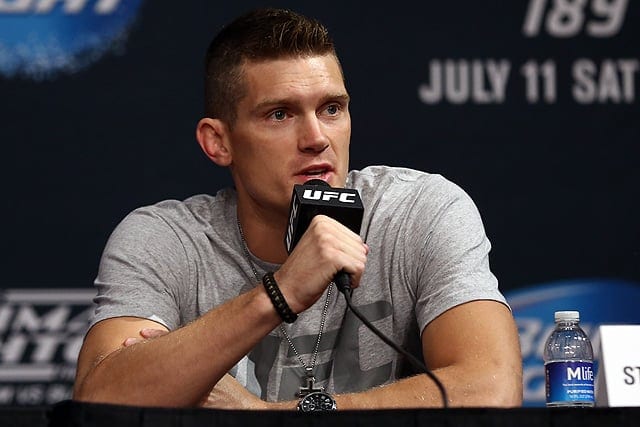 The UFC was met with yet another high-profile weight miss when rising welterweight Darren Till missed weight for his scheduled main event against Stephen Thompson at tomorrow's UFC Liverpool earlier today.
Set to fight in front of his hometown in a dream scenario, Till came up short by an astonishing 3.5 pounds over the welterweight non-title fight limit of 171 pounds for the anticipated match from the Echo Arena in Liverpool, prompting concern that the fight would not take place.
But as it usually does in the UFC, the match-up will proceed as planned; that is if Till agrees to Thompson's conditions for the bout. According to MMA Junkie, Wonderboy will go forward with the bout if Till forfeits 30 percent of his purse to him and weighs no more than 188 pounds at 1 P.M. local time tomorrow.
However, if Till cannot make the designated limit, another negotiation of terms is likely to happen according to MMA Fighting's Ariel Helwani. Till apparently had a family emergency this morning, which officials deemed the reason he was allowed an extra hour after the originally scheduled weigh-in time for fighters to check in. Thompson's team can be present for his weigh-in tomorrow as well.
At the ceremonial weigh-ins, Till apologized for missing weight but swore he could stop the top-ranked Wonderboy:
"I want to apologize for missing weight," Till said. "S**t happens… I know I can finish Stephen Thompson."
So the issue of missing weight continues to haunt the UFC, this time creeping into an awaited main event fight. It's a highly pivotal issue as well, as athletes who missed weight are an alarming 6-0 in UFC competition this year. Till has also missed weight once before, coming it even higher at five pounds over last year for his bout against Jessin Ayari.

As one of the biggest welterweights on the UFC roster, if the UFC Liverpool main event is scrapped because he's unable to meet Thompson's terms, whispers of him needing to move up a weight class will begin to swirl.