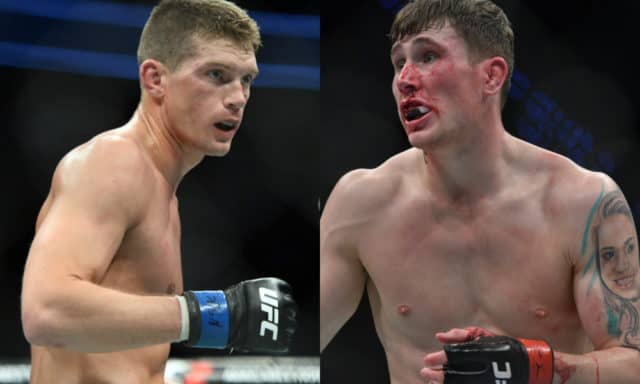 Stephen Thompson doesn't think Darren Till deserves his UFC 228 title fight with Tyron Woodley.
This past May, Till took home a controversial unanimous decision win over Thompson. Till missed weight by quite a sizable margin for the welterweight affair. The fight was close, however, when it was all said and done the judges determined Till did enough to earn the nod in front of his native Liverpool crowd.
As a result, Till was granted a UFC welterweight title opportunity against Tyron Woodley. They will main event UFC 228 on pay-per-view (PPV) next weekend. Due to Till missing weight in his last fight, however, much has been made about his title opportunity.
Thompson joined Submission Radio recently and offered his thoughts on the matter. "Wonderboy" divulged that he doesn't think Till is deserving of the title opportunity:
"Do I think he deserves it? No. I really don't. This is a professional sport, and making weight is part of the job. You agreed to make the weight. I mean, it's like the Robert Whittaker and Yoel Romero.

"You know, if you don't make weight, you don't fight for the title. I think it should be the same. If you don't make weight, you don't move up the rankings. It's part of the job. You signed a contract to be that way, and my god, you should make it, you should make it.

"And he was bragging about it weeks before the fight how he's this massive 170(-pounder), how the UFC shouldn't be allowing the fight. Which made him look even worse because he didn't make weight. And that was 171."
Thompson doesn't believe Till is able to make the title fight limit of 170 pounds because of it. He believes the Liverpudlian pushes the limits because there are no consequences for it:
"I mean, how is he gonna make 170? So yeah, man, I would definitely be questioning that as a fan, but also as the UFC. So, for him to be actually fighting for the title, man… and they're wondering why people aren't making weight.

"Because there's no consequences. Yeah sure, he wasn't getting paid much for that fight, so of course he won't make weight. Give 20 or 30 percent or whatever it was to move up the rankings."
Thompson admitted it was worth it to get it a big fight because there is little punishment for missing weight:
"So now, I mean, he's probably getting crazy money to fight now, so I bet it was worth it. And the UFC is like, why aren't these guys making weight? Because there's no consequences. You know, no real consequences.

"A lot of people will give them 30 percent and move up the rankings cause their next fight will be more money. It's just a sacrifice at the moment for a bigger gain later on."
Thompson's being targeted for a big welterweight match-up next year. The UFC is reportedly aiming to pair up "Wonderboy" with Robbie Lawler in January. A victory over "The Ruthless One" would certainly be enough to get Thompson back into the title conversation.
If you enjoyed this story, please share it on social media!