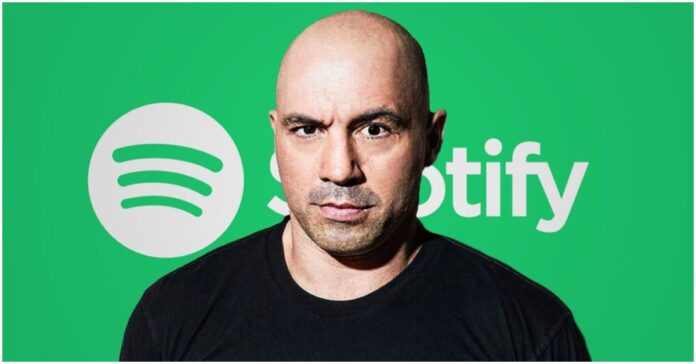 Joe Rogan has found himself in hot water lately after a compilation video of him using the N-word went viral on social media.

Many people have called for Spotify to cut ties with the MMA commentator and popular podcaster, who has also caused controversy for airing what some believe to be misinformation regarding COVID-19.
Spotify CEO Daniel Ek said in a message to his employees that the streaming giant will not part way with Rogan.
"While I strongly condemn what Joe has said and I agree with his decision to remove past episodes from our platform, I realize some will want more," Ek said in the note. "And I want to make one point very clear – I do not believe that silencing Joe is the answer."
"We should have clear lines around content and take action when they are crossed, but canceling voices is a slippery slope. Looking at the issue more broadly, it's critical thinking and open debate that powers real and necessary progress," Ek wrote. He said he was "deeply sorry" for the impact the controversy was having on Spotify's workforce.
Joe Rogan Has Apologized For Using The Racial Slur
I know that, to most people, there's no context where a white person is ever allowed to say that word, never mind publicly on a podcast," Joe Rogan said in a video statement posted to social media. "And I agree with that now. I haven't said it in years. But for a long time when I would bring that word up, like if it would come up in conversation, instead of saying 'the n-word' I would just say the word. I thought as long as it was in context, people would understand what I was doing.
"Like that context was (in) part of the clip we were talking about was Redd Foxx, how Redd Foxx said that word on television in the 1970s and how times have changed so much since then; or about how Richard Pryor used it in a title of one of his albums or how I was quoting a Lenny Bruce bit: or I was quoting a Paul Mooney bit; or how I was talking about how Quentin Tarantino used it repeatedly in 'Puip Fiction'; or I was talking about how a Netflix executive ironically used it because he was trying to compare it to another offensive word, he said it out loud, and they fired him – not calling anybody a word, just saying the word out loud."
Do you think Spotify should stick by Joe Rogan?