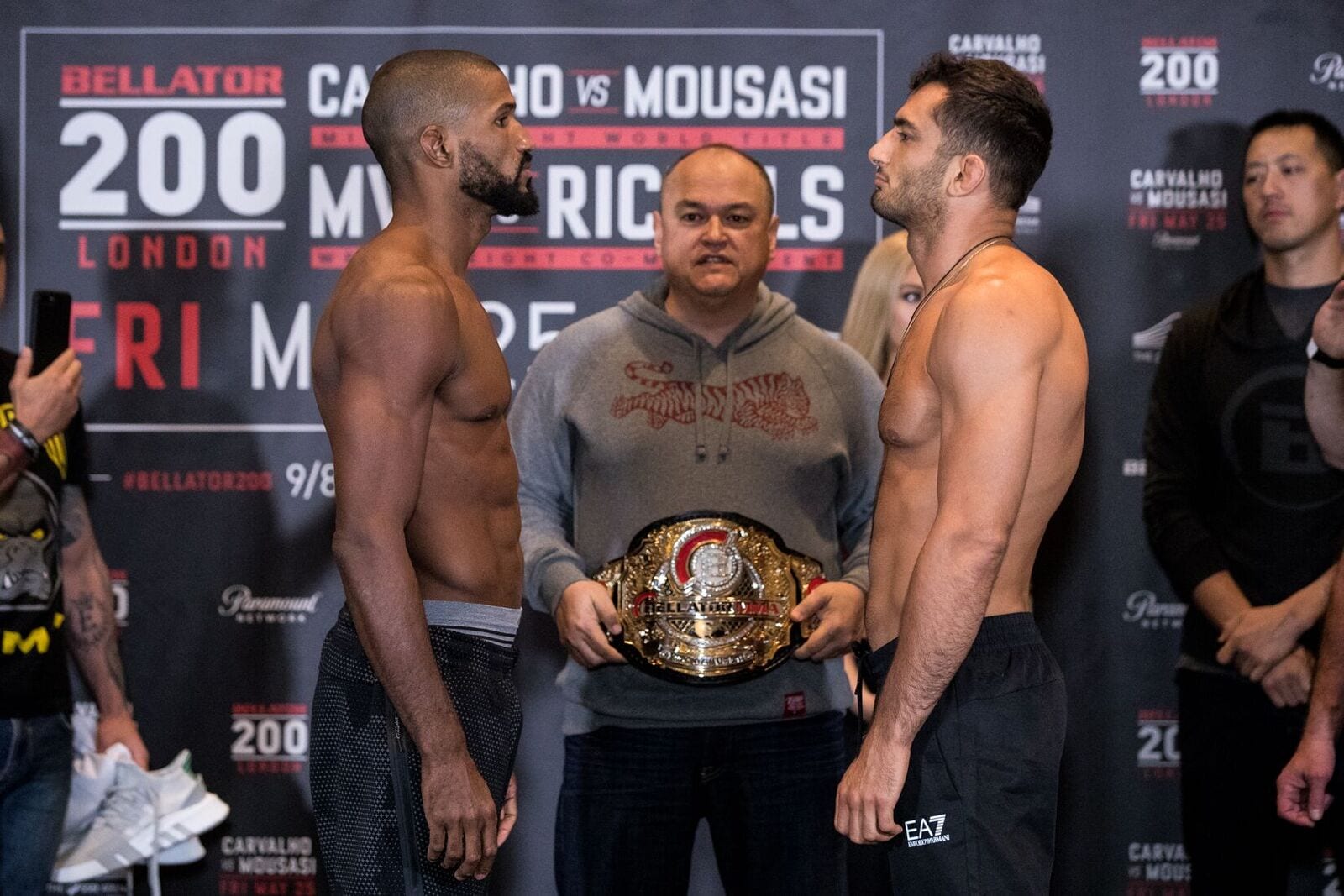 It's once again fight day here at LowKickMMA, and the talent on display tonight (Friday, May 25, 2018) will come in the form of Bellator 200. Headlining the card are Rafael Carvalho and Gegard Mousasi, but there's a whole bunch of great fights also taking place on the rest of the main card.
The promotion taped the broadcast earlier in the day and we have the full results. If you plan on watching the broadcast, then do not scroll below.
The event went down at the SSE Arena, Wembley in London, England with the prelims airing online, which aired live. 
Michael Page vs. David Rickels in a welterweight bout served as the co-main event. Rounding out the five bout main card is Phil Davis vs. Linton Vassell in a light heavyweight bout, Aaron Chalmers vs. Ash Griffiths in a catchweight bout, and Anastasia Yankova vs. Kate Jackson in a female flyweight bout.
Here are the results for this event that will be airing later tonight on the Paramount Network:
MAIN CARD (Paramount (tape delay), 9 p.m. ET)
Gegard Mousasi def. Rafael Carvalho via TKO (strikes) – Round 1, 3:35 – to win middleweight title
Michael Page def. David Rickels via submission (verbal) – Round 2, 0:43
Aaron Chalmers def. Ash Griffiths via technical submission (standing guillotine choke) – Round 1, 1:54
Mike Shipman def. Carl Noon via knockout (punches) – Round 1, 0:11
Kate Jackson def. Anastasia Yankova via unanimous decision (30-26, 30-26, 29-27)
Phil Davis def. Linton Vassell via knockout (head kick) – Round 3, 1:05
PRELIMINARY CARD (Bellator app, 12:30 p.m. ET)
Jahreau Shepherd def. Marcin Zywica via TKO (doctor's stoppage) – Round 1, 5:00
Walter Gahadza def. Kent Kauppinen via submission (rear-naked choke) – Round 2, 2:04
Amir Albazi def. Iurie Bejenari via submission (rear-naked choke) – Round 1, 3:21
Charlie Leary def. Tom Green via TKO (punches) – Round 2, 4:58
Charlie Ward def. Martin Hudson via TKO (punches) – Round 1, 2:23
Pedro Carvalho def. Daniel Crawford via split decision (29-28, 28-29, 29-28)
Anatoly Tokov def. Vladimir Filipovic via submission (guillotine choke) – Round 1, 0:56
Costello van Steenis def. Kevin Fryer via TKO (strikes) – Round 1, 1:27
Mike Ekundayo def. Tom Mearns via TKO (arm injury) – Round 2, 1:02