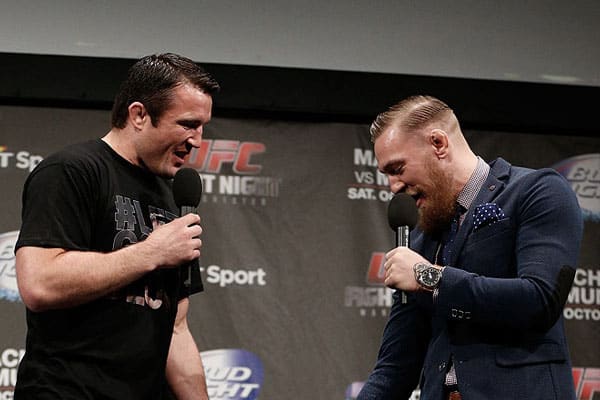 Conor McGregor made history Saturday night and Chael Sonnen believes it makes him the greatest fighter of all-time.
Saturday night at UFC 205 McGregor became the first fighter to hold belts in multiple divisions simultaneously. However, it was more than just winning two belts, but how he did it. He made it look easy, dropping Alvarez on numerous occasions before closing the show. Sonnen spoke on ESPN and made his case for McGregor being the greatest fighter of all-time.
"I think Conor needs to be recognized as the greatest fighter to have ever done it. This is the first time in UFC history that someone has held a world championship in two different divisions simultaneously," Sonnen said. "Literally, history was just made… Conor does exactly what he said he'd do. It reminds me of the Babe. He used to used to walk out to the mound and he'd say where he'd put the ball, and nobody else had the courage to actually try to do it. Conor McGregor said I will put you away in less than two rounds. For the third straight-time he has called his own shot. He put Alvarez away in less than 10 minutes."
Going into the fight the general consensus was that McGregor was going to have trouble dealing with the Wrestling of Alvarez and that wasn't the case at all. Sonnen was most impressed with McGregor's ability to create distance, keep it there and completely stifle the wrestling of Alvarez.
"I'm absolutely blown away," Sonnen said. ""Conor was never in danger of being out wrestled and taken to the ground, which could also tire him out, which we saw with Nate Diaz. This was one of Eddie's big arguments as to why he was going to beat Conor, and I personally believed it. On paper, it made a lot of sense. The problem was Conor kept his distance, Eddie couldn't get in where he needed. Every time he tried to, Conor would kick him right in the stomach, regain that distance again and keep him at the end of those shots like we've seen him do so well. Coach, that is the real story of this fight, is that Eddie could never get started."
It is unclear what's next for McGregor, and with two divisions full of contenders and even welterweight champ Tyron Woodley open to a fight with McGregor for the welterweight title, the options are endless.
Only time will tell.