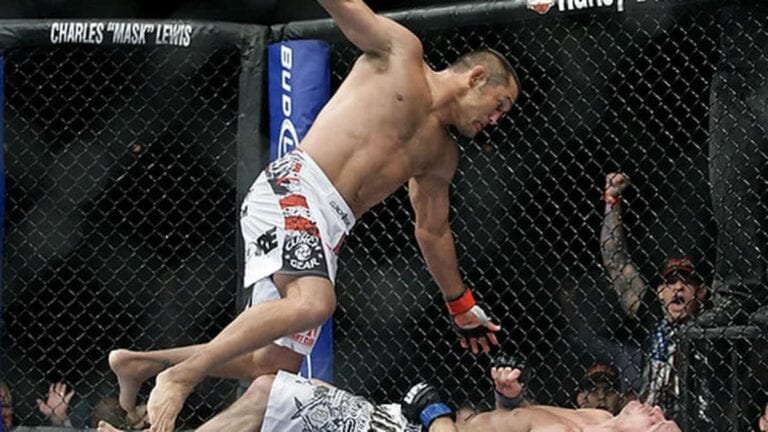 With just a few days to go before Michael Bisping defends his middleweight title against Dan Henderson, it's about time we all refresh ourselves on why many MMA fans are hoping Henderson will re-create his UFC 100 super-starching of "The Count."
From his antics on TUF to his past mistakes like spitting on a downed opponent's corner to his reputation for being outspoken with his many opinions, Bisping is an easy target to be cast as a villain, especially in contrast to quintessential good-guy Henderson. He seems to be a good family man and quite a nice guy off camera, but he's been painted in quite the villainous light on it. So it may not be all that hard to see why rooting for Henderson seems to feel so natural for so many MMA fans.
Nonetheless, we've singled out the most polarizing moments and will examine them here, with three for each side of the argument.
Three Reasons Fans Want Pull For Henderson
3. He's Fought Everyone, Everywhere For Nearly 20 Years
At age 46, Henderson will be stepping into the Octagon for his 47th career fight. Of those battles he has won 32 with 18 finishes, including some of the most exciting knockouts in MMA history. In such a long-spanning career Henderson has faced some defeats. However, looking back on his record, the vast majority of his losses are to former champs and absolute legends.
He held two belts in Pride, was the last Light Heavyweight Champion of Strikeforce, and now has the opportunity to capture the one belt that has eluded him. It's only fitting that a pioneer who has provided us with so many highlight-reel finishes in MMA's modern-era and jaw-dropping memories from years past finds himself in a position to close out his career with a title shot against one of the sport's most outspoken villains.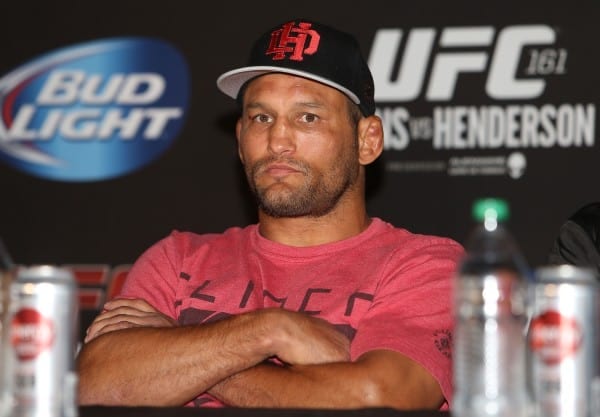 2. He's A Stone-Cold Gunslinger
If there is anything that any fan can tell you with 100 percent certainty about Henderson, it's that the man has is an absolute killer. He has ice-water in his veins and a nuke in his right hand. In a sport that hinges on diversity and multi-discipline skill sets Henderson is able to keep some of the most skilled strikers in the sport guessing with a WMD affectionately labeled the "H-Bomb".
Sure, his wrestling pedigree keeps fighters honest, but the thing that we love about Henderson is that he approaches the sport with the mentality of a gladiator, 'with your shield or on it'. The only points that concern Henderson when he enters the cage are the points of his opponent's nose and chin.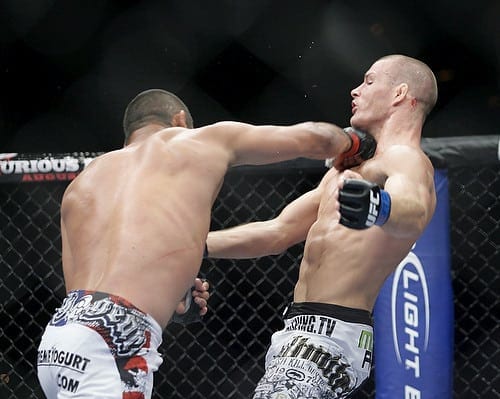 1. UFC 100: Down For The 'Count'
One of the greatest highlight reel scenes in the history of the Sport, this classic fight was the culmination of a TUF season during which Bisping egged Henderson constantly while Henderson promised to save it for the fight
By the time the two hit the cage there was a main event feel in the air. Then, during the second round, finally, Henderson made good on his promise by dring a flat-liner into Bisping's left jaw. In this moment, Henderson sealed his legacy, not only as a pioneer, but as a modern day world-beater and one of the most all-around entertaining fighters in UFC history.
Bisping has since gone on to silence his doubters and finally become UFC middleweight champion, but he's also had to do it while maintaining a perhaps false (at least somewhat) persona of the heel.
Read on to find out how Bisping has worked to play he 'bad guy' role to perfection, and how it plays into fans rooting for Henderson at UFC 204…
Three Reasons Michael Bisping Has Been Forced To Embrace The "Bad Guy" Role:
3. Blames
To say there has been controversy in the UFC regarding PEDs is quite an understatement. There have many voices on the subject, numerous suspensions, stories from fighters who've been tested and some confusion on what the tests actually found. Through it all, though, Bisping's stance has been clear, concise and direct: No tolerance. The problem? He delivers it in such a Bisping way that many fans side with the juice simply to spite him – right or wrong, and in the case of supporting PEDs, it most certainly is wrong.
When the ban on testosterone-replacement therapy (TRT) was introduced in 2014 by the Nevada State Athletic Commission (NSAC), Bisping's ears perked up and the excuse wheels starting turning. You see, outside of the loss to Rashad Evans, he could (in his own mind) justify each of his previous losses in a way so convincing (to himself) that they could be considered (by himself) de facto wins.
He has claimed permanent disfigurement at the hands of steroid users, called Chris Weidman out for being injury prone since USADA, and even attempted to dismiss his DOA loss to Henderson saying "as we all know he was cheating" in reference to Henderson's use of TRT.

2. Gets KO'd, Wins Fight
Alright, I get it, things happen – especially in the sport of mixed martial arts. But when those things involve a guy like Bisping fighting a guy like Anderson Silva, in England no less, it only serves to solidify predominate opinions held by the masses about both fighters.
Late in round three of their fight earlier this year Silva secured his patented Thai clinch and began to drill Bisping. In the heat of the exchange there was some confusion over Bisping's mouthpiece between he and referre, Herb Dean. As the fighter's clinch broke Bisping backed away, hurt and focused on getting a break in the action to retrieve his mouthpiece.
Seeing no such indication from Dean, Silvia leaped in with a flying knee and arguably turned the lights out on Bisping. With Bisping slumped against the fence Dean began to move toward the fighters to stop the action when the bell sounded. The flurry had been so decisive that Silva actually jumped on top of the cage to celebrate his win. Silva went on to lose via decision.
That was England. It was Bisping. Let's move on.

1. TUF: U.S. vs. UK
One, if not the main, reason why UFC 100 was such a sweet moment for Henderson was TUF US vs UK. It was this season, also that saw Bisping's reputation as an antagonist in the sport solidified.
The ninth installment of The Ultimate Fighter matched up fighters from the United Kingdom against fighters from the United Stated with Henderson and Bisping serving as coaches. On one hand the show, as it seems to always do, revealed a new generation of talent, showcased the great kickboxing skills of the lesser known UK fighters and provided some great action. On the other hand it gave the viewing audience, team members, and especially Henderson a front row seat a for what was effectively a 12-part documentary on just how effective a trash talker Bisping can be.
By the time this season wrapped and the two made their way to the cage it seemed to be the wish of the collective MMA fan base that Henderson win and win big.
In the seven years since their original bout, both fighters have seen their ups and downs. Bisping is on a four-fight win streak that has landed him, at long last, the UFC middleweight championship. Henderson, no doubt deep into the twilight of his career, has gone a modest 2-3 in his last five. However, his recent KO of tough-as-nails Hector Lombard has many, many people looking, wondering, and hoping that the old man can pull it out one last time and shock the world by shutting Bisping down again.