Invicta FC featherweight champ Cristiane "Cyborg" Justino is rapidly becoming one of the most recognizable names in the UFC after finally making her Octagon debut with two stoppages over Leslie Smith and Lina Lansberg this year.
Those two wins arguably put her in line for her long-rumored super fight with returning former women's bantamweight champion Ronda Rousey, but 'Rowdy' was instead booked to face current UFC women's 135-pound champ Amanda Nunes in the main event of December 30's UFC 207 from Las Vegas. Cyborg was understandably furious when the news was announced, posting a seething response on social media and still campaigning for the bout in very hard-charging fashion.
Justino believes she is owed the fight because of her impressive body of work, but while she may deserve a fight with Rousey, there are several mitigating factors that would strongly argue she certainly isn't owed the oft-discussed super fight – even if it may just be the biggest MMA fight of all time if and when it does happen.
Let's break down six of the main factors why Cyborg should forget about fighting Rousey – at least for now:

6.) The Weight Class Remains A Big Issue:
While many believe Rousey should simply meet Cyborg at a catchweight of 140 pounds to stop 'ducking' her, the reality is that even making 140 pounds is an extremely taxing prospect for Justino that's undoubtedly threatening to her long-term health.
She's fought at 145 pounds for the vast majority of her mixed martial arts career, and at times, struggled to even make that division's limit while walking around at upwards of 175 pounds. Cyborg definitely rehydrates well and shows up to the cage several pounds heavier than the class limit, perhaps a big reason why many top 135-pound women have been hesitant to fight her.
Rousey and the UFC know this, and it's not all that tough to understand why they would want 'Rowdy' to return to a title fight against the current 135-pound champ rather than one against a nearly unstoppable bulldozer who is much bigger than her. It's completely fine that Cyborg wants to hold a significant size advantage over her opponents, and it would probably take at least a year if not more to lose the muscle necessary to meet them at 135 pounds. She's not willing to do that, however.
That means she can't expect fighters to meet her demands so she can be much larger than them when fight time is here.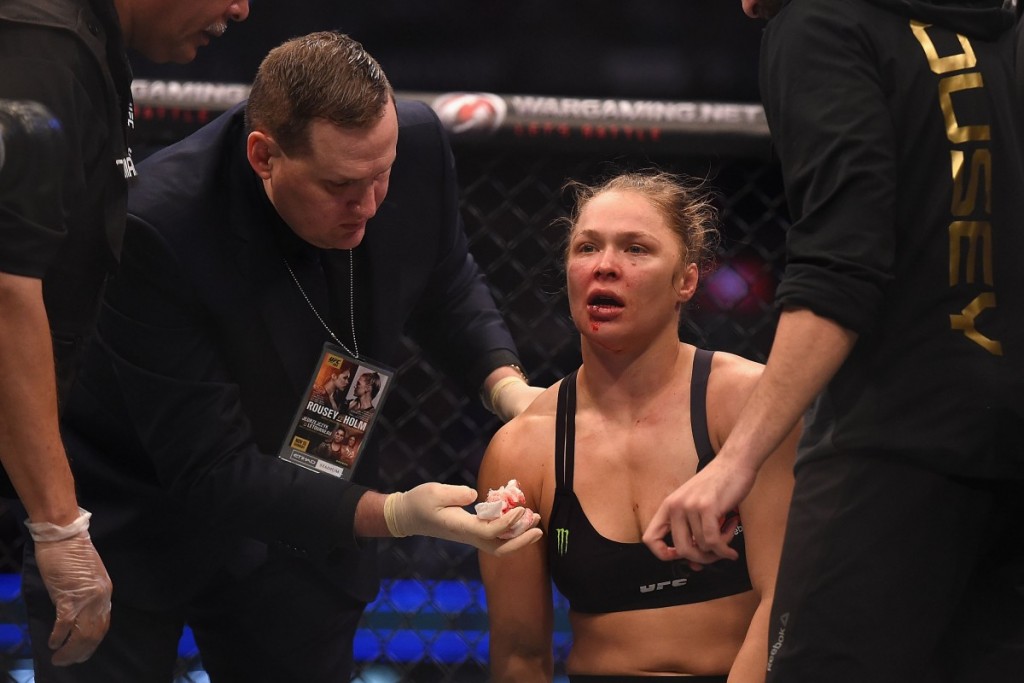 5.) Rousey's Layoff:
Building off of Rousey's desire to not fight a larger fighter in Cyborg, she most certainly does not want to do so coming off the first loss of her highly decorated career, the infamous head kick KO at the hands (and feet) of Holly Holm at November 2015's UFC 193.
Since that day, Rousey has hardly shown her face out in public let alone set foot in the Octagon, leaving most to legitimately question where she was at both mentally and physically. UFC President Dana White has assured the media that Rousey is ready to go, but until we see what she looks like in a fight, there's no real way of proving or disproving those beliefs.
An almost foolproof way to derail Rousey's comeback before it starts is to have her face the steamrolling Justino right away, because a title fight versus the similarly surging Nunes is a tough enough endeavor in its own right. She may be favored over "Lioness," but Rousey still has much to prove in the cage. Fighting Cyborg is not the arena in which to do that, and again, both she and the UFC know it.
To expect anything otherwise, especially taking into account the UFC's business-minded booking practices of the last two years, is somewhat of an oversight on Justino's part. If Rousey can defeat Nunes, then the massive super fight could eventually happen. Expecting it to right now, however, is obviously not realistic.

4.) Steroid Failure:
While this topic of discussion centered on Cyborg's failed drug test in her final Strikeforce bout in late 2011 has been beaten to death by Rousey and nearly everyone else, a cheating scandal in a sport where your man and only job is to inflict damage upon another human being simply isn't going to go away easily if ever.
Despite Cyborg's repeated passing of the UFC's new and more stringent USADA drug testing policies, Rousey has cited the failure as the main reason Cyborg should be able to meet her at a championship weight of 135 pounds if she wants to fight. Cyborg would obviously be heavily drained and far from her self if she were even able to make the weight, so it's a convenient go-to statement from 'Rowdy.'
Many would argue it's a valid one, however, so if Justino wants the big payday that comes along with fighting Rousey, she simply can't have her cake and eat it too, so to say.
Her highly publicized failure in Strikeforce all but makes it a prerequisite that she cut down to bantamweight, and right or wrong, it's not surprising to see Rousey take the stance as she attempts to rebound from her first-ever loss.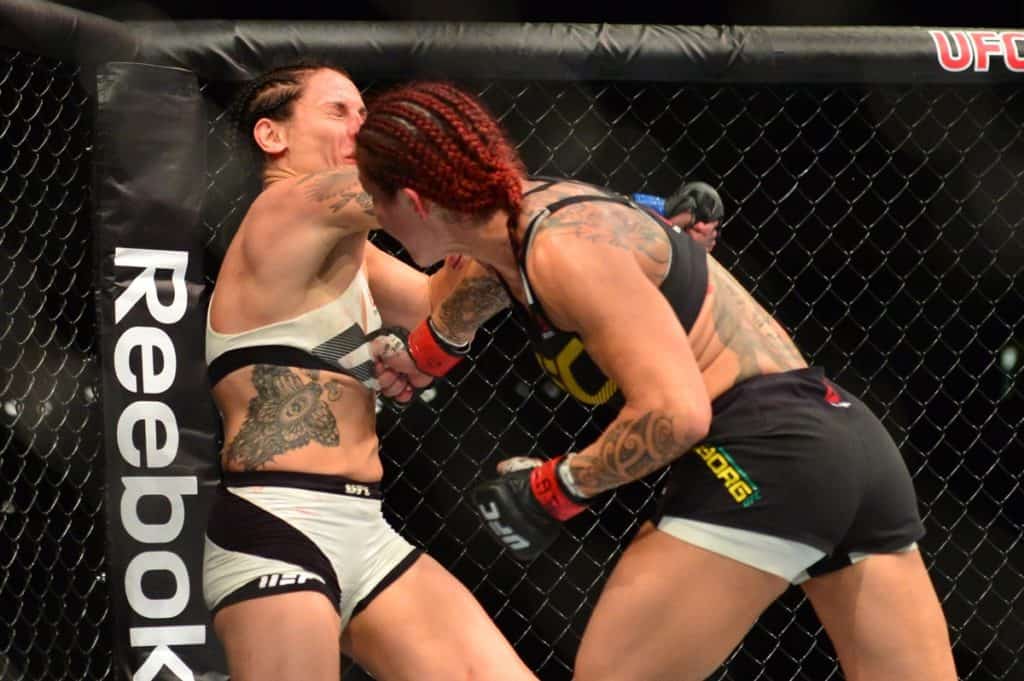 3.) Cyborg Has Beaten Lesser-Known Fighters For Years:
With Rousey out of action and the UFC women's bantamweight title being passed around like a hot potato, there is no denying that Cyborg is the most dominant force in the women's side of the sport right now.
Yet she's risen to that spot by defeating a largely unknown host of fighters who were seemingly brought in for one reason only – to be thrown to the slaughter, and not surprisingly, they were. The only bantamweight she faced in her two UFC fights was Leslie Smith, an unranked contender with a 2-3 record in the UFC and a 8-7-1 record overall. Her most recent win was over tough but out-matched challenger Lina Lansberg, who was a relative unknown until signing on to face Cyborg.
It's understandable that Cyborg wants the UFC to build a division around her, but there simply aren't enough top female 145-pound fighters around to sustain that division, especially with Cyborg already having decimated many of her would-be contenders.
She very well may destroy Rousey, but suggesting she deserves the fight because of her dominant record against questionable opponents is not getting her the fight, at least not yet.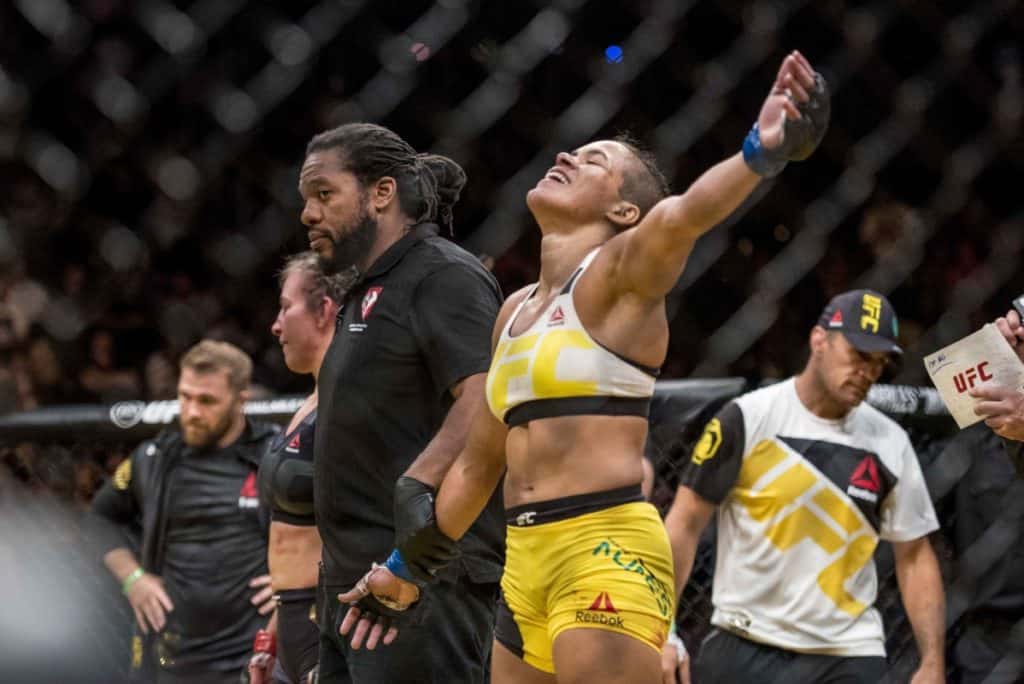 2.) Amanda Nunes:
A huge, glaring reason that suggests Cyborg needs to pump her brakes on the Rousey fight is the presence of current champion Amanda Nunes.
'The Lioness' has been on an absolute tear since changing her camp to American Top Team (ATT) after her loss to Cat Zingano at UFC 178, finishing four on the bounce including her shockingly easy upset submission over former champion Tate in the main event of UFC 200.
Nunes is simply at the top of her game as arguably the most dangerous women's bantamweight in the world. The concerns about her gas tank will remain, but Rousey isn't exactly one to engage in five-round wars herself. Rousey vs. Nunes will most likely end suddenly and violently, so it's going to be beyond interesting to find out if Nunes' heavy pressure-based striking and jiu-jitsu games will be able to avoid being thrown to the mat and submitted by Rousey's judo, which is tailor-made to beat pressure fighters.
If she can prove Rousey is no longer the best 135-pound female in the world, then the super fight with Cyborg would seem a bit unrealistic because Nunes would be the most formidable candidate for it. She's far from the draw Rousey is, even after a would-be second straight defeat. Nunes is the betting underdog as of now, but she can't be counted out by any stretch of the imagination. With one punch, "The Lioness" could stop all of the Rousey vs. Cyborg talk cold, which is exactly why Justino can't get ahead of herself.

1.) Cyborg Would (Should) Be A Huge Favorite To Win:
Finally, Cyborg has been such a dominant competitor that, at this point in time, she would likely be a heavy favorite over Rousey according to early oddsmakers. That of course could all change with a dominant Rousey performance over Nunes, but even if the numbers drew closer it's hard to imagine a scenario where 'Rowdy' has an easy fight against Cyborg.
The exact opposite scenario isn't as tough to imagine given the current state, and the UFC is justifiably hesitant to book the fight at least in part for that reason. Whether it's a matter of Rousey not having the "balls" to face her or not, a huge Cyborg win over Rousey, regardless of it would indeed be the biggest MMA fight of all time, would put the UFC is an extremely difficult state of affairs. One of their two biggest stars would have two recent losses, and the situation would go back to Cyborg having no clear direction without any legitimate opponents or division.
True, the payoff would be huge for one fight, but it's also a big gamble to risk one of your top-drawing fighter's legacy on.
White recently said Rousey vs. Cyborg would happen if Rousey defeats Nunes, but we've certainly seen White say one thing and do something completely different. It's not a hard scenario to envision, should Rousey win back her title, a rematch with Holm if "The Preacher's Daughter" can win a fight or two after two losses to Miesha Tate and Valentina Shevchenko.
Would it be bigger than Rousey vs. Cyborg? Tough to say, but it would have the potential to be the biggest rematch in UFC history, even with the luster of both fighters' track records having been tarnished recently.
The UFC is about pay-per-view (PPV) revenue, and for their new owners to consistently bring in the huge numbers needed to recoup their massive $4.2 billion initial investment, they're going to need sustained success with high-profile cards headlined by Rousey and Conor McGregor. Even if Rousey beats Nunes and then loses to Cyborg, especially by knockout, it's doubtful we'll see much more of "Rowdy" in the Octagon.
That is why, right or wrong, Cyborg needs to forget about fighting Rousey for now. Because while it may (and hopefully does) happen, there are just too many factors playing against the elusive super fight right now.