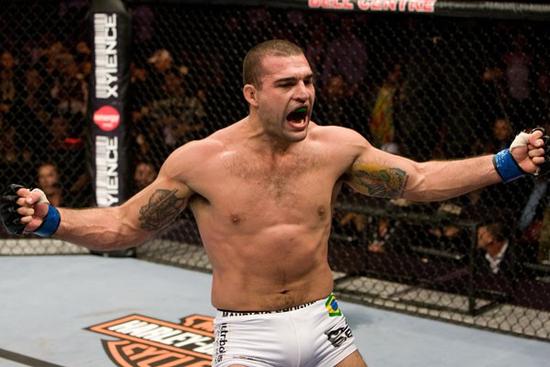 UFC Fight Night 56 is set to go down tomorrow night (November 8, 2014) from Uberlandia, Brazil, on Fox Sports 1. Originally scheduled to take on Jimi Manuwa in the main event, Brazilian legend "Shogun" Rua will take on Ovince St. Preux after Manuwa was forced out due to injury.
After accepting the fight on just day's notice, St. Preux expressed in an interview with MMA Fighting that he plans to fight intelligently against Shogun. Given Rua's decorated striking background, this may mean that former NCAA Football player may not want to engage with the Brazilian.
Also being interviewed by MMA Fighting, "Shogun" admitted that he expects OSP to "lay and pray", but he is ready for anything:
"He always tries to go for the ground and pound, but I trained for every situation," Rua told the media in Uberlandia. "He may try to lay and pray, hold me on the ground, but I have trained this with my team."
St. Preux, oddly enough, also had to adapt to changes regarding UFC Fight Night 56. He was originally scheduled to face Rafael Cavalcante in the co-main event of this event, but when Cavalcante pulled out, he agreed to take on Francimar Barroso.
When news broke that Manuwa was hurt, more changes occurred and OSP moved up to the main event to face "Shogun". Rua claims that he never thought about not accepting the fight:
"We never considered not taking the fight. It's not the UFC's fault and fans want to see a fight. It happens. Injuries are inevitable. I tried to change my training, adapt myself (to St. Preux's game), and I believe I'll be ready for him."
The change may even be more detrimental to the former Pride and UFC champion, as Manuwa and St. Preux are completely different fighters and pose completely different challenges. However, Rua believes neither man has the advantage:
"We have a lot of great fighters at the gym, I had a sparring who fights exactly like St. Preux. I don't believe anyone will be in advantage on Saturday night because of the opponent's change, since he also had his opponent changed twice. I had one week to adapt."

Although both men claim they will be ready under these unusual circumstances, who do you think will prevail come fight night?