Video – Sean Strickland already breaks UFC title after upset win over Israel Adesanya, duct tapes it together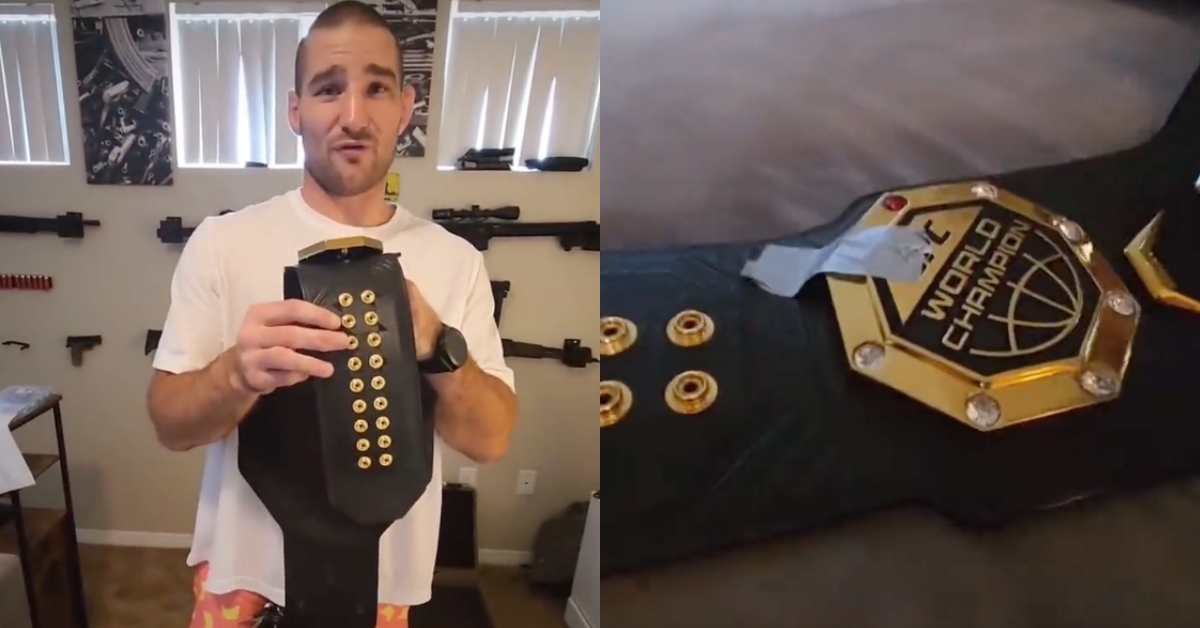 Less than five days removed from his shocking undisputed championship victory at UFC 293 over the course of last weekend, newly-crowned champion, Sean Strickland has already broken a side panel on the official title belt – strapping the strap together again with some makeshift duct tape.
Strickland, who headlined UFC 293 last Saturday night in Sydney, Australia, turned in one of the most stunning championship upset victories in the history of the organization, landing a totally one-sided unanimous decision (49-46, 49-46, 49-46) victory over two-time champion and defending gold holder, Israel Adesanya.
Sean Strickland breaks UFC championship belt
And strapped with undisputed middleweight gold for the first time in his Octagon tenure, former welterweight contender, Sean Strickland has been forced to already break out the duct tape in aid of the title belt, breaking a side panel on the official championship. 
Sharing an immense amount of thoughts on his championship upset victory against Adesanya 'Down Under' over the course of the weekend, Xtreme Couture staple, Strickland praised his father for alleged child abuse in his youth, which he claims led him to the championship spoils.
Furthermore, Strickland, who claimed it felt like fighting an "amateur" in his clash with Adesanya on Saturday night in Sydney, has been pegged to fight the former two-time champion in an immediate rematch.
And according to Adesanya's head coach, City Kickboxing leader, Eugene Bareman, a showdown as soon as December or early 2024 may already be on the cards.
"Realistically, end of the year, start of next year," Bareman explained. "I said one week because that was me eluding to, I think the game plan is still there. It still exists. I think that there are some mental things there that we can quickly adjust in a week and then get back in there, and we could see a completely different fight. Whether Sean's able to impose those mental blocks that he put on Israel, I don't know if he'll be able to do that again." 
Would you like to see Sean Strickland rematch Israel Adesanya next?