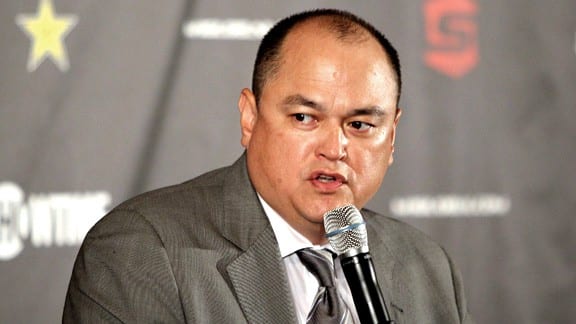 Last week (Tues., May 5, 2015) the MMA community was set ablaze by the unveiling of the official Reebok sponsorship payout numbers for fighters, figures that largely gained a massive backlash due to the fact that most athletes were set to lose significant sums of money in an already tough sport.
The lowest tiered fighters will only earn $2,500 per fight under the new system, and while they most likely wouldn't be bringing in major sponsorship money under the current system, the general consensus was that the UFC's fighter pay coupled with Reebok's supposedly stingy payment plan was going to make it incredibly difficult for lesser known fighters to rise up the ranks.
A mass exodus of fighters was speculated to be moving to Bellator, and while that's just not such a simple transaction, Bellator President Scott Coker did meet with MMA Fighting's Luke Thomas to discuss the groundbreaking and controversial policy. Coker believes that with fighters losing so much potential income, the UFC will have to address the problem effectively or suffer:
"I think there's been some situations that have been explained to me where fighters were making $50-60,000 a fight from all their sponsors [are] now making $10,000 or $15,000 or $20,000. You'd have to talk to UFC to see how they're going to handle that situation, but I'm sure they're going to do something. The fighters are not going to be happy if it's taking out $150-$200,000 a year in sponsorships from their pocket.
"I think they're going to have a situation on their hands that they're going to have to deal with."
Coker also clarified that his phone has been ringing rather frequently since the announcement of the payouts, but he's not in a position to talk terms with any of them if they're still under contract with the UFC:
"I will tell you this, the phone's been ringing. I just tell people, 'Listen. We're not going to engage in any kind of dialogue with you on any level unless you're a free agent. When you're free, give me a call.'"
The former Strikeforce boss continued on about the tenuous scenario, noting that both fighters and managers are inquiring about Bellator's sponsorship policy. Once again, Coker isn't free to negotiate, but when they are, he's willing to listen:
"Managers and fighters. A lot of questions are, 'What's your policy on sponsorships?' I say, 'Look, I can't engage in any kind of conversation with you guys. When you're free, give me a call.' But the phone's definitely been ringing."
With Bellator recently signing former top-ranked UFC light heavyweight Phil Davis in free agency, the Reebok deal can only help to bolster Bellator's roster once those disenfranchised competitors' UFC contracts run out. Will the controversy-laden Reebok deal finally lead to some competition at the top levels of MMA?