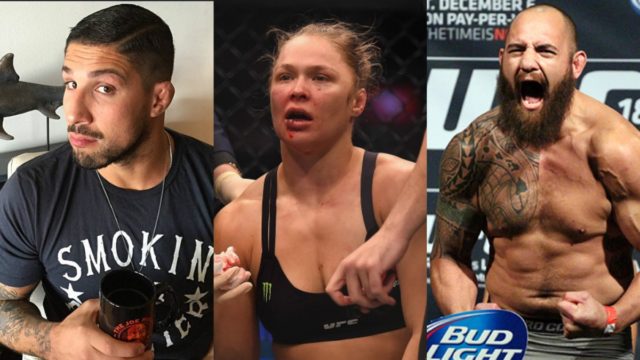 Brendan Schaub and Travis Browne are still beefing, and once again Ronda Rousey is brought in to the conversation…
UFC heavyweight Travis Browne will face a mountain of a challenge at UFC 200, taking on the former two-time heavyweight champion Cain Velasquez. 'Hapa' has witnessed many highs and lows during his UFC run, earning knockout victories over Brendan Schaub, Josh Barnett, Matt Mitrione and Alistair Overeem, but also falling to Andrei Arlovski, Bigfoot Silva and Fabricio Werdum. A win over Velasquez would surely see the Hawaiian striker set for the next title shot.
It's not only inside the octagon that's been complicated at times for Browne, as he's faced some adversity in his personal life too. His new squeeze and former bantamweight champion Ronda Rousey recently went through a devastating period of her life following the Holly Holm loss, and of course Travis' estranged wife accused him of domestic violence last year. 'Hapa' was cleared of the alleged beatings on Jenna Renee, and after Rousey's tough times it looked as though things were looking up for both of them. Although there may still be some bitter feelings between Browne and one of his former opponents Brendan Schaub.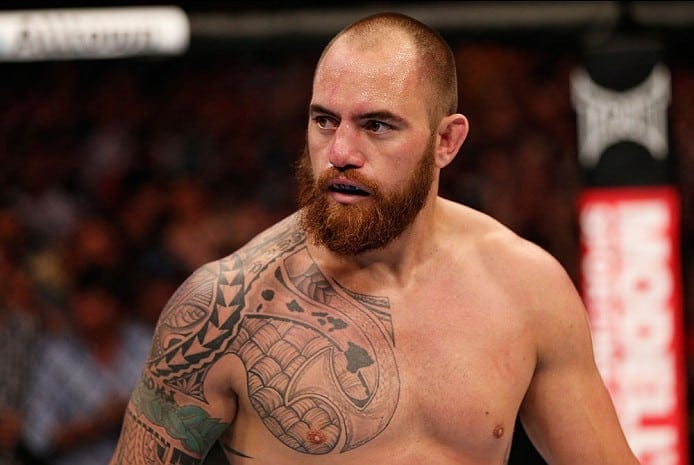 'Hapa' sent the following Tweet out on Thursday, showing him putting a beating on 'Big Brown' during their fight in December 2014. Where this gets a little sideways is when you consider Schaub used to date Browne's current lady 'Rowdy,' and when you throw those kind of emotions in the mix, it often gets heated.
#tbt What a satisfying night when you shut someone up with your fists!#ufc #activ8media #hawaii #satisfied pic.twitter.com/tAl5CLfw3E

— Travis Browne (@travisbrowneMMA) 31 March 2016

During yesterday's episode of Fighter and The Kid, Schaub responded to the Tweet from Browne, starting at the 13:30 mark.

'I don't know,' said Schaub on Browne's recent Tweet. 'What's there to say? I don't have any hard feelings towards him. What was that, like two years ago when we fought? I know (I talked some trash to him) but that was years ago. Get over it man, is it because I used to date the girl you're dating now? I'm just glad Ronda gave him some time off from folding her laundry'
A ridiculous impression followed. SHOTS FIRED!
If you enjoyed this story, please share it on social media!