Ryan Bader talks Bellator's future, discusses a potential legacy fight with Francis Ngannou in PFL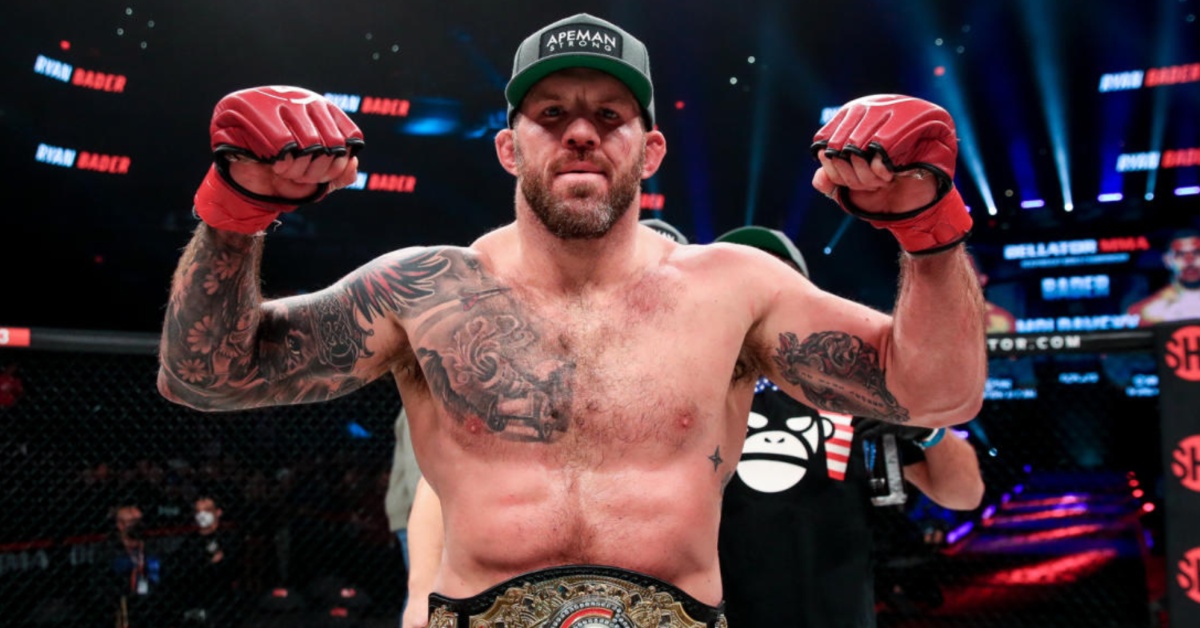 With Bellator's future currently up in the air, reigning heavyweight champion Ryan Bader was well aware that Saturday night's Bellator 300 event could be his final opportunity to defend the title. Sadly, he won't have that chance after his opponent, Linton Vassell, withdrew from the contest days before fight night.
With rumors of the promotion being sold to a third party swirling, Bader is uncertain where he or other members of the Bellator roster currently stand.
"I've had some talks with my manager about 'what ifs,' but really nobody knows what's happening," Bader told MMA Fighting. "So what you can do, keep that on the outside and take care of your job. Put yourself in the best position moving forward with a merger or who knows what happens. Are we all free agents? Are we merging with PFL? We don't know.
"You can think of all different scenarios, but none of them may be true. What we have to do is keep our heads down and think about the fight in front of us, and put ourselves in the best position to get your contract picked up, or if you're a free agent, a new contract. Being the heavyweight champion has a little bit of weight going into that."
Ryan Bader Looks at a Potential Legacy Fight with Francis Ngannou
The prevailing theory thus far has Bellator being absorbed by the Professional Fighters League, a promotion that is looking to make a strong push in the next few years courtesy of an aggressive expansion in Europe and Africa. Not to mention the acquisition of former UFC heavyweight world champion Francis Ngannou.
Currently, Ngannou is gearing up for a big-money boxing match with Tyson Fury in Saudi Arabia on October 28. Once that bout is in the books, 'The Predator' is expected to turn his attention back toward MMA, making his PFL debut in early 2024. No official opponent has been announced for his premiere performance inside the Smart Cage, but whoever earns the opportunity will walk away with a fat sack of cash, win or lose.
"[Ngannou] has a minimum [of $2 million dollars], and that's anybody that fights him gets $2 million," Bader said. "You go in there as a champion and negotiate your terms too, that's a nice little payday and something you work toward. Something like that's definitely on the line, so maybe this is happening at the right time for the right reason.
"Obviously we've got to see how things shake out, but it seems to be happening at the right moment. It's one of the things I'm talking about. If this merger or whatever comes to happen, that's a big money fight and it's something that's very, very interesting."
Ryan Bader first broke onto the MMA scene after winning the eighth season of The Ultimate Fighter in 2008. Over the next eight years, 'Darth' would compete against a who's who of light heavyweight talent inside the Octagon, including Jon Jones, Lyoto Machida, Quinton 'Rampage' Jackson, Rashad Evans, Glover Teixeira, and Anthony 'Rumble' Johnson.
However, it wasn't until he ventured to Bellator in 2017 that Bader would hit his strike, capturing both the light heavyweight and heavyweight titles. In February, 'Darth' successfully defended the heavyweight strap against MMA legend Fedor Emelianenko at Bellator 290. A fight that could end up being his last for the promotion.
"I've hit a lot of those plateaus and peaks as far as winning the heavyweight grand prix while holding the light heavyweight belt. You can't really top that," Bader said. "[I beat] Fedor [Emelianenko], and being heavyweight champ for so long — so yeah, a lot of it is you want to make [money], and I've been making great money, and I want to continue making great money or even more money.
"I'm 40 years old. I'm not going to be fighting here forever. I'm not going to be fighting four or five more years. So yeah, that's a big motivator, too. Go out and get these paychecks, but deep down the [competitor] in me wants to go out and win, and win titles, and do that kind of stuff also. They go hand in hand."