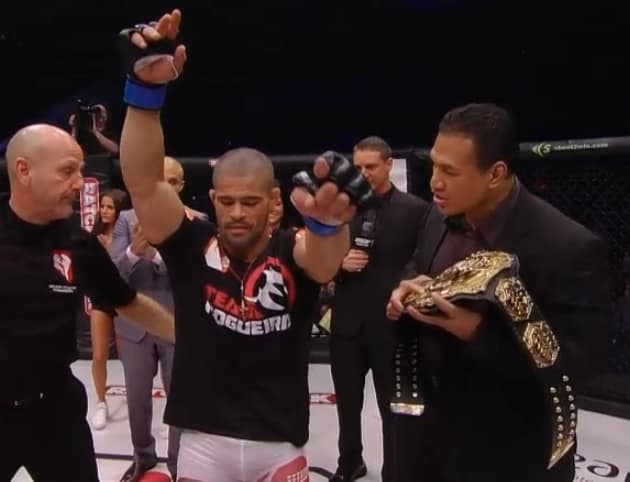 Ronda Rousey may have set the mixed martial arts (MMA) world ablaze last Saturday night (August 1, 2015) when she demolished rival Bethe Correia in the main event of UFC 190 from Brazil, yet the sport was dealt an unfortunate distraction that is actually being discussed more than 'Rowdy's' win when controversial World Series of Fighting (WSOF) welterweight champion Rousimar Palhares held onto yet another submission for too long in his main event win over Jake Shields at WSOF 22.
'Toquinho' was also seen repeatedly gouging Shields' eyes in the second round of a bout he was losing up until his fight-ending kimura in the third, and WSOF vice president Ali Abdelaziz confirmed that Palhares had indeed grossly violated the rules again.
The Nevada Athletic Commission (NAC) withheld his win bonus pending any disciplinary action, and a punishment was set for today (Tues., August 4, 2015) from the WSOF. After Palhares was both suspended and ultimately cut from the UFC for doing the same thing he did to Shields, WSOF president Ray Sefo appeared on The MMA Hour with Ariel Helwani to discuss his highly controversial and dangerous champion's sanctions:
"You know after the fight, obviously viewing it live, there was a few times where I seen Palhares stick his fingers in Jake Shields' eyes. I didn't want to jump the gun; I went straight home after the fight, I logged onto my computer, and one hundred percent he did it once, twice, he did it numerous times; and he was warned by the referee on numerous occasions.
Now the fact that he may say that he never gouged his eyes, the fact remains that his fingers were in Jake Shields' eyes, therefore it's illegal, then the fact that he held that submission way too long. And I counted the amount of time Jake Shields tapped, it was like nine times; I counted the amount of times Steve Mazzagatti tapped him on his back, it was like five, six times.
And so, after sitting down with my team and reviewing it again, we've made a decision at World Series of Fighting, we're not only going to strip him of his title immediately, we're also suspending him indefinitely."
Despite the steep punishment from the WSOF, Sefo confirmed that the NAC is reviewing the incident separately:
"And obviously the Nevada Commission is doing their own investigation."
As a longtime fighter himself, Sefo conveyed his view that athlete safety is a massive priority for the promotion, and they simply had to hand down the punishment they did to stop this kind of action. The backlash directed at WSOF after Sefo repeatedly defended him when the promotion signed him signified that what he did was not right:
"Absolutely. I've been in competition for a long time, I've been fighting for over two decades, and I'm always going to be an advocate for fighters. We need to look after our athletes and fighters, and this kind of behavior to stop. And we've given, I was one of the people that came out and also defended him on several occasions, as well as Ali, and I feel that we've given him more than a fair chance.
Also, I'm not the only one that saw this; my team is not the only one that saw this. Thousands and thousands of viewers that tweeted saw this, so you can't deny the facts. It was dirty, it wasn't right, which is why World Series of Fighting is standing by its position by stripping him of his title and suspending him indefinitely."
Sefo also said that releasing Palhares outright was indeed a possibility, but they would wait for the NAC's decision before making a drastic move:
"Obviously right now that's a part of that discussion, but we haven't really finalized that part of it yet.
I think right now depending on what the Nevada Commission decision is, I mean the fact is he may never fight for us again. The fact that Nevada Commission may suspend him for two, three, four years, so I have no idea until such a time that the athletic commission is done with their investigation we'll make another decision after that."
At the current juncture, Sefo stated that the WSOF has made their call and even though he spoke with NAC Executive Director Bob Bennett about the incident, they are still reviewing the tape and formulating their own decision:
"Not at this point, I mean we did to speak to Bob (Bennett). The Nevada Commission is not going to make a statement until the view the tape and do some more research into the fight, and then we will hear from them."
So Palhares has been stripped of the belt and suspended, and an even harsher punishment could be coming from the NAC soon.
However, Sefo was on record stating that Palhares would be 'gone if anything happened again,' and this is arguably his worst offense yet.
Did the promotion act too grievously, or did they let the oft-troubled fighter off easy given that this is a disturbingly frequent trend for the 'Toquinho?