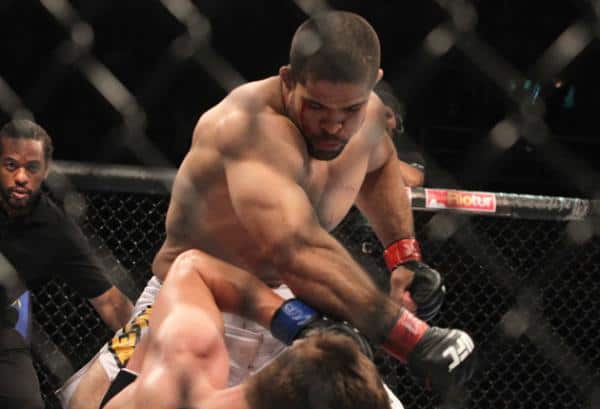 When news arrived earlier today (Tues., August 4, 2015) that World Series of Fighting (WSOF) president Ray Sefo had decided to strip controversial welterweight champion Rousimar Palhares of his title and suspend him indefinitely for repeated eye gouges his cranking of a submission on Jake Shields long after his opponent had tapped in the main event of last Saturday's WSOF 22, their response was met with overwhelming support from the vast majority of the MMA community.
That is, except from his manager Alex Davis.
Speaking up to MMAjunkie.com in the aftermath of the promotion's decision, Davis confirmed that while he had nothing but respect for Sefo, suspending Palhares indefinitely is not the correct course of action. According to Davis, if WSOF is indeed going to cut ties with 'Toquinho,' as Sefo stated was distinct possibility, then they should just get it over with so Palhares cane move on:
"I love and respect Ray, but you cannot suspend somebody indefinitely. I have the contract, and the contract says (WSOF) shall have the right upon notice to the fighter – which we have not received – shall have the right to suspend the term for a reasonable period until the applicable issue is resolved. That is not indefinitely.
"If WSOF does not want Rousimar's services anymore, what they should do is just end the contract and we'll just part ways. What's not going to happen is they keep him under contract so that he can't go and make his living somewhere else."
Davis confirmed that Palhares does continue to crank submission after his opponents have tapped, something that he and his team have repeatedly tried to work with their fighter on but to no avail. The manager admitted that he was owed a punishment for those actions, but also pointed out that Palhares may not be the only fighter committing such infractions:
"There are no rules that tell you how far you take a (limb) back or forth," Davis said. "It's a very subjective point. But I agree that if we're looking at the safety of the fighters, and he's done it time and again and we've tried to work with him, and try to make him not do it and he just keeps on doing it, I have to give my hands out to be slapped on that.
"But I have to point that he's not the only one who does it, and people don't get buzzed when a guy gets knocked out and he gets three or four more punches. I'm not saying he's right on this, I'm just saying it's a part of the sport."
He also focused on the supposed eye gouges of Palhares, which he said were obviously illegal. But he also stated the belief that the eyepokes could be deemed accident or not depending on one's point of view, and he wanted Shields to also be reprimanded for punching Palhares in the face after the fight was over:
"There's the eyepokes that we could say that they were accidental or not accidental," he said. "I watched very carefully and it's clear there are points where his fingers do contact with Jake Shields' eyes, and that's illegal. Now, if that was accidental or on purpose, I'm not the person that's going to say that. But if you're going to punish Rousimar, you're going to have to punish Jake Shields for punching him after the fight was over. Two wrongs don't make a right."
It's no surprise to see Palhares' manager, who obviously makes his living off of the considerable fighting skills of the disgraced 'Toquinho,' stand up for his fighter in the face of his latest (and perhaps most heinous) offense. However, it appears that Davis is indeed coming around to the fact that his fighter has a problem, and while he has given more leeway to Palhares than most have, it's clearly something he's wanted him to work on in the past.
It hasn't worked, and here we are wondering if and when Palhares will someday climb back into a cage to put his net opponent's health at risk. With fighters everywhere calling for Palhares to be banned for life, are Davis' small gripes with the WSOF and Shields merely weak attempts to divert attention away from what really matters?