The return of former UFC women's bantamweight champion Ronda Rousey didn't go quite to plan for 'The Rowdy One' to say the least, as she was taken out by 135-pound champ Amanda Nunes in only 48 seconds of the first round of their UFC 207 main event meeting earlier this past weekend (Friday December 30, 201).
After having suffered the second consecutive loss of her mixed martial arts (MMA) career, both by way of knockout, the career of Rousey now remains in question. Rousey's nutrition coach Mike Dolce tells MMA Fighting's Ariel Helwani, however, that he wouldn't be surprised if the former Olympic judoka decides to hang up the gloves, or if she tries to give it another go:
"I wouldn't be surprised either way," Dolce said. "I want to make sure that's contextual. If she says, 'I want to be back for Super Bowl weekend or the July 4th card,' I would not be surprised in the slightest. If she says, 'I've done my thing in MMA, I'm gonna retire as a legend in the sport, specifically for WMMA,' I wouldn't be surprised, either. I truly think it's 50-50 right now."

"I think it's gonna take some time," Dolce said. "I don't think she truly knows right now. As any good athlete, she should take her time to really think about it."
Rousey's first career loss came at the hands of the now-former women's bantamweight champion Holly Holm, who finished 'Rowdy' in the second round of their UFC 193 meeting from Melbourne, Australia in November of 2015. After suffering traumatic loss Rousey admitted to having had thoughts of suicide, but was able to rebuild herself mentally in order to prepare for a return against Nunes.
Now that she has suffered yet another loss the fear of those thoughts re-entering Rousey's head now linger, but according to Dolce that shouldn't be a concern as she is surrounded by a great support system:
"No, there's no concern about that," Dolce said. "She's in a great place. She has an amazing support system around her, truly. I think she's at an excellent point in her life. And this is my personal opinion, what happened in Australia against Holly, that was like a death. It was the death — and she had said — of who she wanted to be and what she wanted to be."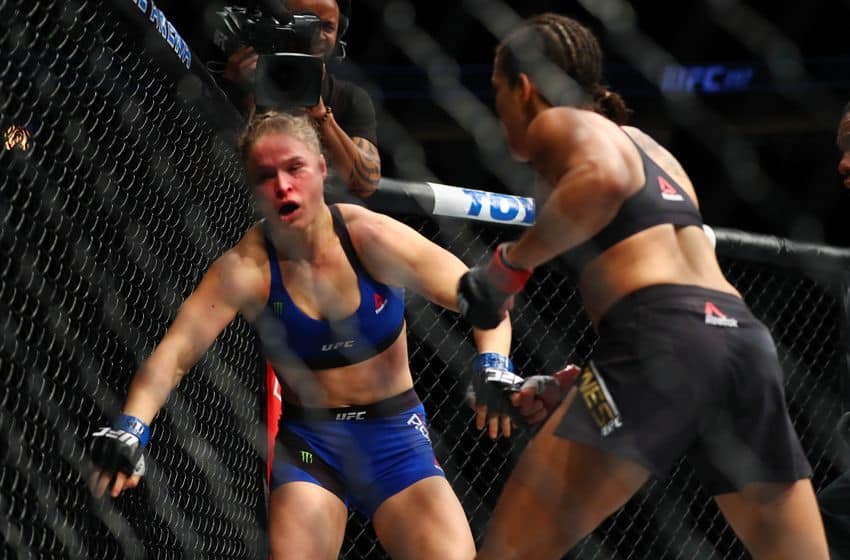 Leading up to the bout with Nunes, Rousey looked to be in tremendous shape before taking center Octagon in Vegas; arguably looking to be in the best shape of her career.
For those who say Rousey wasn't prepared to step in and fight Nunes, Dolce revealed that 'Rowdy' in fact made some changes to her lifestyle in order to be better prepared for 'The Lioness':
"That shows the dedication of the athlete," Dolce said. "She had really made some lifestyle changes, put her training first. So I don't think, there's no excuses. She did everything and had every opportunity to be perfectly prepare and she was for this fight. Kudos have to go to Amanda Nunes for putting on an amazing performance and going out there and getting the win over Ronda Rousey, who was well-prepared."
After having suffered yet another dramatically lopsided knockout loss for the first time in her career, do you think we'll ever see Rousey compete inside the Octagon again?