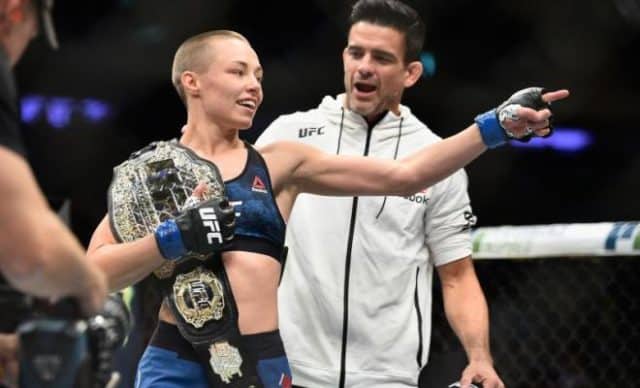 Ahead of their first fight, which took place at UFC 217 last November in New York City, it seemed as if then strawweight champion Joanna Jedrzejczyk was desperately trying to get into the head of Rose Namajunas.
That didn't work, however, as Namajunas, not phased by Jedrzejczyk's actions, ended up knocking out the Polish striker in the first round.
An in regards to the mind games, "Thug" Rose actually feels as if she's been the one 'freaking out' Joanna Jedrzejczyk:
"I think that I took [that intimidation] away from [Jedrzejczyk] the minute she knew about me, even before the fight," Namajunas told FloCombat. "I think she's been psyching herself out just by the presence of myself, ever since I've been on the scene. I've just been freaking her out ever since I've been around. I don't think that's going to change with this fight.

"We're constantly improving my game—my reactions, my reflexes, physically, and mentally. It seems like everything is perfect right now for me to be a dominant champion."
After the loss, Jedrzejczyk cited a highly difficult weight cut as a reason for her poor performance, but ahead of their rematch, which is scheduled to take place at UFC 223 in Brooklyn, New York this weekend (April 7, 2018), Namajunas is only focused on herself:
"I think it's important for all the losses I've had, I've always focused on what I could do better the next time," Namajunas said. "It wasn't [ever] about the other person. It's the same thing with this fight. Whatever was going on with her, I can't control that. All I can control is myself and make sure I'm the best version of myself just like last time—and I won, in dominant fashion.

"All the losses I've had, I've gained way more from it when I take full responsibility for what happened. So for me, it's taught me to make sure that I'm doing everything that I can and it's not going to be any different this time."
And it's safe to say that the reigning 115-pound titleholder is confident that she'll once again beat Jedrzejczyk:
"I don't know what's going to happen," Namajunas said. "All I know is I'm going to punch her in the face, take her back, and choke her out."
If you enjoyed this story, please share it on social media!