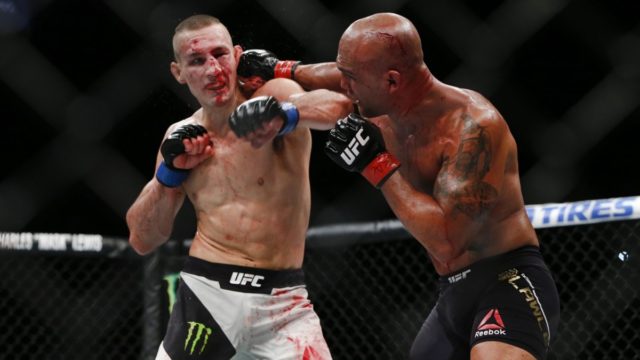 Former UFC welterweight title contender and current Bellator star Rory MacDonald has explained exactly why he thinks that former UFC welterweight champion was on performance-enhancing drugs when the two met at UFC 189 for the UFC welterweight title in 2015.
If you recall, in August during a Reddit AMA, MacDonald was asked by a fan if he believes Lawler was on PEDs for the fight, to which he responded that he is 'convinced' he was.
MacDonald explained that conclusion in an interview with MMA Fighting on Tuesday. As seen in the fight, MacDonald seemed to have the fight won heading into the fifth round on the judges' scorecards. But, after suffering a broken nose and taking repeated shots to the face from Lawler, the pain was too much to endure, which led to him being finished just a minute into the round.
"He never slowed down," MacDonald said. "I would hurt him, and his output was high, high, high and he never really lost power and endurance. He just kept the pace and kept the power no matter how hurt or tired he was. He always was recovered very fast. It made me very suspicious.

"Obviously, I think Robbie is a tank of a person. He's got that fire and that will and the rage and that anger in him that burns and pushes him through those hard moments. He's an absolute warrior. I'm not disagreeing with that. But I do believe he was taking some sh*t."
Make no mistake about it, MacDonald wants everyone to know that he doesn't think everyone at American Top Team is cheating.
"I didn't call so and so and so and so someone who was on performance-enhancing drugs," he said. "I don't have an issue with whatever. Someone asked me, 'Do I think Robbie Lawler is on steroids?' Yeah, I do. That's it."
It should be noted that Lawler has passed all 21 USADA drug tests that he has taken dating back to 2015. If you recall, their bout at UFC 189 was right after the UFC brought in USADA to run its anti-doping program.
"I'm totally not crying about it," MacDonald said. "If you're gonna ask me, do I think Robbie Lawler takes performance-enhancing drugs? Absolutely, I do. And I absolutely think he was on something when we fought."
If you enjoyed this story, please share it on social media!