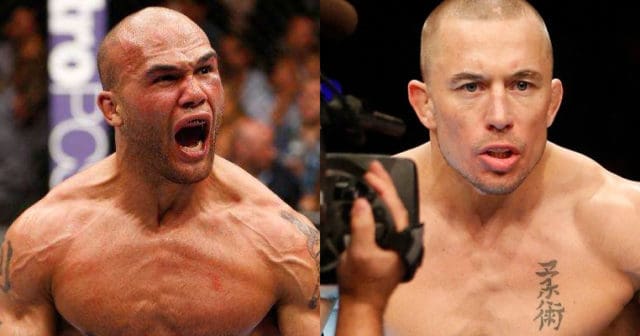 During the height of Robbie Lawler's UFC welterweight title run, a fight between him and former longtime 170-pound king Georges St. Pierre was, at times, discussed. St. Pierre, however, never ended up making his return to the Octagon and Lawler ended up losing his title in brutal fashion to Tyron Woodley at UFC 201 last July.
Now, both men are in different positions.
St. Pierre, for example, has finally announced that he'll be returning to the fight game, as he hasn't competed since scoring a highly controversial decision victory over Johny Hendricks at UFC 167 in 2013. Earlier this year, UFC President Dana White revealed that St. Pierre would be challenging Michael Bisping for the middleweight title, although White has since pulled the plug on that bout for various reasons.
Lawler, on the other hand, will return for the first time since losing his title when he meets fan favorite Donald "Cowboy" Cerrone in a highly anticipated fight at July 8's UFC 213. If he comes out on top, the "Ruthless" one will put his name right back into title contention.
As far as St. Pierre's return bout goes, White has recently said that the Canadian star will likely compete in a welterweight title fight. Lawler, however, feels as if "Rush" will hand pick his opponent, also saying that he doesn't think GSP wants to fight him:
"I think Georges is gonna pick the opponent that's gonna be the best for him to get a victory and sell a lot of pay-per-views," Lawler told ESPN's 5ive Rounds podcast. "I don't think he wants to fight me. I have to win a couple fights and beat a couple people up first."
Does a bout between St. Pierre and Lawler still interest you and who do you expect GSP to fight in his return bout?
If you enjoyed this story, please share it on social media!