Former UFC middleweight champion Rich Franklin could be contemplating a return to mixed martial arts (MMA).
At one point in the year of 2006 Franklin was in the midst of his reign as UFC middleweight champion, on a eight fight win streak, and viewed as one of the baddest men in the world. That all came to an end, however, when he ran into "The Spider" Anderson Silva at UFC 64, who knocked him out in the first round of their encounter and took his middleweight throne.
From then on out, Franklin had a very back-and-forth career and decided to retire after his 2010 knockout loss to Cung Lee in China back in 2012. He recently spoke to MMA Junkie radio about a possible return to the MMA cage, and said that what he misses most about being an active fighter is the brotherhood of preparing for an upcoming bout (quotes via MMA Junkie):
"People ask me if I miss my career, and the main thing I miss is not necessarily walking into the arena and all that and having your hand raised, but I miss the brotherhood I had prepping for a fight," Franklin said.
When it comes to returning to fighting and the possibility of participating in a "legend's league," Franklin said that it's unlikely but did admit that anything is possible:
"Is it possible I could come back? I mean, anything's possible," he said. "But is it probable? Not likely. I've never really been interested in a legends league. Just because once you climb to the top of Everest, you wouldn't say, 'Hey, I just you want to climb up Everest and go to base camp.' It just doesn't work that way.

"But the right kind of matchup and fight could definitely pique my interest. It's just not probable, so I don't really want to give anybody any false hope as if I'm coming back."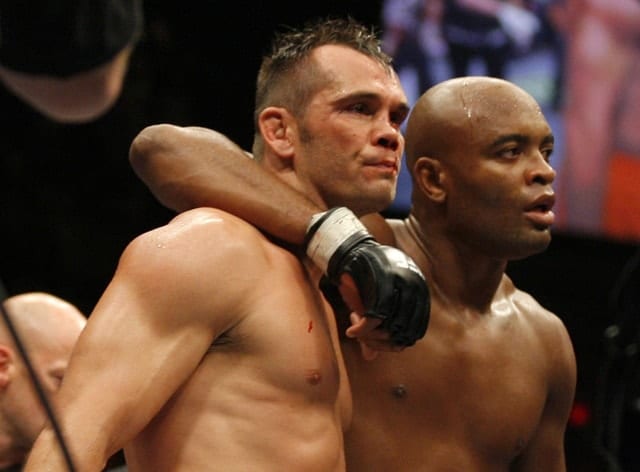 Franklin went on to claim that he feels better now physically did he ever did in his fighting career, however, his conditioning would be a problem if he decided to strap the gloves back on:
"To look at me, I'm probably actually in better shape with my body feeling the way it feels than I was in my fight career," he said. "Now, obviously, I'm not in peak physical condition, because you just kind of maintain that kind of conditioning throughout your life. You have to pick and choose when to peak, but yeah, I keep myself in shape."