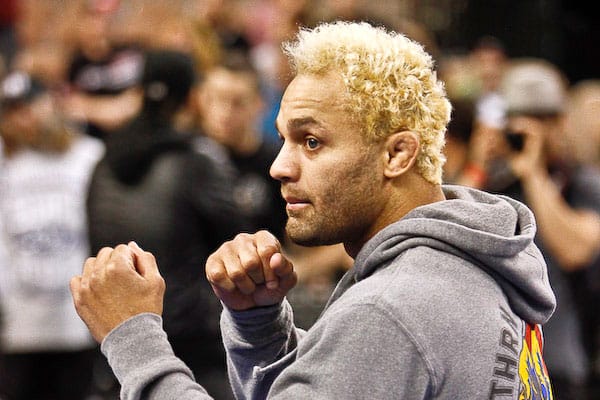 Josh Koscheck (17-8 MMA, 15-8 UFC) is a fighter who, like many of "The Ultimate Fighter 1" alumni, cut his teeth in the UFC. A professional since 2004, all but two of Koscheck's 25 fights have taken place inside The Octagon. The former AKA fighter has had much success inside the cage, culminating in a gritty title fight against Georges St-Pierre at UFC 124. After losing his third consecutive bout in November 2013, however, "Kos" decided to take some time off and regroup:
"I took some time off to, you know, re-evaluate my life, re-evaluate my career", Koscheck said. "There was days where it was awesome, and there was days where it was a struggle and a fight. And that's life. But, you know, I still went out there and I grinded the same way I would for training for a fight."
After a 15-month layoff and at 37 years old, Koscheck feels that a new approach to the game is the way forward:
"I've been around for a long time," Koscheck said. "One year, I had like six or seven fights in a year span. I fought a lot when I was younger. As you get older, you've got to adjust things in your body to stay healthy and keep your mind fresh."
Three losses in a row is never good news in the fight game and often spells the end for fighters in the UFC, but the company's president, Dana White, feels that to hang up the gloves at this stage may be "a little premature for Josh". Speaking with MMA Junkie earlier this week, it seems the Dethrone Base Camp fighter agrees:
"I've never said no to fights and I've always stepped up when the UFC needed me. I'm willing to do the same now", he said. "I look forward to this fight."
It is worth noting that Koscheck's recent defeats have come at the hands of former champion Johny Hendricks, current champion Robbie Lawler, and top contender Tyron Woodley. Like "Kos", UFC heavyweight Frank Mir was on a bad losing skid against top-level competition prior to his fight against Antonio Silva last weekend.
Few gave Mir much chance against "Bigfoot", but he proved the doubters wrong by knocking the giant out in the first round. Koscheck, known for his devastating overhand right (ask Yoshiyuki Yoshida), will be hoping to take a leaf out of Frank Mir's book this weekend when he faces Jake Ellenberger (29-9 MMA, 8-5 UFC).
Ellengberger, on a three-fight losing skid himself, has suggested that Koscheck's motivation for returning is purely financial. The former NCAA Division I Wrestling Champion, however, was dismissive of this:
"I have several businesses set up. What kind of opportunity is it to come back and get your face beat in just for a paycheck? That's not me. He'll find out come (Saturday) when we step in there to fight. He's going to find out. I don't need him to motivate me, that's for sure."
With two fights remaining on his current UFC contract, Saturday is likely to play a pivotal role in Josh Koscheck's future. Rejuvenated and re-focused, the former welterweight contender will be looking to improve upon his impressive record of seven first round finishes, but without a win under his belt in over three years, one suspects he will gladly take the victory however he can get it:

"I'd like to have that opportunity to win two more fights and then see. I'll talk to Dana and then see what the future holds for me and what direction it goes."