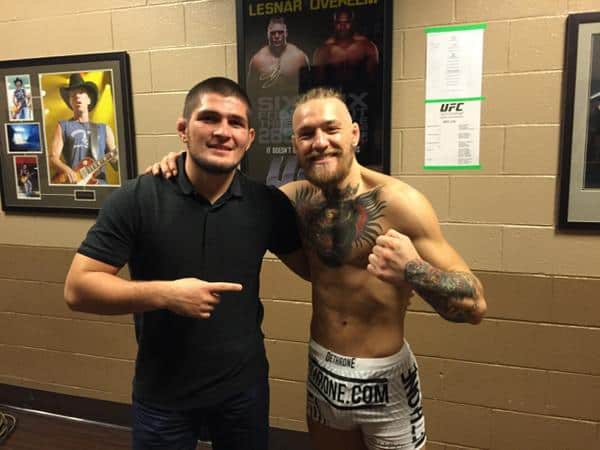 One of MMA's most awaited fights could be happening soon if a report proves true.
'The Notorious' Conor McGregor lived up to his infamous nickname and then some when he crashed UFC 223 media day in Brooklyn, New York today, causing an all-out chaotic scene where he threw a guardrail at a bus transporting Khabib Nurmagomedov and his team, injuring lightweight Michael Chiesa in the process and reportedly resulting in an arrest warrant being issued for McGregor.
With the UFC and MMA as a whole scrambling to collect themselves and pick up the pieces of one of the most bizarre situations ever unfolding in the sport, more details began to emerge surrounding McGregor's impromptu outburst, and new video of the incident did as well.
The story was that McGregor had come to Brooklyn for this Saturday's UFC 223, where UFC featherweight champion Max Holloway will meet Khabib for McGregor's championship title, early after 'The Eagle' confronted his teammate Artem Lobov when he was isolated at a hotel this week.
So in a time when many have accused McGregor of ducking Khabib as he sits n the sidelines enjoying his newfound wealth, the Irish champion showed he's willing to back up his team to no end, even if his outburst was dangerous, illegal, and could ultimately result in his being arrested. A more perhaps positive outcome of this scene could be that McGregor and Khabib finally meet in the octagon, which a source told Steven Muehlhausen McGregor now fully wants:
Contd: Asked if Conor wants to fight Khabib: "100 fucking percent he does. It's personal." #ConorMcGregor #UFC223

— Steven Muehlhausen (@SMuehlhausenMMA) April 5, 2018
It may have taken an all-out chaotic melee to get it to happened, yet you can bet the UFC is still happy that the groundwork for a legendary Mcgregor vs. Khabib fight has been laid.
The UFC's pay-per-view numbers consistently slumped to sometimes record lows during McGregor's 7-month absence, and getting him back in the headlines and back in the octagon – one way or another – are obviously their clearest paths to making a much-needed windfall.
Dana White can say that it was the 'most disgusting thing that's ever happened in the UFC,' but in truth, it may be one of the most lucrative, as well – just like Daniel Cormier and Jon Jones' presser brawl before UFC 178 sent their 2-14 rivalry into space.
"The Eagle" did start something when he confronted Lobov in that hotel hall, and even though McGregor injured a fighter and broke the law, Khabib didn't really respond or want to mix up. True, he's fighting for the title against Holloway this week and has to stay on task.
But did he finally create a bout that could legitimately become the biggest fight in UFC history?
Related Posts
If you enjoyed this story, please share it on social media!