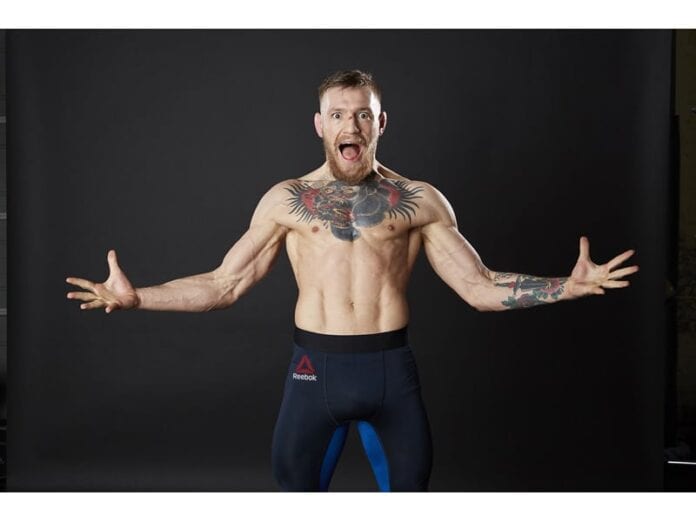 The UFC-Reebok deal, mandated in July of this year, has caused quite a stir in the mixed martial arts world. The attachment of one of the leading sports apparels to the UFC would have more of a positive effect you'd think, but the revelation of losses in revenue to not only fighters, but cornermen and cutmen also has meant the landmark deal has been lambasted by many.
Of course this isn't to say that a select few aren't reaping the benefits of the UFC's new business partner coming to town, and UFC interim featherweight champion Conor McGregor is one of those few. Joined by the likes of Ronda Rousey, Chris Weidman, and Joanna Jedrzejczyk, the Irish star now has his hometown gym of SBG (Straight blast gym) decked out in Reebok gear, but not because of his deal with the sports company.
The gym's owner John Kavanagh has struck an agreement between SBG and Reebok, as he revealed on Twitter:
Proud to announce a partnership between @Reebok and @SBG_Ireland #CombatTraining #CentreofExcellence

— Coach Kavanagh (@John_Kavanagh) October 19, 2015
Tuesday night boxing in the Reeboktogon @Reebok @SBG_Ireland pic.twitter.com/gAqivlYx2l

— Coach Kavanagh (@John_Kavanagh) October 20, 2015
Also @keithcoady working with coach David in the Reeboksing ring tonight. That was last one, I promise ? pic.twitter.com/zEXhHfEOy2

— Coach Kavanagh (@John_Kavanagh) October 20, 2015
Just @ryanhallbjj and @GunniNelson rolling @SBG_Ireland #tuesday pic.twitter.com/iw6QosI2vh

— Coach Kavanagh (@John_Kavanagh) October 20, 2015
Will this be the first of many gyms trying to get their part of Reebok's deeper involvement with the sport? If it proves lucrative for the gyms involved, expect to see a lot more following suit. But is there a clash of interests here?
Say, for instance, fighter 'X' has lost $50,000 in sponsorships per fight under the new experience-rewarding Reebok deal. He isn't a champion so no big payout per fight, he is banking a meagre  $10K per scrap, then he goes to start his camp and the very sports apparel company taking money from his pocket is now making bank with the gym's owner.
Of course this is speculation, as the exact details of the gym's partnership aren't public right now.

Stay tuned.