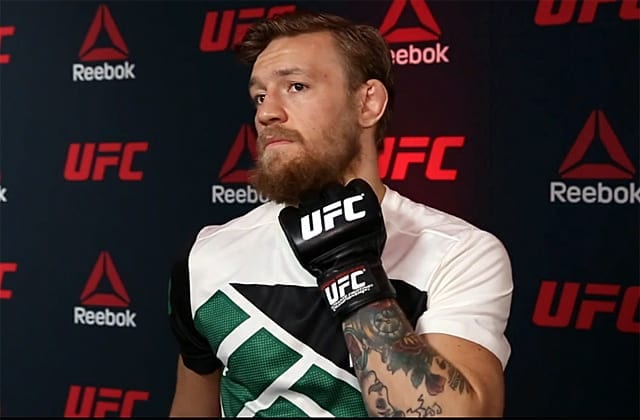 Business involving Conor McGregor and Reebok just got shut down in Europe.
The sports apparel giant obviously banks on selling a large amount of the Irishman's t-shirts and other clothing. That won't be happening in Europe for the time being, however.
That's because The District Court in The Hague ruled anything with 'McGregor' emblazoned in big letters was unsellable. Dutch clothing brand McGregor filed a trademark claim saying products with the fighter's last name would create confusion.
McGregor clothing brand lawyer Remco van Leeuwen discussed the courting ruling and how Reebok refused to follow (via The Independent):
"The public would be confused into believing that the clothing made by Reebok for the Irish mixed martial artist and boxer comes from the McGregor fashion house. We asked Reebok to stop selling the clothing that would confused the public but they refused."
Reebok faces a sizable fine of 250,000 Euros if they choose to go against the court's decision. The ruling applies across the entirety of the European Union.
The McGregor clothing doesn't even have a working website according to MMA Mania. It was once a prominent fixture on the European fashion scene. The company is supposedly planning on releasing a new line of clothing 'soon.'
McGregor, meanwhile, will soon return to MMA action when he meets Khabib Nurmagomedov at October's UFC 229. The fight is leading to a building frenzy in the MMA world. It could legitimately be the biggest fight in UFC history.

Reebok will definitely miss out on a large portion of sales in the fight's buildup.