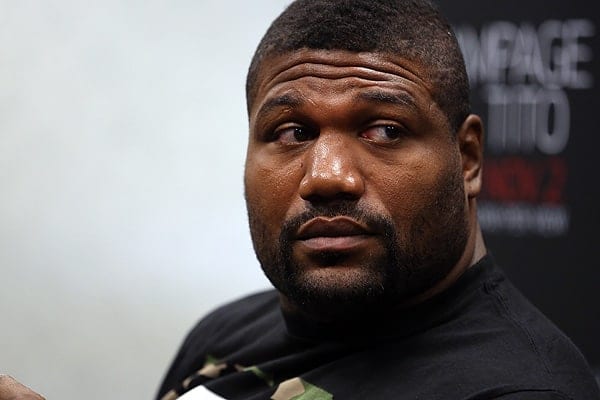 Wanderlei Silva's name has been in the MMA news for months now, and not exactly for good reasons. After running from a random drug test before his scheduled UFC 175 bout with Chael Sonnen which eventually lead to the fight being cancelled altogether, controversy has followed the fighting legend.
However, this controversy may have come to its seeming end, as the former Pride champion announced his retirement yesterday (Fri., September 9, 2014) and bashed the UFC in the process, saying the company turned his fans against him and he now has no stage to perform on.
Another legend of the sport that Silva knows very well is former UFC light heavyweight champion Quinton "Rampage" Jackson. The two combatants are part of one of the best trilogies in MMA history. Silva took the first two battles back in pride, with "Rampage" getting the last laugh when he scored a knockout victory in their third match at UFC 92 back in 2008.
The fights they have shared are not the only thing they have in common, however. Jackson has also had problems with the UFC and Dana White, which ultimately led the former champion to make the jump from the UFC to Bellator last year. He is now 3-0 inside the promotion.
After news broke of Silva's retirement, "Rampage" took to twitter to voice his gratitude towards the Brazilian:
Even tho we were enemies in the ring.. i was your fan 1st. I'm with u,and I'm going threw the same pain. #WarWand pic.twitter.com/o52kOf8oYz

— Quinton Jackson (@Rampage4real) September 20, 2014

What "Rampage" is talking about is most likely each man's battle with the UFC. Despite their rivalry inside of the cage and the wars they waged against one another, this is a great show of respect and sportsmanship from Jackson.
For fans of "The Axe Murderer," this is a tough way to see him go out. He is a pioneer of the sport and is a part of some of the most memorable fights of all time. The end of his career and his reputation may be tarnished a bit in some eyes due to the drug problems, but you cannot take anything away from what he did in the cage. Silva was a true warrior.