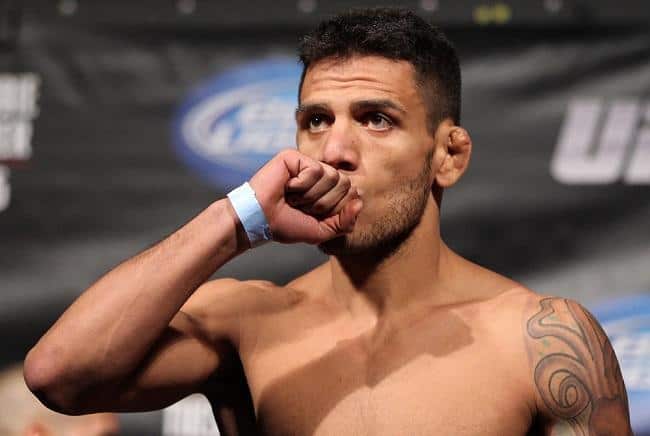 The UFC is gearing up for an absolutely stacked schedule to close out 2015 featuring many exciting fights, and of course many huge title fights. UFC on FOX 17 will end a spectacular year of fights on December 19, 2015, and the main event will feature a lightweight title rematch between reigning champion Rafael dos Anjos, and surging top contender Donald "Cowboy" Cerrone.
The two met for the first time back at UFC Fight Night 27 in 2013 with dos Anjos scoring a one-sided decision win, but "Cowboy" has undoubtedly evolved, and improved since then, as he has rattled off eight straight wins.
However, under the tutelage of Rafael Cordeiro, dos Anjos has also improved quite a bit, especially in the striking department. Speaking on the upcoming bout recently, RDA said that he dropped Cerrone in the first fight, but couldn't finish the job.
This time, however, the champion said that if he catches the challenger, "Cowboy" won't get up:
"I hit him with a good hook in that dropped him in the first round," dos Anjos told Combate. "In this second opportunity, he won't get up if I hit him again. I'm going for the knockout. I don't work overtime in the Octagon. I'll do my best, I'll get ready to keep my belt. I'll try and finish the fight as fast as possible."
Leading up to the rematch, the two seem to have some built up animosity, and a rivalry of sorts has been brewing. One of the most memorable recent comments was an accusation made by Cerrone accusing dos Anjos of using performance-enhancing-drugs (PEDs).
Ironically, Cerrone actually tested positive regarding a drug test back in his WEC days, and dos Anjos said that he has no right to make any comments:
"I didn't have the displeasure of seeing Cerrone backstage at the 'Go Big' conference. But when you talk about somebody, you need to have some moral ground to do so. A guy who has tested positive before can't talk about anybody. I have a clean career. Even parrots can talk, so let him say whatever he wants to promote the fight."
With a few months left to go until fight night, will the outcome be different in the rematch?