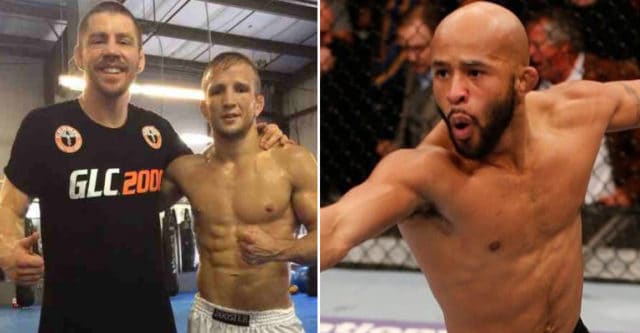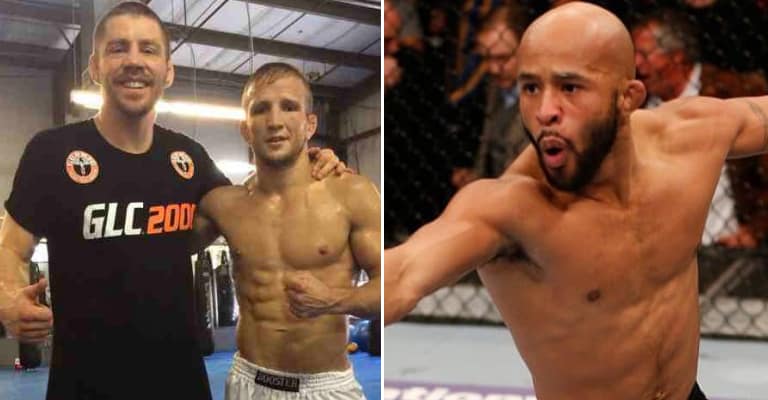 As a 35-fight MMA veteran, Muay Thai world champion and former UFC fighter Duane Ludwig spent 15 years competing in combat sports. After retiring from fighting in 2012, 'Bang' settled into a role as a full-time Muay Thai and MMA striking coach by propelling California's Team Alpha Male to new heights in a short amount of time.
In particular, current UFC bantamweight champion TJ Dillashaw found the most success from Ludwig's tutelage. After he won the bantamweight title from Renan Barao at UFC 173 in 2014, Dillashaw and Ludwig moved their fight camp – amidst a highly-publicized spat with TAM that exists to this day – to Colorado where 'Bang' opened his own gym.
Since then, Dillashaw lost the title to Dominick Cruz in a close split decision in 2016, before winning it back against Cody Garbrandt after the feud started by Dillashaw and Ludwig moving away from TAM. A possible rematch between Dillashaw and Garbrandt was rumored for March 3's UFC 222, but Dillashaw and his team were understandably much more interested in a champ vs. champ super fight with dominant flyweight king Demetrious Johnson, although no official details have been confirmed.
Speaking during an interview with Ariel Helwani on The MMA Hour today, Ludwig discussed why Dillashaw vs. Johnson is the much better fight:
"The better fight is against Demetrious Johnson, he is the only real big fight for TJ Dillashaw right now. Cody (Garbrandt) doesn't deserve a rematch. (Cody) got knocked out in the second round, he hasn't really earned that rematch. I know TJ got dropped in the first round but he came back and knocked Cody out."
'Bang' also detailed why Dillashaw vs. Johnson was the best fight for 'The Viper' and why a rematch with Garbrandt was not.
The longtime coach said he understood that new UFC owners Endeavor were trying to make back their investment when featherweight champion Max Holloway was forced out of his headlining bout with Frankie Edgar, but he insisted the timing was wrong for Dillashaw given that he had just had a child, and also thought Garbrandt just didn't deserve the fight:
"What we've got here is an entertainment business taking over a martial arts company. TJ just had a kid, and the timing wasn't right for the Johnson fight at that time, but the company is trying to make their investment back, but TJ vs. Johnson has to happen. They must really like Cody right now because he doesn't deserve that rematch."
He then reiterated their team was looking for the super fight, and that it would happen this July during International Fight Week while touting Dillashaw's standing as the best pound-for-pound fighter in the world in his mind:
"We are hunting for that Johnson superfight. TJ is not a big 135-pounder, he has to lift quite a lot make 135 pounds. He is basically between the two weight classes, he could defend both titles. We've trained from day one to be the best, our main goal is to see how good we can get him. It's time to have the two best mixed martial artists in the lower weight classes meet and test TJ's skill set again Demetrious. The fight with DJ will happen in July, at international fight week, and TJ will be the new 125-pound champion of the world.

"I think right now, TJ is the best fighter in the world regardless of weight class. Who knocked Cody out in the second round, anybody else? No, he ran through Renan Barao twice."
Yet while it seems Ludwig is only focused on grabbing the highest-profile fight he can for his best student, 'Bang' also discussed a bigger picture view of his career as a martial arts coach, noting that he was excited to have a rewarding non-stressful career teaching. He's apparently parlayed that into a seminar with Dillashaw and Bas Rutten in addition to a few other high-profile names, and wants to use that forum to pass on his wealth of fighting skill to those willing to learn:
"I'm super happy and I just love teaching martial arts. I focus on just teaching martial arts to martial artists, it's not stressful, it's pretty much rewardable and enjoyable. I have a huge seminar coming up this weekend."

"I'll be in New York this weekend with TJ Dillashaw, Bas Rutten, Andy Souwer, Chinzo Machida and also Shane Fazen. We are going to be doing a three-day seminar in New York City, teaching the best martial arts to all the people we can get together. It's open to the public.

"I love being the Google of martial arts, finding the best martial artists and picking their brains and passing that information on to the people who are attending."
So while Ludwig may be the in the media for his connection to Dillashaw, he also wanted to clarify that he doesn't run an MMA team any longer, and wants to teach the current students at his MMA academy to be the best martial artists they can be:
"I want to help other people become better people and martial artists now. If I was running a fight team still, I would have the best fighters, but I'm running a martial arts academy and I try to teach them to be the best martial artists."
If you enjoyed this story, please share it on social media!