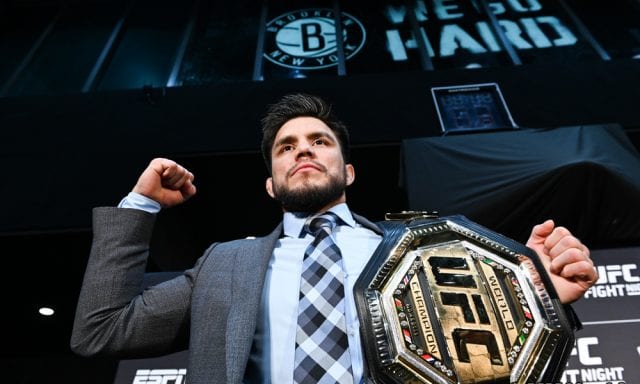 Henry Cejudo certainly has some thinking to do right now.
The UFC flyweight champion was expected to jump up and challenge TJ Dillashaw for the 135-pound championship. However, due to Dillashaw's recent issues with the United States Anti-Doping Agency (USADA), the weight jump has lost a bit of its luster.
Instead, Cejudo has the choice of, perhaps, competing for the vacant 135-pound belt, or defending his flyweight title. UFC bantamweight Aljamin Sterling believes "The Messenger" is better off staying at 125, unless he wants to get "smacked up" by the UFC's bantamweights (via MMA Fighting):
"I look at Cejudo, he's trying to swim with the big boys," Sterling said. "He beat a depleted T.J. Dillashaw. Everyone advised T.J. not to cut that extra 10 pounds. If you look at him during that fight week, there was a picture where he had a whole table filled with, like, 20 bottles of supplements and pills.
"God knows what was in those pills and that was supposedly the way for him to get down safely to 125. I tell you, I cut down to 135, people think I'm huge for the weight, and I don't take none of that shit. So he's pumping himself up over beating a 125 T.J. Dillashaw.
"It's not the same fighter. If he wants to come up and get smacked up by a couple of real big boys and swim with the sharks, he's gonna want to go back running down to 125 real soon. … Let Cejudo come up. His wrestling's only going to take him so far before the body weight and everything starts to play a factor.
"Honestly, I would like to be the guy to welcome him to this division. Welcome to 135, champ."
Cejudo became the first man to defeat Demetrious "Mighty Mouse" Johnson at flyweight last summer. He followed that up with a huge title defense against TJ Dillashaw in January. Cejudo actually finished Dillashaw in the first round via TKO. Although the finish was a controversial one, it was an impressive showing from Cejudo nonetheless.
Now, it remains to be seen what Cejudo decides to do next in his mixed martial arts (MMA) career. If he does decide to jump up to bantamweight, however, it makes for some very interesting match-ups.
If you enjoyed this story, please share it on social media!