Gina Carano doesn't think Ronda Rousey needs to ever fight in the UFC again, but not everyone in the mixed martial arts (MMA) community seems to agree.
Following Rousey's second consecutive career loss this past December, when she was knocked out in just 48 seconds of the first round by Amanda Nunes, much speculation began to swirl as to whether or not 'Rowdy' would ever fight again. Former women's MMA star Gina Carano recently told Fight Hub TV (quotes via FOX Sports) that she believes Rousey needs to express herself as an artist outside of the Octagon:
"I think Ronda should do whatever she wants to do. She's only 29," Carano said. "She's an amazing athlete but she needs to express herself as an artist, too. So let her do what she wants to do and just follow along her journey and support her."
Apparently UFC light heavyweight champion Daniel Cormier doesn't agree with Carano's assessment of the situation, and sounded off on the former Strikeforce and EliteXC star during a recent episode of UFC Tonight:
"Gina Carano — who are you to tell Ronda Rousey what to do?" Cormier said.  "If I've got to look back on your career and you choosing to act over fighting and continuing to fight, I don't feel as though, guys — and you can disagree if you want — that the career has not been what it would have been if she stayed fighting."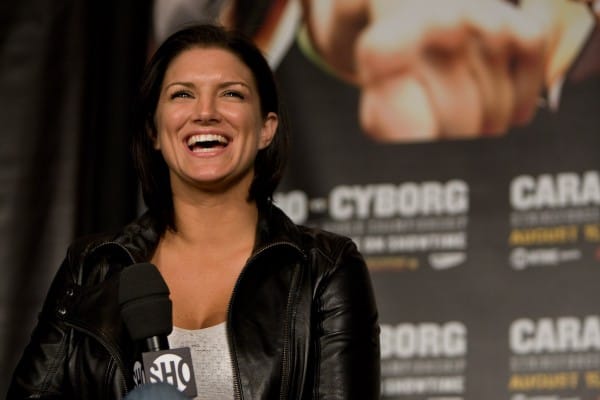 Cormier offered his own advice to the former 135-pound women's champ, telling her to continue her fighting career unlike Carano who in his opinion 'didn't make the right choice'. He also took a jab at Carano's first major film role in "Haywire" where her voice was altered after production wrapped up:
"Ronda, don't listen to someone that I feel didn't make the right choice," Cormier said. "Do what I say and that means continuing to fight. It's where you belong. It is where you belong Ronda Rousey.

"You belong in the Octagon. With the Octagon comes other opportunities.  You don't want to end up on shows where they're dubbing over your voice the entire time you're in the movie."
What do you think fight fans? Is 'DC' blowing the whole situation out of proportion? Or should Rousey continue her career in MMA despite her recent road bumps?