Poll: Was The Roufusport Team Overconfident At UFC 185?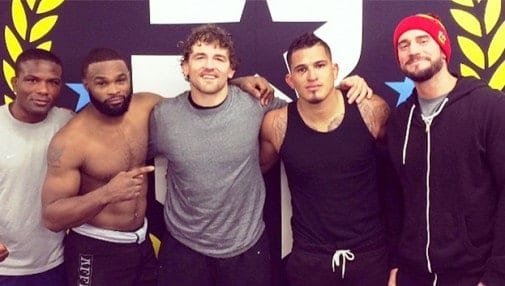 As two prominent faces of Milwaukee's famed Roufusport Gym, Anthony and Sergio Pettis had a ton of pressure on their shoulders heading into last weekend's (Sat., March 14, 2015) UFC 185 pay-per-view (PPV) from their birthplace of Dallas, Texas.
They failed miserably with their performances, as Sergio allowed Ryan Benoit to come back and knock him out in his flyweight debut, and former lightweight champion "Showtime" was thoroughly dominated by Rafael dos Anjos over the course of five rounds, sustaining a concussion and temporarily losing vision in his right eye in the process.
It was a chilling reality check for the Pettis brothers. Anthony had spent all of last week stating that dos Anjos didn't have a chance and that he would knock him out in the first round. But he couldn't even stop "RDA's" grinding forward pressure, varied Muay Thai strikes, or takedowns, leaving many to wonder if the former champion was really the superstar he was built up to be during his nearly 15-month absence after he won the title from Benson Henderson back at 2013's UFC 164.
Pettis got the aforementioned concussion after an early first round shot, but even before that you have to wonder if he was looking past "RDA" and onto the four title defenses he had planned for 2015, in addition to his huge endorsement deals with Reebok and Wheaties.
His younger brother appeared to be the more skilled fighter than Benoit, but just made a mistake and got caught, and that could happen to any fighter at any time.
Regardless, the one sign that may have signaled that Roufusport was more focused on the money and fame than the actual fighting was the fact that they brought newly acquired former WWE wrestler C.M. Punk out to the cage with them after hardly three months of training at their gym.
That seemed like a money grab, which is just what many have called the UFC's signing of Punk since it happened. He's not an experienced MMA fighter (he doesn't even have one fight), and he's mainly just a big mainstream name that was seemingly being used to generate more attention and revenue to the Pettis brand.
That backfired, and it made Roufusport look a bit greedy and overconfident in my opinion. Obviously Anthony should have been training his takedown defense rather than his haircut offense. Hindsight's 20/20 of course, but that's just the impression that I get.
What do you think?
feedback surveys