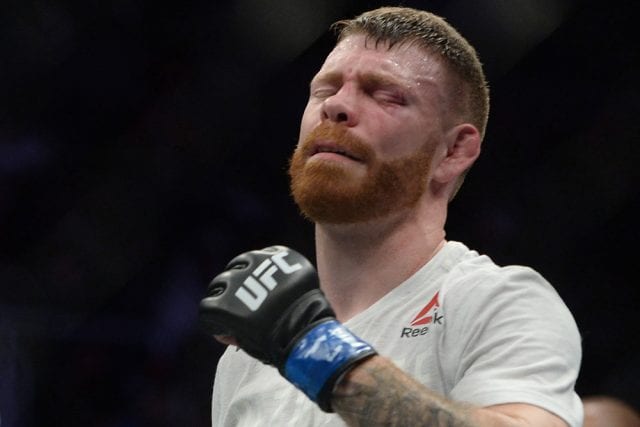 They don't come much tougher than Paul Felder.
The rising lightweight defeated James Vick in the co-main event of UFC Phoenix on February 17. But "The Irish Dragon" suffered some pretty significant damage from a knee to the abdomen late in the third round.
"As soon as he hit me, I was like, holy sh*t, that was a hard knee," Felder said on The MMA Hour. "And I knew it was like 20 seconds left, I was looking at the clock. I thought I was ahead. I was like, 'Man, just don't let this dude knock you out, just don't let this dude knock you out.' Literally, all I was thinking."
Felder knew he was in trouble as soon as the knee connected. However, he just thought it was some cracked ribs.
"I knew I busted my ribs is what I thought," Felder said. "I thought I did some cartilage damage or maybe had like a little fracture."
While doing post-fight interviews backstage, Felder starting to get short of breath. Luckily a UFC doctor stopped Felder on the way to the post-fight conference and suggested that he go to the hospital. When the doctors at a Phoenix-area hospital told Felder the extent of his injuries, he knew something was up.
"That's when things got a little scary," Felder said. "That's when I realized I wasn't going home the next morning."
Felder had a collapsed lung due to a puncture from Vick's knee.
Though he isn't home yet, he is out of the hospital. The UFC did fly Felder's family out to Phoenix to spend time with him. But he can't fly back home to Philadelphia to Wednesday.
As for the fight itself, Felder couldn't be happier with the outcome. With the win, he has now won four of his last five fights with the only loss coming to Mike Perry at welterweight. He closed with a long aside about his tough-as-nails fighting style and his spot at lightweight:
"I told everybody before this that I belonged in the goddam [lightweight] top 10. I fought the guy nobody wants to fight, even though he's coming off the loss to Gaethje. He got exposed a little bit there that he's a little chinny. But I didn't even beat him that way. I didn't catch with that one quote lucky shot. I beat him at a game that nobody thought I could beat him at. And that's going to decision with somebody and showing that I've got the intelligence to hang with the best guys in this division.
"That's what you're gonna see more of from me. You're always gonna see me fight my ass off. You're gonna see a little more strategic approach now that I'm gonna be up there with the real big dogs in this division. But I'm coming for them, I'm telling you that right now. I'm not in this to sit back. I'm in this to make a run for the belt and that's it. When that's done, if that doesn't seem plausible to me anymore, I'm retired."
If you enjoyed this story, please share it on social media!