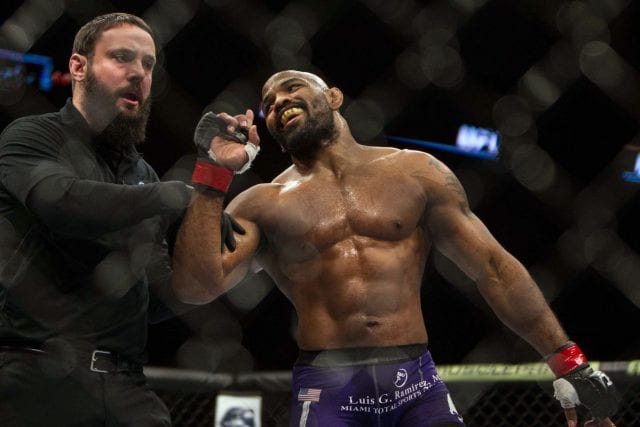 Yoel Romero said he heard Paulo Costa was popped by the United States Anti Doping Agency (USADA). But then he slowed his roll.
The upcoming UFC on ESPN 3 in Miami was supposed to be headlined by a middleweight clash between Romero and Costa. However, as ESPN was the first to report last week and later confirmed by UFC President Dana White, the new main event will feature Romero in a rematch against Ronaldo "Jacare" Souza.
What Romero Heard
No reason was specifically given on why Costa was removed from the bout but earlier today on the "Ariel Helwani's MMA Show," "The Soldier Of God" said he heard the reason was that Costa potentially failed a test administered by USADA.
"What I hear is Paulo Costa, he had a positive test for USADA," Romero said. "That's what happened. That's what I heard. The UFC called my manager and said Paulo Costa is out because he is positive and they said, "Jacare' Souza' (as an opponent)?' I said OK."
Romero stated that his manager had informed him on Costa's failed test and that he would need to take a new opponent. He also said he didn't know what the positive test was for.
Not So Fast
After his chat with Helwani, Romero reached back out the talk show host as to not convict someone in the court of public opinion. That is, Costa is supposed to be innocent until proven guilty. (via Twitter)
Re: the Paulo Costa story, Yoel Romero called me immediately after the show to clarify that he had only heard that Paulo Costa failed a USADA drug test but he is not sure if that is accurate at this time. He said he would never want to accuse anyone before the facts come out.

— Ariel Helwani (@arielhelwani) March 11, 2019
I've reached out to Costa's team, USADA, UFC to get an official word on if this is accurate, but no word back yet.

— Ariel Helwani (@arielhelwani) March 11, 2019
Costa's Comments
Neither Costa nor his team has issued a statement on the matter. However, the Brazilian website Tatame interviewed Costa days after his removal from the bout. There he said he didn't need to dope to win:
"I'm the Brazilian UFC fighter who gets tested the most by USADA. I never failed (a doping test) and I didn't this time," Costa said. "I don't need doping to get all the good results. I've been getting and to be regarded as the new Brazilian star in the sport like I am. I don't need these things."
The UFC has yet to officially comment on this matter.
UFC on ESPN 3 takes place April 27, 2019, at the BB&T Center in Sunrise, Flordia. The card airs on ESPN following early prelims on ESPN+.
If you enjoyed this story, please share it on social media!