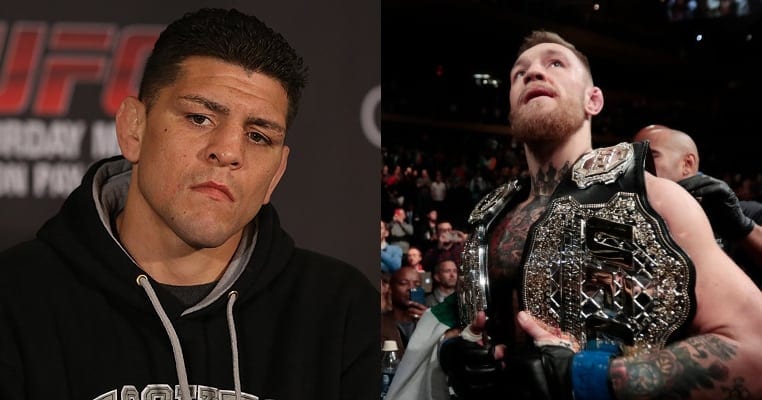 Conor McGregor made history at last weekend's (Nov. 12, 2016) UFC 205 from Madison Square Garden when he knocked out Eddie Alvarez to become the first fighter in promotional history to hold two titles at one time, but not everyone was impressed with the Irishman's achievement, especially Nick Diaz.
Apparently McGregor was at 1 Oak Nightclub earlier this week celebrating his victory at the same time as Diaz was in attendance. The Stockton native documented the experience on his snapchat, courtesy of TMZ Sports, and he had some choice words for the "Notorious" one:
"I was already a two-weight world champion, bitch," Diaz said.
Diaz, a former Strikeforce welterweight champion, recently finished serving out a suspension handed him to him by the Nevada State Athletic Commission (NSAC) after testing positive for Marijuana in January 2015, but he does not currently have a fight booked. His younger brother Nate does indeed have a history with McGregor, however, as the two have done battle twice thus far with the younger Diaz brother submitting the Irishman back at UFC 196, and McGregor scoring a majority decision victory in the rematch at UFC 202.
With the "Notorious" one now holding the lightweight title, a trilogy bout between him and Nate Diaz is a real possibility. Would you like to see the two run it back once again?