Nick Diaz is one funny son of a gun, there's no doubting that. The former Strikeforce welterweight champion and currently banned UFC contender has come out with some of the most golden quips in MMA (Mixed Martial Arts) history. His status as one of the most contrasting figures in the sport has only been amplified by his recent run in with the Nevada Athletic Commission, with many now following Diaz's plight as quite the anti-hero/martyr.
Of course his aggressive fighting style and mid-combat antics have played a massive part in building the Stockton bad boy's illustrious career portfolio, but it's hard to ignore how infectiously funny some of Nick Diaz quotes are.
Warning: This list contains some explicit language, but don't be scared homie.
So without further ado, check out the Top 10 Nick Diaz Quotes, and prepare to be amused!
As a bonus we have a video show of brilliant Nick Diaz moments on the final page….

Best Nick Diaz Quotes
10. MMA gets in the way of my weed smoking
One of the all-time classic Nick Diaz quotes comes from when he was quizzed on his Marijuana smoking, and if it got in the way of his mixed martial arts career.
With lines like these, it's no wonder Diaz has become such a legend in the sport:
"Actually, on the contrary, my fight career has gotten in the way of my marijuana smoking."
GOLD!

9. NAC Dorks
Following his highly controversial hearing and subsequent five year ban for failing a UFC 183 drug test for his beloved Marijuana, Nick Diaz put the Nevada Athletic Commission on blast in this recent interview.
His emotional rant after the fact was both funny and telling of his frustration towards the NAC system. Below are the quotes and the video for your viewing….
"They got me in here sweating bullets, I was this close to flipping out and doing something nuts. It's bullshit, you guys want to see real fights and see real knockouts, all these guys keep their fucking mouth shut, I don't put on an act. These guys are trying to rob me and other fighters that's all I got for you."
"They're a bunch of dorks, they been trying to hold me down from day one. I'm the biggest draw, the best fighter, they got the whole system trying to hold me down. I'm pretty sure I'm the best at 170, the best at 185, we don't know that (I'm the best middleweight), but I'm confident it's me. "

8. F*cker hit me with a hadukan
Nick Diaz only ever fought once in Pride FC, but it was an all-time great brawl with Takanori Gomi. Pride 33 was the venue, and Diaz scored a gogoplata finish after getting lit up on the feet.
Gomi was considered the greatest lightweight in the history of the Japanese MMA craze, and it was a massive milestone for Diaz. Unfortunately for the Stockton banger, it was also the first time he got busted with weed in his system and that event was ironically in Nevada.
Check out his hilarious post-fight interview about 'Fireball Kid', and skip to the next page….
"There he is ….that little fucker. That little fucker hit me with a Hadukan or something."
"I beat his ass. But you know, that little fucker. Man that fucker is tough. I mean I hit him, but then he comes out with this karate shit and little dude can bang. I mean he fucked up my eye and shit… That's why I went to the ground and go go'd him. You dont see that shit in MMA. Who in MMA go go's anyone accept me."

7. Smoke weed and train, no bullshit
Another brilliant quote from MMA's version of Cheech Marin, as he once again defends his much loved pastime of puffin' da herb. This one is so simple in it's own wonderful and side splitting way.
Delve deep in to the complex mind of Nick Diaz, with this absolute shiner, and join us on the next page already…
"For the record, right now, I think someone needed to come out and say it: I think smoking pot is good for mixed martial artists. It's a new day and age, this is, uh, the year … Fuck year is it? I don't know, because I've been training and smoking pot like I should, instead of paying attention to other bullshit, which I don't do."
"What I do is, I fight. So you know, I get on the ball and I do what I gotta do. And it's funny, to come home, to fucking crash out, I don't drink a bunch of — I don't drink a shot of whatever and pop a bunch of Vicodin like everybody else."

6. Wolf tickets
Nick Diaz's hilarious wolf tickets rants all started in the lead up to UFC 158, as he engaged in endless trash talking streams with the welterweight champ of thes time Georges St-Pierre.
GSP's robotic French-Canadian voice was no match for Diaz's ghetto lingo, as he was time and time again put in his place by increasingly confusing but equally funny jives.
Don't try to sell Nick Diaz wolf tickets, because he ain't buying…
join us for the top 5 after the jump…

5. Nick Diaz vs. Ariel Helwani
A fresh faced Ariel Helwani took on Nick Diaz in a San Diego interview before the Gracie fighter defended his Strikeforce title against Paul Daley.
Helwani did not know what he was in for, as Diaz declared this classic quote:
"I feel like you instigate a lot of fights, where I come from people get slapped. You're the only one who started any shit talking about this fight, that's what I'm saying"

4. Gangster warfare
Another gem from the archives of Diaz-isms, this time he puts pretty much every relevant fighter from the mid 2000's on blast, and apologizes half way through.
You gotta love Nick Diaz….
"I'm trying to fight Sakurai, I'm trying to fight K.J. Noons, I'm trying to fight Anderson Silva, I'm trying to fight everybody. I'm trying to fight Georges motherfucking St.Pierre. I'm trying to fight … I didn't mean to call Georges a motherfucker, but I ain't got no problem getting there and fighting the best people in the world. Georges is a nice guy. I'm trying to fight Jon Fitch, I'm trying to fight Silva, I'm trying to fight K.J. Noons, I'm trying to fight everybody. I'm trying to fight Takanori Gomi, Sakurai, I'm trying to fuck everybody up. Fuck this shit. This is fucking gangster fucking warfare. I don't give a fuck. You know what I mean?"
Get ready for the top 3!

3. Never paid taxes
Nick Diaz's post-fight interview at UFC 158 was all kinds of awesome, but the best moment came when he was asked about potentially changing teams after his loss to Georges St-Pierre.
The Stockton native somehow started talking about not paying taxes his entire life, and churned out this hilarious rant.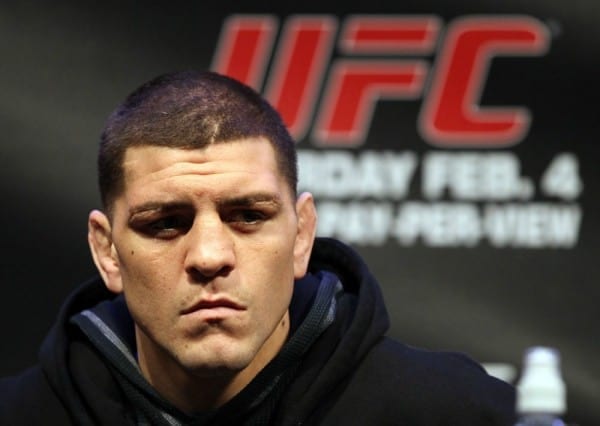 2. Diaz on Sonnen
The undisputed king of the one-liners in MMA struck again to get the number 3 spot on today's list, and it really is one of the funniest quotes ever, let alone for Diaz.
When asked about Chael Sonnen, at the time a relevant middleweight title contender in the UFC, Diaz kept it short and sweet.
Check it out:
"I've got nothing against the guy, except that he's kind of a piece of shit"

1. Don't be scared homie
There really couldn't have been any other Nick Diaz quote that could've taken the top spot here. It's been used a million times since the words were first uttered by Diaz to KJ Noons in Elite XC, and even has a clothing line dedicated to the quote itself.
The incendiary comment led to a crazy brawl between Diaz and KJ Noons live on camera, making it all the more funny and crazy.
Check out the video of the moment that Nick Diaz made MMA history with his hilarious line 'Don't be scared homie', and join us on the last page for a video tribute to Diaz….