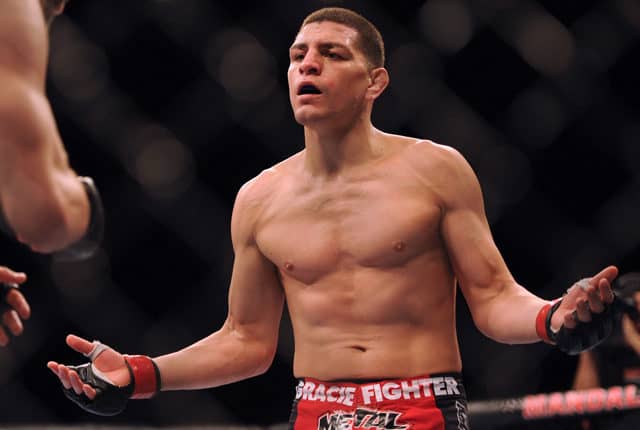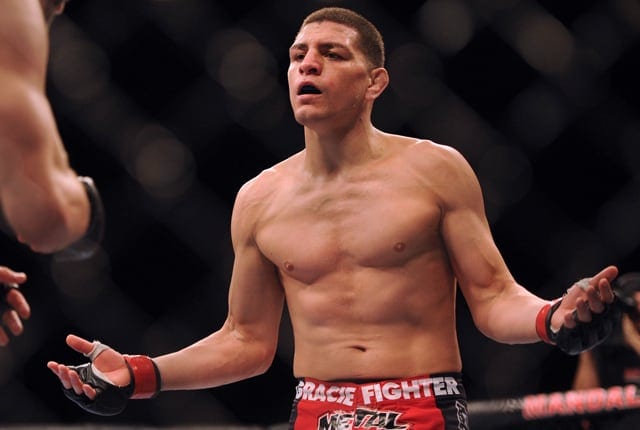 Nick Diaz claims he could beat both Conor McGregor and Khabib Nurmagomedov if given the chance to fight them.
Diaz On The Bench
Diaz has not been seen in the Octagon since his bout with Anderson Silva in January 2015. This fight was later overturned to a no-contest after Silva tested positive for banned substances. Diaz also failed a drug test in relation to that fight for marijuana and was suspended 18 months by the Nevada Athletic Commission (NAC).
Prior to that fight, he suffered losses to Carlos Condit at UFC 143 and Georges St-Pierre at UFC 158. Despite his recent slump, the UFC and its President Dana White will be glad to have him back as he is a PPV draw.
Nick Diaz Claims
Diaz was recently interviewed by TMZ while out at a club on Wednesday night. First off he was asked if his recent USADA suspension was upsetting to him considering that he could have fought in some big fights and made some money.
"There wasn't nobody to fight anyways for me," Diaz says … "Ain't nobody out there. Everybody out there ain't sh*t right now."
Diaz then switched gears by stating that he believes not only that he could beat the former UFC lightweight and featherweight champion as well as Nurmagomedov but also UFC welterweight champion Tyron Woodley.
"I'll beat all those guys. All those motherf*ckers." On Woodley, "I'll whoop his ass too. He's too boring." And finally, Conor vs. Khabib, "I'll beat both of them. Both they asses … THEY'RE NOT THAT GOOD!"
If you enjoyed this story, please share it on social media!