Nicholas Meregali – BJJ Black Belt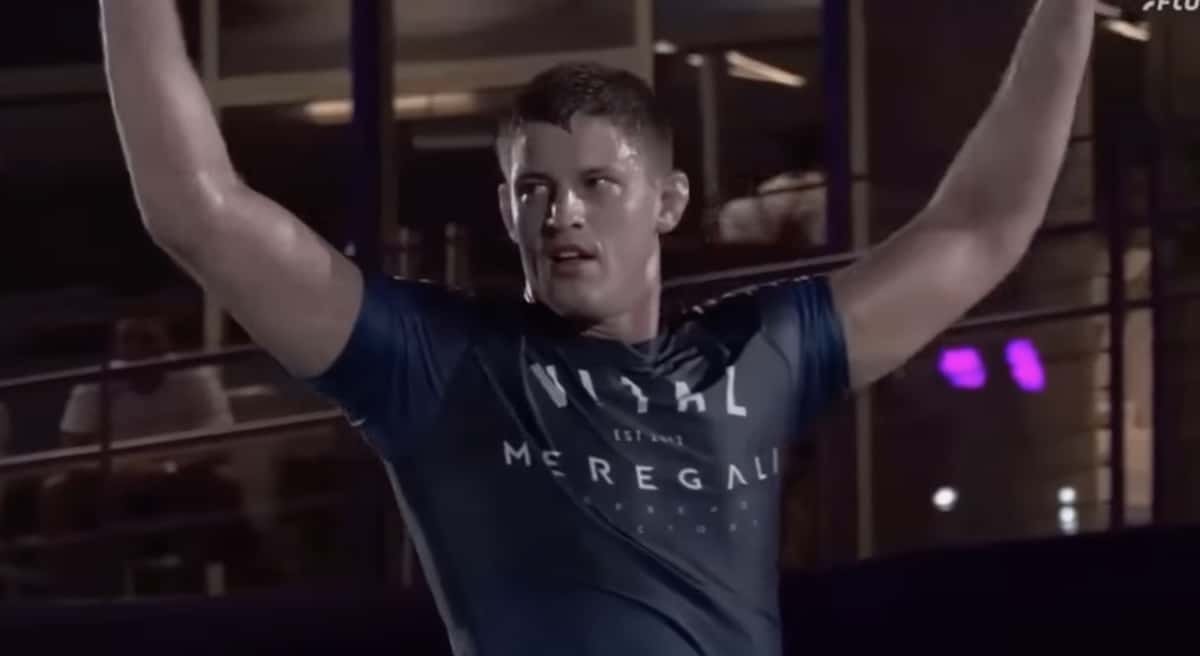 Nicholas Meregali is one of the most gifted athletes in all of Brazilian Jiu Jitsu. He has won it all in the Gi and is now focusing on winning world championships in No-Gi.
Name:
Nicholas Meregali
Date of Birth:
May 27th, 1994
Place of Birth:
Rio Grande do Sul, Brazil
Nickname:
Alemão
Academy:
New Wave Jiu Jitsu(Formerly Alliance)
Dream Art
Affiliation:
Formerly Alliance
Weight Class:
Super-heavyweight
Championships:
3x IBJJF World Champion, 4x Brazilian Nationals Champion
Here is everything that you need to know about multi time world champion Nicholas Meregali. We'll be detailing his career for his start in BJJ, winning world titles, and his recent transition to No-Gi Jiu Jitsu.
Nicholas Meregali's Entry Into Jiu Jitsu
Nicholas Meregali grew up in the southern Brazilian state of Rio Grande do Sul. His younger brother would actually begin learning Jiu Jitsu before him.
After Nicholas' younger brother started learning BJJ, he would return home and show him the techniques he learned. This would spark Nicholas' interests and pretty soon, he would join his brother in Jiu Jitsu class at age 16.
The two would initially train at the ACBJJ Jiu Jitsu academy in Santo Antonio run by black belt Jeferson Adan. Jeferson quickly realized that young Nicholas had a knack for Jiu Jitsu and would do really well in competition.
After a year of training, Nicholas Meregali would become a blue belt and win every major title within Brazil. Including a state and national Jiu Jitsu title.
Meregali Trains Under Mario Reis
After winning everything at blue belt, Nicholas Meregali wanted to take his skills to the next level. But in order to do that, he would need a change of scenery.
He then decided to move from Santo Antonio to Porto Alegre, where world champion Mario Reis was located. At the time, Reis was the most distinguished BJJ champion to ever come from southern Brazil.
Meregali knew in order to further develop his skills, he would need to train under Reis. He would become Reis' pupil and quickly take over the lower Jiu Jitsu ranks.
Nicholas Meregali Wins Everything
After beginning his training under Reis, Nicholas Meregali would transform into one of the best grapplers in the world. Once he earned his purple belt, Nicholas would begin clearing out the lower BJJ ranks.
At purple belt, he would win every single major BJJ championship. Then at brown belt, he would become even more of a force. Not only winning every major BJJ title, but winning double gold at each of the tournaments.
This dominance of the lower ranks would lead Mario Reis to promote Meregali to black belt in 2016. Nearly every BJJ and grappling publication deemed Meregali the next big thing in Jiu Jitsu.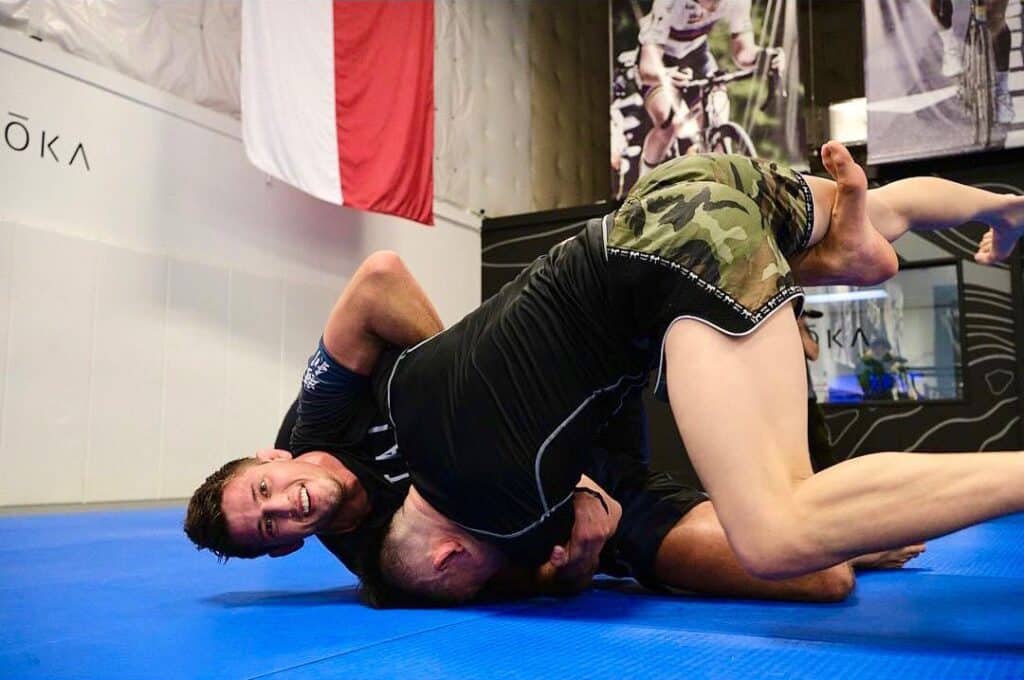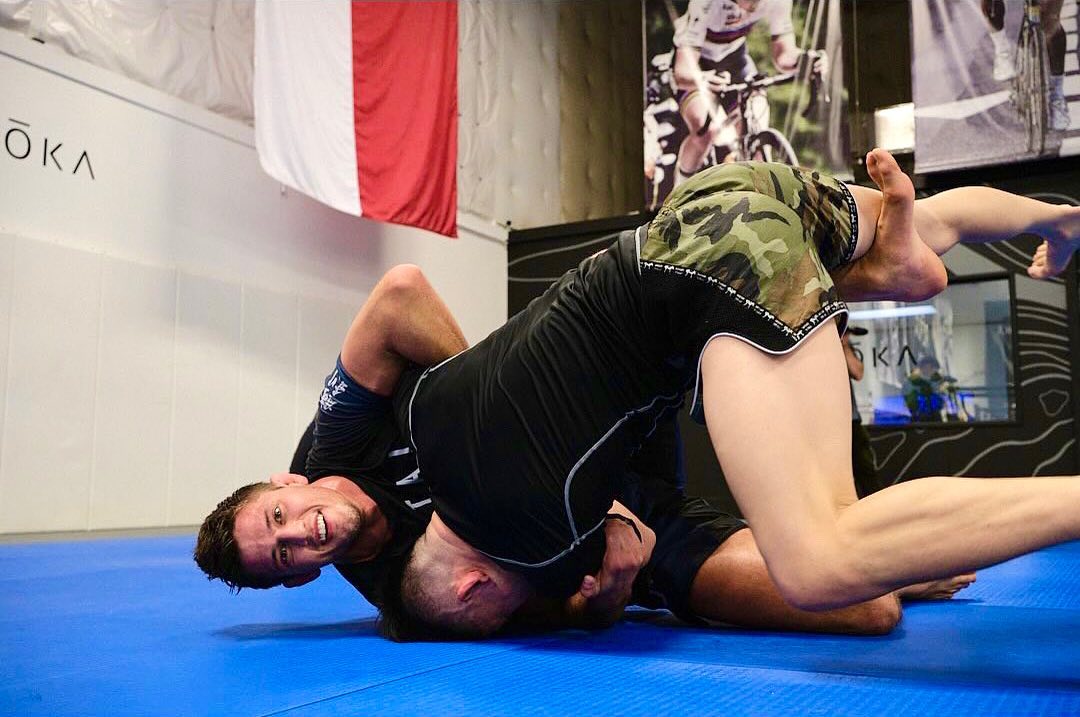 Nicholas Meregali's Competition Career
Nicholas Meregali's competitive career as a black belt has been a successful one. Including 2 IBJJF world titles and 4 Brazilian National titles. Here is a breakdown of how he won those titles.
Meregali's 4 Brazilian National Titles (2018, 2019, 2022)
In 2018, Nicholas Meregali was coming off a breakout rookie year as a black belt in 2017. The highlight of his sophomore year as a black belt was winning his first Brazilian National title.
In his first time competing in the Brasileiro as a black belt, Meregali came into the competition fully prepared to dominate. He would compete in the super heavyweight division and his skills were leagues better than his opponents.
Meregali would quickly submit all four of his opponents to earn his first Brazilian National title. A year later, Meregali would come back in 2019 and improve on his 2018 performance.
Not only did win his division, but he also won the absolute division. Submitting all, but one opponent during the entire tournament.
Then in 2022, Meregali would come back to win his fourth Brazilian National title by submitting Felipe Andrew in the finals.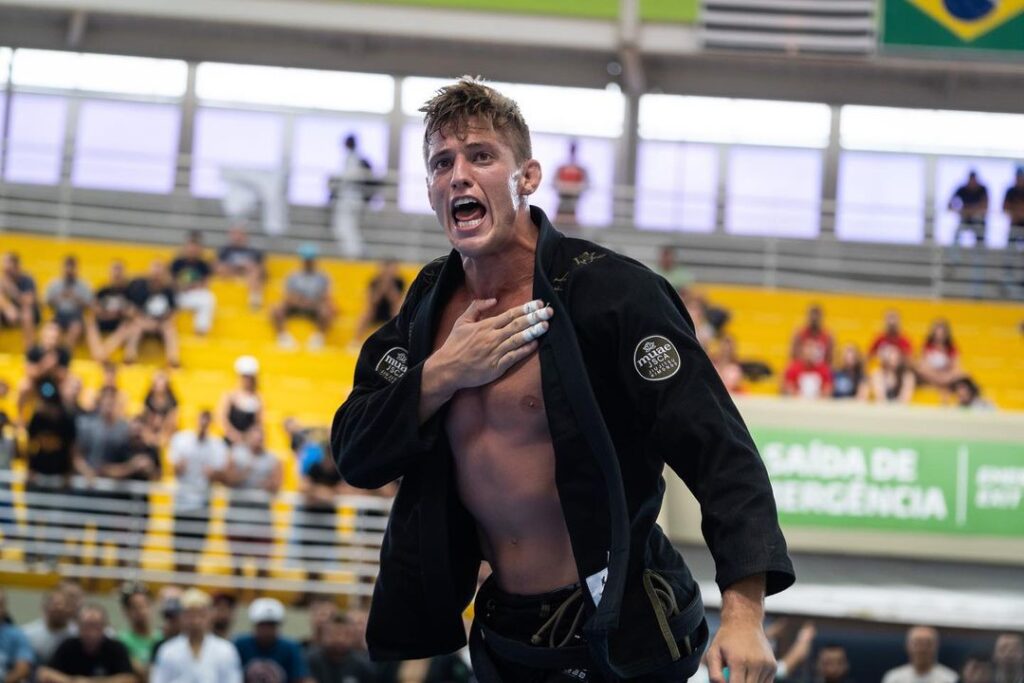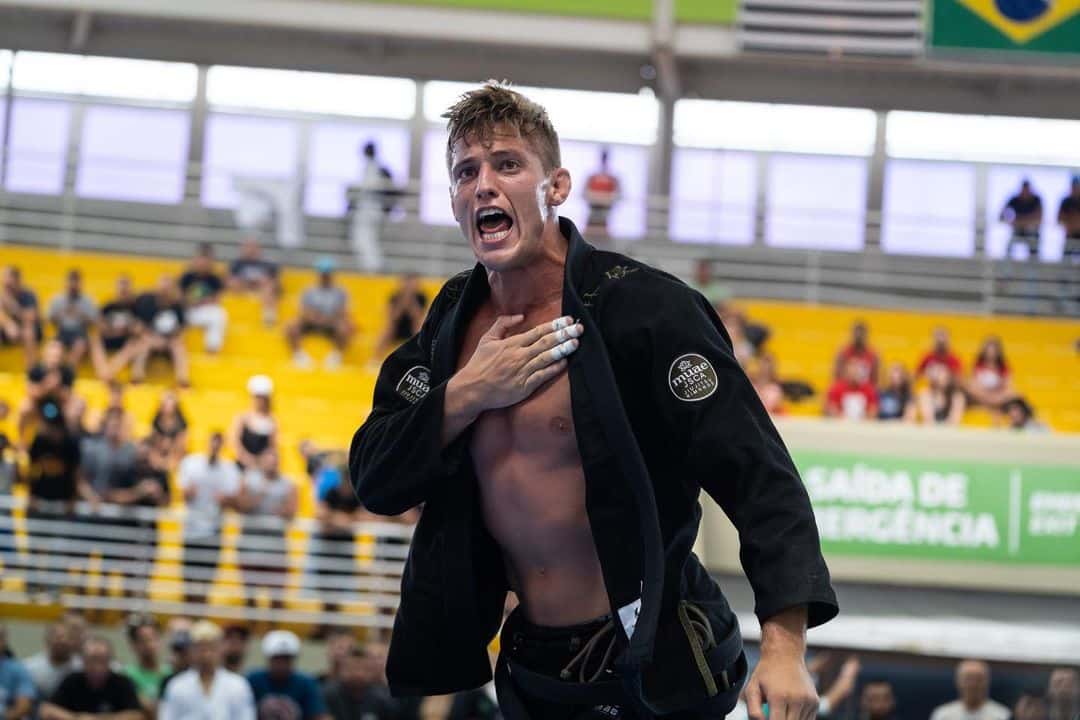 Meregali's IBJJF Titles (2017 & 2019)
Meregali's rookie season as a black belt was in 2017 and the expectations could not have been higher. But Meregali exceeded everyone's expectations that year.
Early on in the year, Nicholas had to deal with adversity as he lost both divisions at that year's Pans Championship. The two losses were to multi time world champion Leandro Lo.
Meregali would come into his first world title tournament focused and ready. Submitting his first three opponents to meet Lo in the finals.
This time, Meregali would get the better of Leandro and beat him 2-0. Earning his first title as a black belt.
Then in 2019, Nicholas would be looking to bounce back after losing in 2018 to Marcus "Buchecha" Almeida. Winning his division, but losing to Keenan Cornelius in the quarter finals of the absolute division.
Meregali's Disqualification In 2021
In 2021, Nicholas Meregali was as dominant as ever at the IBJJF World Championship. He would initially win his division and looked like he was going to win the absolute division.
That was until, the IBJJF reviewed tape and showed that Meregali had violated the athlete code of conduct. During his match with Victor Hugo, Meregali would give a heckling fan the finger.
This would lead to Meregali losing the title and being disqualified from the absolute division. The lapse in judgment cost Meregali his third world title and stained his impressive career.
Nicholas Meregali Wins Worlds 2022
After being disqualified in 2021, Meregali was out to redeem himself in 2022. He would lose by points to Erich Munis in the super heavyweight division, but refocused for the absolute division.
In the absolute division, Meregali would submit all of his opponents. Including avenging his loss Erich Munis by submitting him in the absolute finals.
The crowd came to their feet as Nicholas Meregali had redeemed himself.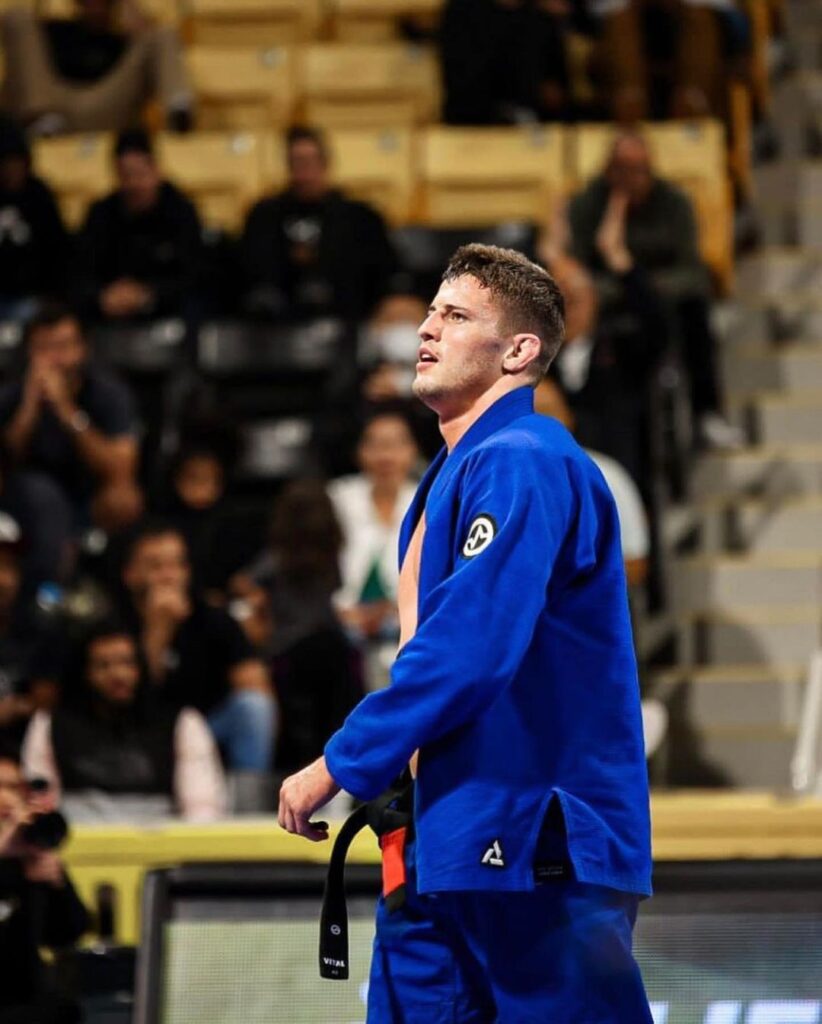 Meregali's Transition To No-Gi
In 2022, Nicholas Meregali had the Jiu Jitsu world talking once again. He announced that he would finally be transitioning to compete in No-Gi after winning multiple titles in the Gi.
Then in another shocking announcement, Nicholas would also be joining New Wave Jiu Jitsu. The newly formed team was run by mastermind John Danaher and Gordon Ryan.
Under Danaher's mentorship, Meregali would quickly pick up the No-Gi Jiu Jitsu game.
He would make a successful debut in No-Gi at WNO 13 submitting his opponent with an arm triangle.
Then after beating Rafael Lovato Jr at WNO 14, Meregali was invited to the 2022 ADCC Tournament. Nicholas would be competing in the heavyweight division and absolute division with less than a year of No-Gi training.
The lack of experience would not seem to matter as Nicholas made an impressive ADCC debut. Beating former champion Yuri Simoes and placing third in his division.
Then he would reach the finals of the absolute division and lose to Simoes by decision. Coming into ADCC with less than a year of No-Gi training and earning a silver and bronze was an impressive feat.
Nicholas Meregali's Grappling Style
Meregali is known for having an incredible open guard game. Particularly his prowess in using a mixture of De La Riva and Lasso guard that he sweeps everyone with.
But what makes Nicholas Meregali such a special BJJ athlete is his ability to finish matches. He doesn't try to win by points and is always going after the submission.
In his 68 wins as a black belt competitor, Meregali has submitted 48 of his opponents. Giving him a submission percentage of 71%.
An insanely high submission rate that puts him in special company with the likes of Roger Gracie and Gordon Ryan. This goal of always going for the submission has made Meregali a favorite among grappling fans.
What's Next For Nicholas Meregali?
After accomplishing everything within the Gi, Nicholas Meregali is still striving to get better. Since joining forces with John Danaher and Gordon Ryan, it is scary to think how much better he can get.
Nicholas is now reaching the prime of his athletic career and looking to make his mark in the history books. He could very well become one of the greatest grapplers of all time when it's all said and done.