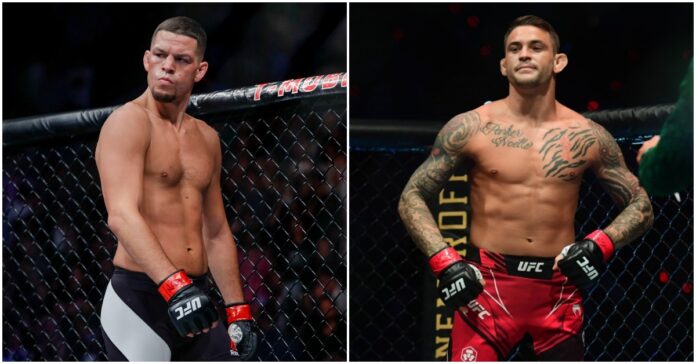 Nate Diaz calls out the former interim lightweight champion dustin Poirier to a mega fight in January to which the always game Poirier agrees.
Diaz and Poirier have yet added another chapter to their social media with yet another back and forth via Twitter. After last weekends unsuccessful challenge for the lightweight title, Poirier went on to the MMA Hour to express that the only fight that would excite him is Diaz. When I've been lying down, thinking about fights" Poirier said "nothing gets me excited, unless Nate Diaz wants to fight. If he wants to fight, that gets me excited."
This would draw a response from Diaz via his Twitter.
The History Between Nate Diaz And Dustin Poirier
Dustin Poirier were originally scheduled to face off with one another in the co-main event of UFC 230 in 2018. This would be the catalyst for their rivalry as the bout ended up falling through with both sides telling different stories of who's fault it was.
"He won't tell the true story of how the fight fell apart" Poirier said "I'm the fall guy. I get some injections in my hip, and it looks like I pulled out of the fight, when the fight was already off the table at that point. I just feel like we've got to fight at some point but we'll see."
If you ask Diaz, he'd say that Poirier pulled out and that he was 'scared', Diaz would end up submitting Anthony Pettis at UFC 230 but ever since he and Poirier have had regular back and forth on social media. With Poirier now saying he may never make the cut down to 155lbs again, the fight at welterweight that makes the most sense would be Diaz.
What do you think? How would a showdown between Nate Diaz and Dustin Poirier go?