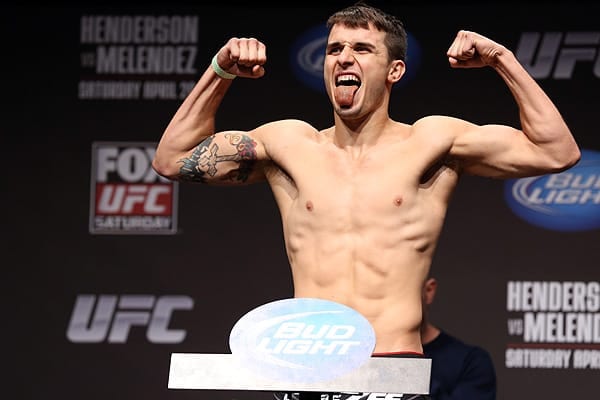 15-1 UFC competitor Myles Jury was beginning to build some serious momentum in the promotion's lightweight division, but hit a wall in the form of a decision loss to Donald Cerrone at UFC 182. After beating Michael Johnson, Diego Sanchez, Ramsey Nijem and Diego Sanchez among others, 'Fury' fell short during a lacklustre three round showing against 'Cowboy' in Las Vegas this past January.
The loss has undoubtedly taught Jury some invaluable lessons, and it looks like he is starting to switch things up a bit. Posting to his Twitter feed, the 26-year old Californian announced a change in camps and weight:
Added to featherweight division along with new training camp. Read at: http://t.co/7khpAJb81O @Powermmafitness pic.twitter.com/DJZyqt2U6R

— Myles Jury (@FuryJury) August 3, 2015
Power MMA is run by UFC veterans and wrestling standouts Aaron Simpson, Ryan Bader and CB Dolloway, and also features such notable names as Johnny Case, Michael Chandler and Justin Lawrence. Dropping from his former camp in San Diego (Alliance MMA), Jury will be calling Arizona his new home for the meantime.
He also leaves behind a top 10 ranking in the 155-pound division for his quest at featherweight, which he hopes to start this year. The top end of the featherweight division is full of interesting fights for 'Fury' to consider, and it'll be interesting to watch his progression now that he is also with a new camp.
Stay tuned to LowKickMMA for more UFC and MMA news, updates and coverage!
If you enjoyed this story, please share it on social media!